By Dr Sabyan Faris Honey, CABI, and Deborah Hamilton, USDA
CABI as lead implementing partner along with its technical partner, Pakistan Agricultural Research Council (PARC) is working on a public-private partnership program led by U.S. company, Ingredion and its Pakistani subsidiary, Rafhan Maize to protect health and nutrition of Pakistan's citizens by keeping food supply aflatoxin free.
Aflatoxin, produced by a poisonous fungus, is a serious threat to food security by contaminating many of Pakistan's agricultural products, including cereal grains, chilies, dry fruits and nuts, and milk. Indeed, the average contamination in wheat and maize in Pakistan, for example, is five and sixty times, respectively, the level permitted in the US.
The fungus responsible, Aspergillus flavus, can contaminate crops before and after harvest as well as contaminate animal products if infected feeds are given to livestock. Consumption of these toxins in high concentrations can contribute to stunting growth in children and cause liver disease with fatal consequences. Estimates of deaths due to aflatoxin ingestion range up to 100,000 or more per year worldwide.
This program will lay foundations for adoption and registration of a biocontrol product to manage aflatoxin contamination in key crops initially in maize. Moreover, this effort will also support in regional and global efforts to utilize biocontrol technology to grow healthy and safer crops. AflaPak™, is formulated specifically to reduce aflatoxin for maize grown in Pakistan having a non-aflatoxin producing strains of Aspergillus flavus, to outcast the deadlier aflatoxin producing strains.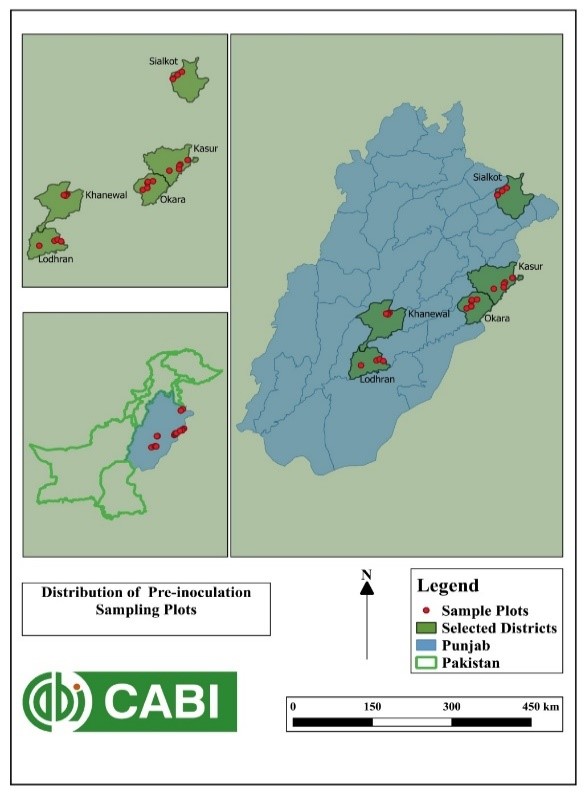 The biocontrol product is aimed to be the very first bio-control product of its nature to get registered in Pakistan for aflatoxins mitigation, which must pass through multiple standard protocols set by the national regulatory authorities (Department of Plant Protection).
To evaluate the efficacy of AflaPak™ on maize crop, five targeted maize growing districts of Punjab province includes Sialkot, Kasur, Okara, Khanewal and Lodhran have been selected to check the behaviour of AflaPak™ in field conditions. In this regard, CABI, CDRI (Crop Disease Research Institute – implementing partner on behalf of PARC) and Rafhan Maize has completed the first season field trials at project sites in selected districts.
Initially, pre-samples (before application of AflaPak™) were collected from project sites to check the soil profile of that particular site. Afterwards, AflaPak™ were broadcasted on selected sites by Rafhan Maize to get the product sporulated and leave its impact on the soil. Subsequently, post-samples (after application of AflaPak™) were collected from the same sites from where pre-samples were collected.
The analysis of the collected samples is in progress and once the results received are positive, it will advocate the efficacy of AflaPak™ and the same trials will be replicated in the second season to get the more accurate information on AflaPak™ and to step forward towards its registration in Pakistan.
For more information, please contact:
Deborah Hamilton
USDA
+202 (0)720-0335

Deborah.hamilton@usda.gov
Dr Sabyan Faris Honey
CABI
+92 (0)51-843497 Ext. 143
s.honey@cabi.org
Related News & Blogs
On this UN World Youth Skills Day 2023 (Saturday, 15 July), we celebrate the transformative power of skill development in shaping the lives of young individuals and creating a brighter future, writes Violet Ochieng' – winner of the Carol Ellison Scienc…
14 July 2023