In recent years, the use of preprints (pre-peer reviewed versions of scholarly papers) has accelerated. Many researchers now share their work with the scientific community before or in parallel to publication with a journal. In agriculture and plant sciences, preprints are becoming a more popular means for disseminating research findings and results.
John Inglis, the founder of bioRxiv and medRxiv, said that a preprint is like the director's cut of a manuscript. Essentially, it is a version of the paper that authors are ready to share with the world because they consider it an accurate representation of their work. Aside from the benefit of sharing work openly online, preprints bring other benefits such as the possibility of gaining valuable feedback and an increase in citations should the document go on to be published in a journal.
On 29 April, CABI co-hosted an event about preprints with ASAPbio. This open access webinar considered trends in agriculture and plant science and reviewed various aspects of preprints, including their benefits, how they fit more broadly into science communication and how they help us tackle collective challenges around climate change and food security.
The event's first speaker, Dr Sridhar Gutam, is the founder of agriRxiv and IndiaRxiv and a Senior Scientist at ICAR-Indian Institute of Horticultural Research. He reiterated the benefits of preprints and how they enable researchers to boost recognition and visibility of their work.
He commented about the "mad rush" to publish quickly in India and how, when it comes to preprints, the country's national academies recommend submitting manuscripts to preprint servers to accelerate and improve the dissemination of results. Preprints also help researchers address concerns about idea plagiarism.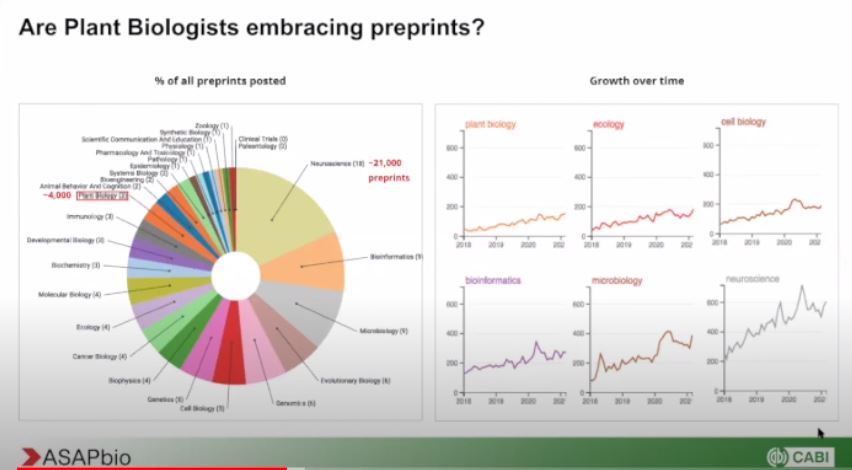 Dr Samantha Hindle, Content Manager at bioRxiv and medRxiv, gave the second presentation. She talked about bioRxiv and the increase in the number of preprints on the platform. While plant biologists submit only 3% of preprints to bioRxiv, they are beginning to embrace the preprints trend and, in recent years, the number of plant science preprints has started to increase.
She also commented on how – potentially because of the COVID-19 pandemic – preprint submissions have increased in countries and regions that traditionally showed less adoption. She also talked about what we can learn from the COVID-19 preprint response in order to help our understanding of plant pandemics.
The third speaker was Dr Stephanie van Wyk, a post-doctoral research fellow at the Forestry and Agricultural Biotechnology Institute at the University of Pretoria. She discussed the value of preprints to early-career researchers in agricultural and plant sciences and commented on how preprints drive innovation and accelerate science. Concerning global issues such as climate change, preprints advance technology in agriculture and forestry.
Dr van Wyk described her experience of posting a preprint on her tool, the RIPper, which investigates genetic mutations in fungal pathogens. The preprint helped to raise the tool's profile within the scientific community, with other preprints citing the tool – an example of preprints citing preprints.
Dr Niklaus Grünwald gave the fourth and final presentation. As Research Plant Pathologist at the Horticultural Crops Research Laboratory, USDA Agricultural Research Service and founding Editor-in-Chief for CABI Agriculture and Bioscience, he gave the editor's perspective on preprints.
He underscored that all major journals now accept publication in preprint archives. He discussed the benefits that posting preprints brings to researchers and journals alike, helping to create networks and drive citations and usage. He discussed the process of posting a preprint, giving valuable insights for those who might be hesitating.
Following the presentations, moderators Iratxe Puebla and Dr Andy Robinson led the debate around preprints. Dr Robinson commented that preprints allow prompt dissemination of research and can help progress global challenges such as climate change and food security.
Dr Gutam agreed with this point, commenting that preprints can help researchers reach out and gain more feedback and share results. He said it also revealed ways to control crop losses or pests, such as desert locust or fall armyworm, and that access to data and information should always be available.
Dr Grünwald, a plant pathologist, commented on how traditional publishing is slow, taking 3-5 months for peer review and 9-12 months for copyediting and publishing. Thus, preprints allow researchers to accelerate this process. They can have their paper posted and shared within a day or two; this is a game-changer.
The question that attracted the most votes from the audience concentrated on preprints and the media. In the context of the COVID-19 pandemic, we have seen much more media attention to research, so the lay public is reading more about research news stories. The difference between a peer-reviewed paper and a preprint might not be obvious to the public. Ms Puebla highlighted the question: does this pose any risks?
Dr Hindle commented that she noticed early on how journalists did not necessarily explain that the manuscript was a preprint and what that meant. She believes it is about educating journalists and making sure that they always say, 'This has not undergone peer review'. This can help.
Ms Puebla said that some preprints are posted on servers but may never make it to a journal. She asked for the speakers' thoughts on this and how often it happens.
From the perspective of agriRxiv, Dr Gutam agreed; some people post a preprint but do not submit it to a journal. Dr Grünwald commented that one case where it is perfectly acceptable to publish a preprint and not submit it to a journal is in the case of negative results. Many researchers have data that cannot be "ramped up" into a paper, so their work is repeated. Perhaps this is a good case for posting on a preprint server? While the work will never make it into a peer-reviewed study because it is probably not seen as impactful, it is otherwise good work.
An attendee asked about rapid dissemination of results and how it can accelerate scientific discovery, but what about combining it with data sharing, for example? Dr van Wyk commented that open data combined with preprints is a fantastic idea. Being as transparent as possible is better for the scientific community.
Attendees raised several questions about the screening process for preprint servers. Dr Hindle talked about the two-step process for the screening procedure. When manuscripts come in, they are checked to ensure all the relevant components are there, including metadata, and that it is a research manuscript. The document then goes to their affiliates, who will review the manuscript and check whether it is real research. For example, if the results turned out to be wrong, would they be harmful? In the submission process, researchers can flag a conflict of interest and external links to online data. In this way, they encourage the deposition and sharing of data.
Watch out for our next webinar blog in this series on Overcoming the challenges and complexities of posting preprints – to stay informed, sign up to our webinar news.
To learn more about agriRxiv, go to https://agrirxiv.org
Related News & Blogs
While drafting the inaugural Editorial for CABI One Health, an interesting discussion took place within the Editorial Board. We share some of these thought-provoking points in the form of a Q&A with Editor-in-Chief Jakob Zinsstag and Deputy Editor Lisa Crump.
28 April 2022