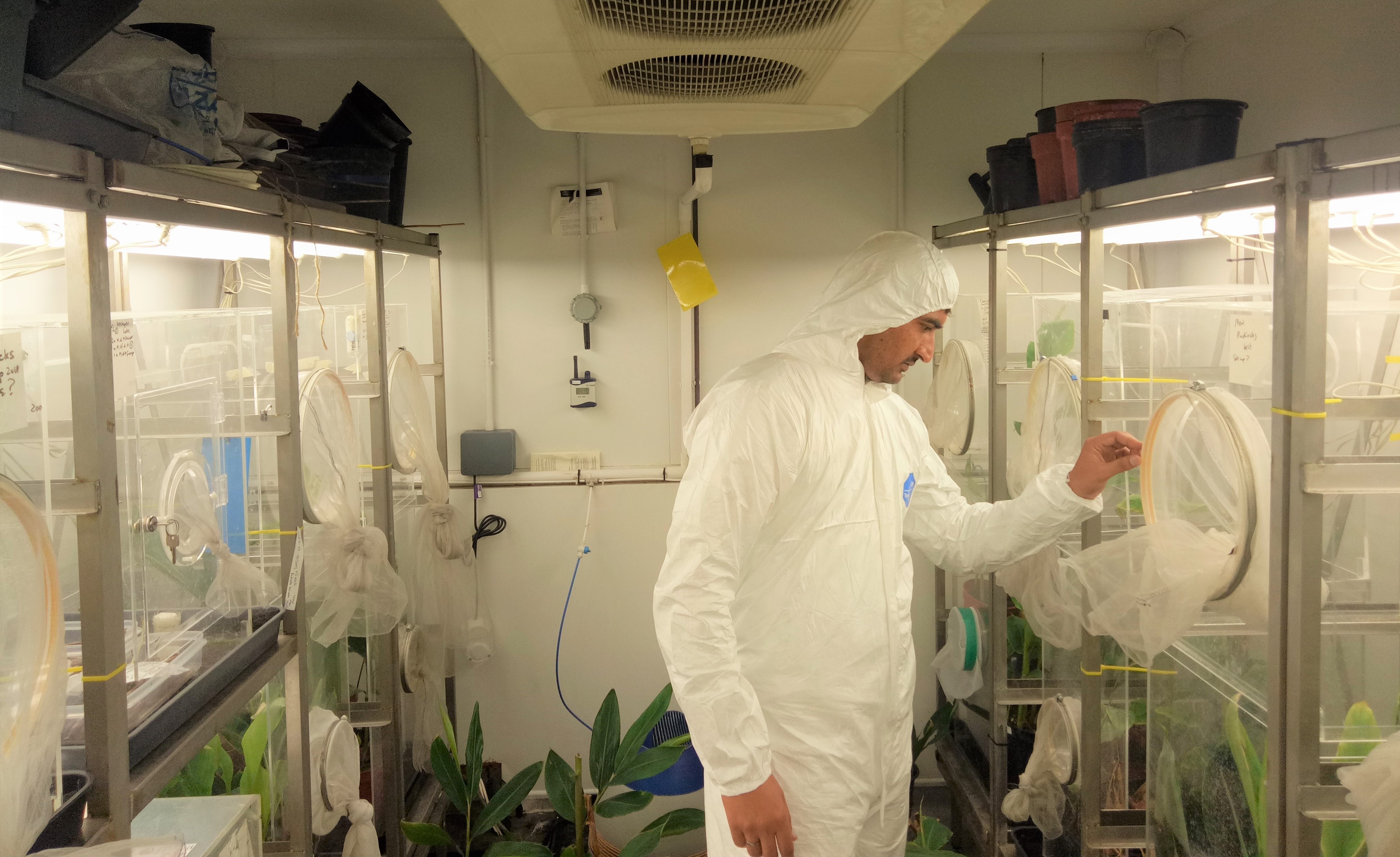 Biocontrol Research Officer Dr Kazam Ali from Islamabad has undergone an intensive week-long quarantine management course delivered by CABI colleagues in Egham, UK, as part of a joint focus on fighting the highly invasive and destructive Parthenium weed in Pakistan.
Dr Ali, who works at a new quarantine facility built to create greater capacity for Parthenium research at CABI's Central and Western Asia (CWA) offices and laboratories in Rawalpindi, learnt a range of certified quarantine procedures and protocols followed at CABI Egham which can be transferred for the management of the facilities in Pakistan.
Under the guidance of Dr Nikolai Thom, Plant Production Manager, Dr Ali also learnt the protocols for the culturing of plants in the green house as well as the code of conduct for the import and release of exotic biological control agents and emergency contingency plans that should be implemented if agents 'escape' from quarantine.
Parthenium is an aggressive invasive weed which can have a devastating impact on pasturing fields, crops, and forests. In Ethiopia for example, sorghum yields were reduced by as much as 97 percent, while in India Parthenium infestations have resulted in yield losses of up to 40 percent in several crops.
The new quarantine facility in Pakistan, working under the auspice of the Action on Invasives programme, is allowing scientists to investigate a range of biological control options including the stem boring weevil Listronotus setosipennis. This is in addition to the agent Zygogramma bicolorata which is currently being mass reared by CABI CWA to evaluate the impact on Parthenium weed.
While in the quarantine facility at Egham, Dr Thom demonstrated to his colleague the working protocols of the laboratory including how to enter and leave, guidelines for handling the quarantine species, waste disposal routines, cleaning and sterilization and shipment and export.
Dr Ali then met with Dr Dick Shaw, Country Director CABI UK/ Regional Coordinator Invasives, to whom he outlined the current activities within the CABI CWA quarantine facilities. He then visited various other laboratories for plant pathogens.
Dr Giovanni Cafa, for example, showed him about the DNA extraction procedures from insects while Anthony Kermode, Preservation Technician, gave a tour of the National Culture Collection of nearly 30,000 different pathogen samples stored and preserved at the centre.
After visiting the bioservices facilities, Dr Ali then learnt about the biocontrol of Japanese knotweed and floating pennywort before sharing his own experience of working with Listronotus setosipennis (stem boring weevil) for the management of Parthenium.
Dr Ali said, "The opportunity to learn from colleagues will prove an invaluable asset in transferring knowledge and application to the quarantine facilities in Pakistan. By working in with colleagues in Egham its possible to share best practice in the running of an efficient and effective quarantine research facility which is vital if we are to investigate ways of fighting Parthenium weed in Pakistan."
Dr Ali's visit to Egham was made possible through CABI's talent management programme and as a bursary to promote and support professional, technical or career development secondment from one CABI centre to another.
Additional information
Find out more about Parthenium weed in Pakistan from the dedicated project page.
Read more in the news stories 'CABI unveils action plan to fight highly invasive and destructive weed' and 'CABI's new quarantine facility creates greater capacity for Parthenium research in Pakistan'.
Parthenium Weed Portal
Find out more about parthenium weed from the Parthenium Weed Portal.
Blog
Read also on the CABI Blog how 'CABI has helped the Pakistan Museum of Natural History showcase the scourge of noxious parthenium weed' and 'Colony of weevils safely in CABI Pakistan quarantine'.
Related News & Blogs
CABI bursary: seconded Mariya Iqbal and Gareth Dicks from CABI UK with CABI knowledge tool users from the Chinese Academy of Agricultural Sciences and the MARA-CABI Joint Laboratory for Biosafety in Beijing. A strength of CABI is its work on a global s…
30 September 2019