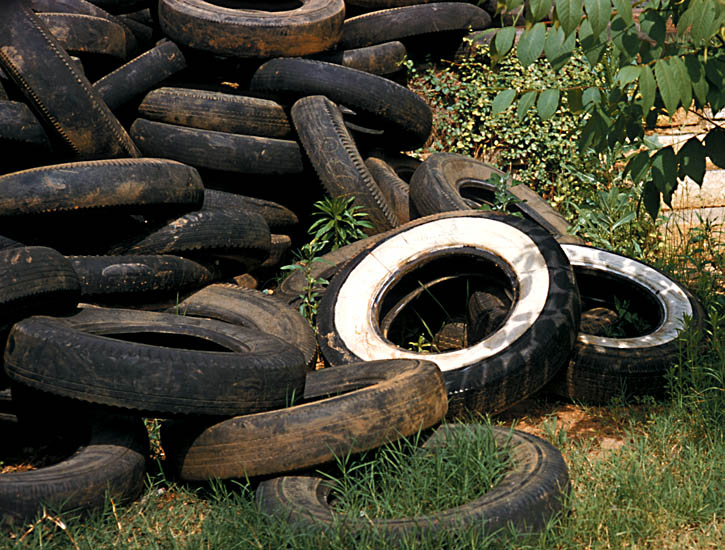 Seeing the Zika virus epidemic in South America it is hard to believe that just 50 years ago the Aedes mosquitoes that spread it  and several other tropical diseases were nearly eliminated in that region. Ever since then it seems we have been going backwards in mosquito control. Aedes aegypti seems to be adapted to city life and is thriving in the rapidly growing mega cities of South America.
Reading around about Aedes aegypti the main vector for Zika virus to try and understand why it is such a good vector and thrives in urban areas, I found an article by Scott Ritchie of Cairns University in Australia. He's written a chapter on Aedes aegypti behaviour and adaptations in the book "Dengue and dengue haemorrhagic fever 2nd edition" by CABI. I've summarised some of it below and you can also read the whole chapter for free here: Dengue vector bionomics.
Living in artificial containers
Unlike many other mosquitoes, that use natural bodies of water Aedes aegypti larvae grow well in artificial containers that are plentiful around houses in urban areas and, again in contrast to other mosquito species, the adults live in or close to houses never moving very far.
The variety of containers Aedes aegypti have been found in is huge. Car tyres are a speciality but the list includes pot plant trays, outdoor plants which hold the rain in leaves and stems, plastic bottles, water storage tanks and jars, bird water dishes, coconut halves, vases in cemeteries, manholes, gutters, bottle tops, fridge drip trays, cisterns and septic tanks- anything that holds water undisturbed for long enough for the eggs to hatch and the larvae to develop into pupae.
Aedes aegypti can cope with several of the hazards of flooding and occasional lack of nutrients that living in artificial containers brings. The larvae can delay development until nutrients appear and the eggs can cope with drying out. The eggs can last for several months so they can wait out summer conditions until the rains and then grow again. Aedes aegypti reduces the risk of one container failing to allow larval development by spreading eggs amongst a range of containers.
This ability has also helped Aedes aegypti spread round the world on ships in water drums and car tyres.
Feeding on man
Aedes aegypti is adapted to feed  mostly on humans, unlike other mosquitoes that will survive on nonhuman blood and plant nectar and juice. It has adapted to bite where we are least likely to notice, on the legs and ankles. It survives longer than other mosquitoes as well and so each female bites many times, rather than just once.
The adults mainly live near or inside houses and they have a reputation for skulking in corners. This closeness to man means Aedes aegypti spreads disease very effectively.
What hopes for mosquito control?
Ritchie doesn't go into this side of things as its beyond the scope of his review, but you can see the problems communities face getting rid of such a huge variety of breeding sites and that the hiding behaviour of females, which would make them less accessible to insecticides would contribute to problems for vector control. Those problems combined with insecticide resistance, rapid urbanisation and lack of resources for big control programmes add up to a disease vector out of control.
Current hopes are that technology can come to the rescue in the form of GM mosquitoes, new insecticides, and biological control, covered in other parts of this book. But what about some old technology – piped water and waste removal? Those infrastructure improvements could help too.
Sign up to our free newsletter  Global Health Knowledge Base to get topical updates on global health from CABI.
Further reading identified from Global Health database (links for Global Health subscribers on CAB Direct)
Water containers
 Effect of water supply system installation on distribution of water storage containers and abundance of Aedes aegypti immatures in urban premises of Ho Chi Minh City, Viet Nam.Tsuzuki, A.; Trang Huynh; Loan Luu; Tsunoda, T.; Takagi, M.; World Health Organization Regional Office for South-East Asia, New Delhi, India, Dengue Bulletin, 2009, 33, pp 161-166
 Physical and chemical aspects of water from Aedes aegypti breeding sites in the urban environment and the implications for dengue control.Arduino, M. de B.; Ávila, G. de O. de; Universidade Federal de Goias, Instituto de Patologia Tropical, Goiânia, Brazil, Revista de Patologia Tropical, 2015, 44, 1, pp 89-100
Bioecological studies of Aedes (St.) aegypti in an urban area with low vector density in Camagüey province.Diéguez Fernández, L.; Cabrera Fernández, S. M.; Prada Noy, Y.; González Larrinaga, E.; Rodríguez de la Vega, R.; Editorial Ciencias Medicas, Habana, Cuba, Revista Cubana de Medicina Tropical, 2011, 63, 1, pp 64-69
 Evidence for Aedes aegypti (Diptera: Culicidae) oviposition on boats in the Peruvian Amazon.Guagliardo, S. A.; Morrison, A. C.; Barboza, J. L.; Wesson, D. M.; Ponnusamy, L.; Astete, H.; Vazquez-Prokopec, G.; Kitron, U.; Entomological Society of America, Annapolis, USA, Journal of Medical Entomology, 2015, 52, 4, pp 726-729
Rubbish
 Household wastes as larval habitats of dengue vectors: comparison between urban and rural areas of Kolkata, India.Soumyajit Banerjee; Gautam Aditya; Saha, G. K.; Public Library of Sciences (PLoS), San Francisco, USA, PLoS ONE, 2015, 10, 10, pp e0138082
Control of Aedes aegypti breeding sites by the recycling program Recicla por tu bienestar in Merida, Mexico.Barrera-Pérez, M. A.; Pavía-Ruz, N.; Mendoza-Mézquita, J. E.; Torres-Arcila, N.; Hernández-Hernández, R.; Castro-Gamboa, F.; Geded-Moreno, E.; Cohuo-Rodríguez, A.; Medina-Barreiro, A.; Koyoc-Cardeña, E.; Gómez-Dantés, H.; Kroeger, A.; Vázquez-Prokopec, G.; Manrique-Saide, P.; Instituto Nacional de Salud Pública, Cuernavaca, Mexico, Salud Pública de México, 2015, 57, 3, pp 201-210
New control methods
Efficacy trials on mosquitoes with new monomolecular film.Strachan, G.; Müller, G.; Pospischil, R.; Robinson, W. H.; Executive Committee of the International Conference on Urban Pests, Zurich, Switzerland, Proceedings of the 8th International Conference on Urban Pests, 20-23 July 2014, Zurich, Switzerland, 2014, pp 409-411
Genetically 'sterile' insects in pest control programmes for public health and agriculture: current status and future prospects.Beech, C. J.; Romeis, J.; Meissle, M.; Álvarez-Alfageme, F.; International Organization for Biological and Integrated Control of Noxious Animals and Plants (OIBC/OILB), West Palaearctic Regional Section (WPRS/SROP), Dijon, France, IOBC/WPRS Bulletin, 2012, 73, pp 17-25
Aedes aegypti control strategies in Brazil: incorporation of new technologies to overcome the persistence of dengue epidemics.Araújo, H. R. C.; Carvalho, D. O.; Ioshino, R. S.; Costa-da-Silva, A. L.; Capurro, M. L.; MDPI AG, Basel, Switzerland, Insects, 2015, 6, 2, pp 576-594
Related articles
Related News & Blogs
Aedes aegypti mosquito (© Pexels) A new trial experiment undertaken in Australia has been shown to successfully eliminate 80% of the disease-bearing mosquito Aedes aegypti. An international partnership between CSIRO, Verily and James Cook University ha…
27 July 2018