There have been many labelling schemes to make clearer to consumers the healthiness of foods, such as traffic light codes with green for healthy and red for less healthy. But do consumers actually make use of the labels and choose healthier foods?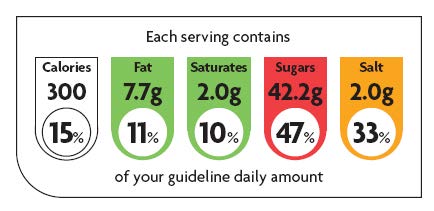 In a paper in CAB Reviews, Sophie Hieke and Jo Wills of the European Food Information Council examine the recent evidence. A consistent finding is the "attitude-behaviour gap, meaning that consumers will say one thing and do another." Some experiments suggest that people will try to avoid "red traffic-light" foods. However, a German study showed people could distinguish the healthiest drink using such a "traffic-light" coding system, but did not choose the healthy option when picking out their meal for the next day.
They found that people's behaviour would often change for the better under laboratory scrutiny, but when actual purchase and consumption data from stores was used, they were less likely to pay attention to health advice. They also point out major variations in results depending on the analysis techniques used, and that there is a need to bring together techniques such as observation, eye-tracking, interviews and actual sales data.
There is relatively little evidence on how nutritional labels are used. Purchase decisions are complex – for example people buy differently for consumption at home compared to eating away from home. Not surprisingly, the extent of awareness of the labelling scheme made a difference to the extent that people made use of it, and some results suggest only those already thinking about healthy eating are looking for such information.
Hieke and Wills conclude that only through such integrated studies and examining changes in purchases before and after labels were introduced will we come close to answering the question of whether nutritional labels actively encourage healthier heating.
"Nutrition labelling – is it effective in encouraging healthy eating?" by Hieke, S. and Wills, J. M. appears in CAB Reviews 2012, 7, 031, 1-7.
Related News & Blogs
On this UN World Youth Skills Day 2023 (Saturday, 15 July), we celebrate the transformative power of skill development in shaping the lives of young individuals and creating a brighter future, writes Violet Ochieng' – winner of the Carol Ellison Scienc…
14 July 2023