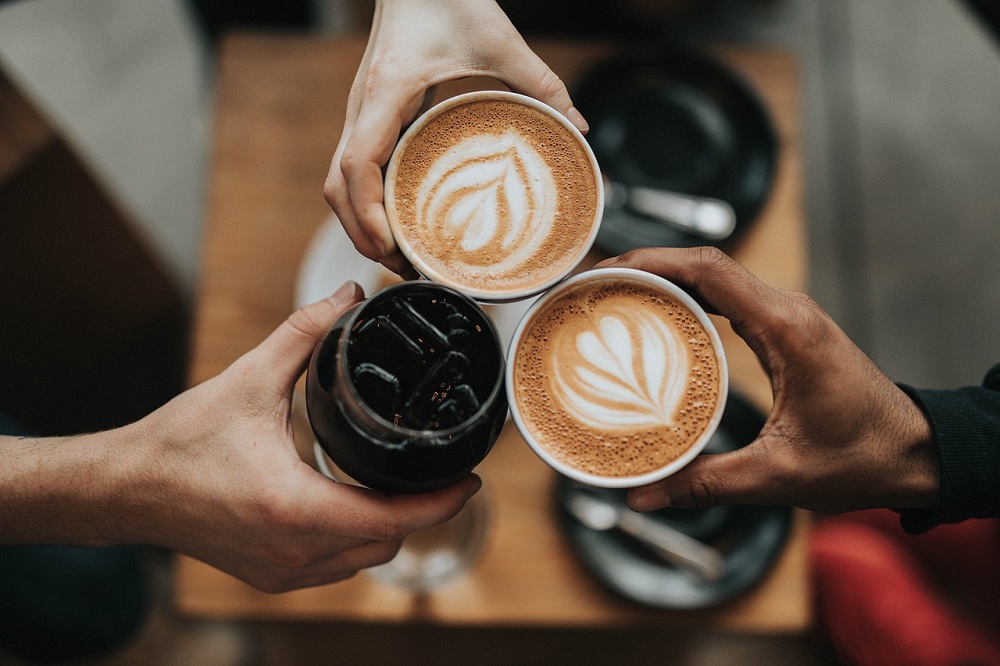 Coffee is big business. Just think, global coffee production – according to the International Coffee Organisation – was estimated to be around 169 million bags in 2019-2020 with around a staggering 1.4 billion cups consumed every day around the world.
While you might be aware of the different kinds of coffee bean (Arabica, Robusta, Excelsa and Liberica), do you know your doppio from your affogato or your ristretto from your lungo?
Indeed, wet your lips and take a sip of your favourite cup and perhaps head over to Taste of Home who highlight 17 different types of coffee drink that you might not yet of savoured.
But before you do, we'd like to turn the focus – as part of our recognition of International Coffee Day (1 October) – on some of the hundreds of pests and diseases that can affect coffee plants and the very existence of our favourite 'special brew.'
Of the more than 900 species of insects, various other pests (including microscopic parasites, molluscs, birds, and mammals), and a large number of diseases that attack coffee crops.
In this blog we will be takin a glimpse at five pests and diseases that could, in theory, impact upon our ability to enjoy our daily cup (or in the case of 14% of Finnish men, more than 10 cups a day!).
1: Coffee mealy bug (Planocccus kenyae)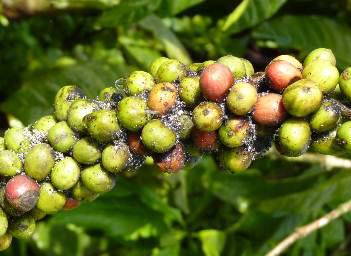 The coffee mealybug – also known as Kenya mealy bugs, are pests of coffee and favour the Arabica and Robusta varieties. This photo by CABI's Dr Rob Reeder shows heavy infestation which can cause the coffee plant to die. Amazingly, young mealy bugs can be spread over long distances by the wind while adults can 'hitch a ride' on the back of ants. Treatment can include parasitic wasps (Anagyrus kivuensis). For more see the Plantwise factsheet for farmers 'Mealy bug management in coffee.'
2: Coffee Wilt Disease (Gibberella xylarioides)
In the early 20th century, Coffee Wilt Disease (CWD) spread across Africa, reducing yields, destroying millions of coffee trees and costing millions of USD in lost earnings for producers. Following the systematic introduction of sanitation methods and comprehensive breeding programmes in affected African countries, CWD appeared to decline. Yet the disease re-emerged reaching epidemic proportions in the last decades of the 20th century and into the 21st century affecting robusta coffee in DRC, Uganda and Tanzania as well as arabica coffee in Ethiopia. The Regional Coffee Wilt Programme (RCWP) examined many different aspects of CWD and its management following its re-emergence as a significant threat to sustainable coffee. The RCWP was led by CABI with in-country and international partners including  the International Coffee Organization (ICO).
3: Coffee leaf rust (Hemileia vastatrix)
Hemileia vastatrix is a fungus which infects coffee trees, causing coffee leaf rust. See the Pest Management Decision Guide on the Plantwise Knowledge Bank. It is the most economically important coffee disease in the world. The use of organic manure – to increase nutrients for plants – can help prevent leaf rust appearing as can the weeding and pruning of all unnecessary vegetation to reduce the humid environment which supports fungal spread. H. vastatrix is now found in nearly all the coffee-producing areas of the world, with the exception of Hawaii. For more details see the datasheet on the CABI Invasive Species Compendium.
4: Coffee Green Scale (Coccus viridis)
Coffee Green Scale is believed to be of Brazilian or African origin but it now widely distributed throughout the tropics. It is a serious pest of coffee in many countries – so much so, that damage in some areas has caused coffee production to cease. Infestations produces a sugary honeydew on the stem and leaf, which become covered with a black sooty mould. An interesting form of direct control here is the use of chickens as they will sit on the tree branches and feed on the scale insects. Other methods of control include spraying with soapy solutions containing potassium. Find out more from the Plantwise Knowledge Bank Pest Management Decision Guide.
5: Coffee Berry Borer (Hypothenemus hampei)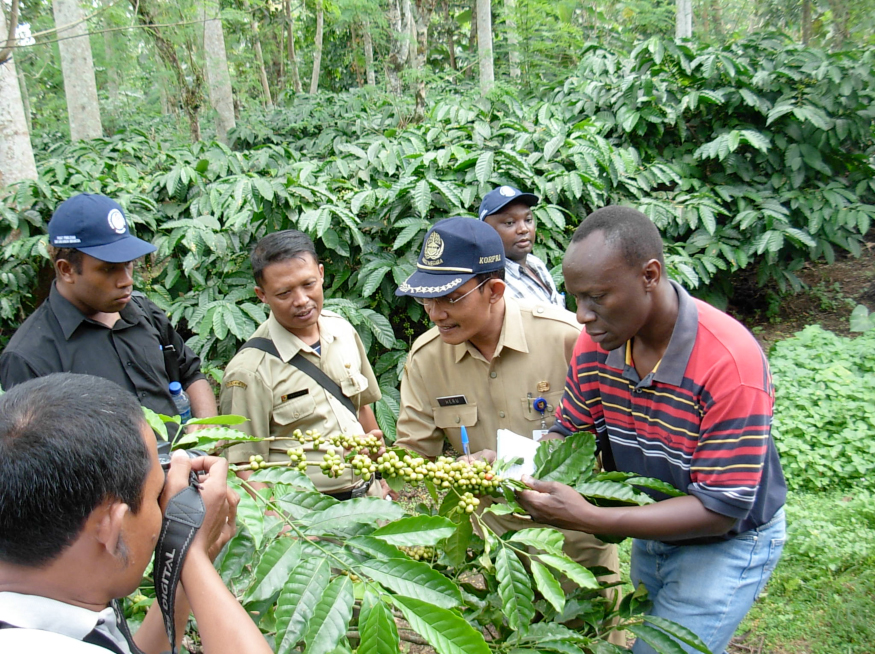 The Coffee Berry Borer (CBB) is one of the most serious pests of coffee in many of the major coffee-producing countries in the world. Annual losses caused by this insect have been estimated at over $500 million annually. This scolytid beetle feeds on the cotyledons and has been known to attack 100% of berries in a heavy infestation. In addition to loss of crop, coffee quality from damaged berries is poor. H. hampei has been transported around the world as a contaminant of coffee seed and very few coffee-producing countries are free from the borer.
CABI scientists are working in partnership to help Colombia's coffee farmers fight H. hampei with an early warning system that harnesses climatic data and state-of-the-art remote sensing technology. Data, such as temperature, relative humidity, coffee berry borer numbers and berry maturity, from coffee fields, using remote sensing technologies and in-person analysis, with the help of farmers, will be used (alongside work in CABI's labs) to predict when CBB migration will occur and, the best conditions for the CBB biopesticide to survive, infect and be effective. Find out more from the story 'CABI is helping Colombia's coffee farmers tackle a devastating pest with remote sensing technology.'
Additional information
Main photo: Coffee is enjoyed all over the world. In 2020, for instance, people in the Netherlands consumed 8.3kg of coffee per capita (Credit: Pixabay).
Video – Assessing the impacts of coffee green scale in Papua New Guinea
Former CABI scientist, Alex Brook, visited Papua New Guinea to assess the yield losses and economic impact of coffee green scale to highlight smallholder coffee farmers.
Relevant project pages
Enabling safe and climate smart coffee production in Colombia
Boosting coffee productivity in Kenya and Malawi
Relevant stories
CABI is helping Colombia's coffee farmers tackle a devastating pest with remote sensing technology
Stakeholders launch a $950m initiative aimed at boosting productivity for the coffee industry
Building the post COVID-19 resilience for Africa's coffee sector
Effects of credit guarantee scheme in opening up lending to smallholder coffee cooperatives in Ethiopia examined
CABI Culture Collection plays key role in new research investigating multiple outbreaks of coffee wilt disease
CABI-led Regional Coffee Wilt Programme 2000-2007
CABI has a long history in investigating coffee wilt disease leading the Regional Coffee Wilt Programme (RCWP) from 2000 to 2007. The RCWP was a multi-donor, multi- partner and multi-country programme which was undertaken in response to the worsening disease status in the Democratic Republic of Congo, Uganda, Tanzania and Ethiopia. 
You can read a synthesis of the work of the programme – complied by Noah Phiri and Peter Baker here.
From the CABI books and guides
CABI Plantwise CABI Pest and Disease Photoguide to Coffee Disorders
Coffee Wilt Disease edited by Julie Flood
Coffee Pests, Diseases and their Management edited by Jim Waller, M Bigger and Rory Hillocks
Related News & Blogs
The UK is hosting the 26th UN Climate Change Conference of the Parties (COP26) in Glasgow from 31 October to 12 November 2021. This is the final article in a series of four blogs by Jonathan Casey, Climate Change Manager at CABI, in support of CABI's i…
11 November 2021