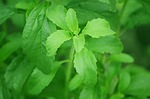 You might expect that producers of sugar and producers of other sweeteners would see each other as rivals, and there is indeed evidence of this. For example the 'Truth About Splenda' website, provided by the Sugar Association which represents sugar beet and cane farmers in the USA, emphasises the presence of chlorine atoms in the artificial sweetener sucralose (marketed as Splenda), and includes a link to a site comparing sucralose to bleach and DDT. On the other side of the debate, although www.sucralose.org doesn't say anything very contentious about sugar (it's true that sugar causes tooth decay and sucralose doesn't), the sucralose industry has a history of arguably misleading advertising in the form of the slogan 'made from sugar, so it tastes like sugar'.
Looking at a different sweetener, however, it seems that there is not so much rivalry. At the annual International Sugar Organization seminar in London a few weeks ago, one of the presentations was advertised as being entitled 'Sugar and stevia – how good a match?' suggesting that the sweet-tasting glycosides from the plant Stevia rebaudiana were not inevitably bitter rivals to sugar, but that there was a question mark about their compatibility. In the event the presentation was confidently entitled 'Sugar and Stevia: Complementary Natural Sweeteners for the Future', suggesting that they were indeed a good match.
The two speakers, Maria Theresa Scardigli, the Executive Director of the International Stevia Council, and William Mitchell from the stevia producer PureCircle, argued that given the growth in demand for sweetness around the world, and the health reasons for keeping sugar intake at a moderate level, there was an important role for blends of sugar with stevia sweeteners. Many blended products have been launched recently, aided by the approval of stevia for use in foods and beverages in the European Union in 2011 (http://www.steviabenefits.org/itn_11162011.html) – there were over 400 launches of stevia products in the region including Europe in 2012, and more than half of these contained sugar as well. (The fact that stevia is a natural product helps with marketing it as consumers have a more positive perception of natural ingredients, although of course 'natural' does not mean the same thing as 'safe').
One might have expected suspicious or hostile questions from the audience of sugar industry representatives, but most merely asked for information; one person pointed out that sugar was a food while stevia wasn't, and that people still needed the calories in sugar (the speakers didn't disagree, but argued that overconsumption was a problem), and one asked why if stevia was so good it wasn't a rival to sugar (he was referred to the previous question; also, although this wasn't mentioned, stevia is more expensive).
A search of CAB Abstracts for records on the combination of sugar and stevia finds surprisingly few, but if the speakers are correct and blends of sugar and stevia are successful, we can expect to see more. Have a look at the ingredient lists of products that you buy in the coming months.
Related News & Blogs
CABI in Pakistan is helping the Pakistan Museum of Natural History (PMNH) showcase the scourge of the noxious parthenium weed, otherwise known locally at 'Gajar Booti', to members of the public visiting its Bio Gallery exhibit. Parthenium is regarded a…
13 May 2019