Pets may be able to negotiate with their owners over what, when and how much they are fed. This is the view of Jon Day of the Waltham Centre for Pet Nutrition, based in part on evidence of how human babies "ask" for food before they can talk. Analysing these interactions may help avoid obesity in pets. The paper by Day and his colleagues appears in CABI's broad-ranging reviews journal, CAB Reviews.
Both pets and babies use begging and finicky eating habits to control what they are given, in a push-pull relationship. Day and his colleagues say that behaviour before, during and after eating all influence the feeder. Cats can self-regulate their diet in the laboratory at a healthy level, suggesting that obesity in the home may be the result of the pet manipulating the feeder, whether intentionally or unintentionally.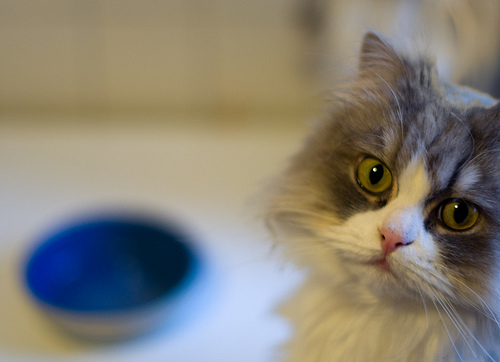 cc schmollmolch
Evidence suggests that men are less able to judge levels of hunger in infants than women. There is also wide variation in the ability of pet owners to interpret the behaviour of pets in terms of appetite and "fullness".
Food refusal is common in infants and is thought to make the caregiver more dependent on the infant, and gaining them more attention. Cats sometimes refuse a food that they have previously eaten without problems, and they too may use feed refusal as a strategy to influence what they are fed, but also more generally to dominate their relationship with their owners.  
While begging behaviour is influenced by an animal's hunger, there may also be elements of conditioned routine and social interaction with the owner that affect how much an animal begs. For example, the extent which a dog will beg depends on whether it can see its owner's face or eyes.  
While there is still more research to be done, it's probable that at least eight out of ten owners know that their cats are manipulating them over what food they give them, and a better understanding of this may help keep their pets healthier.
The paper, "Do pets influence the quantity and choice of food offered to them by their owners: lessons from other animals and the pre-verbal human infant?" by Jon E.L. Day, Sophie Kergoat and Kurt Kotrschal appears in CAB Reviews: Perspectives in Agriculture, Veterinary Science, Nutrition and Natural Resources 2009 4, No. 042.
http://www.cababstractsplus.org/CABReviews/Reviews.asp?action=display&openMenu=relatedItems&ReviewID=106612&Year=2009
Related News & Blogs
The development of digital technology has been rapid in recent decades as we step into the 5G/6G internet network generation. This technology has been particularly useful during the Covid-19 pandemic, when self-isolation and social distancing have been…
15 April 2021