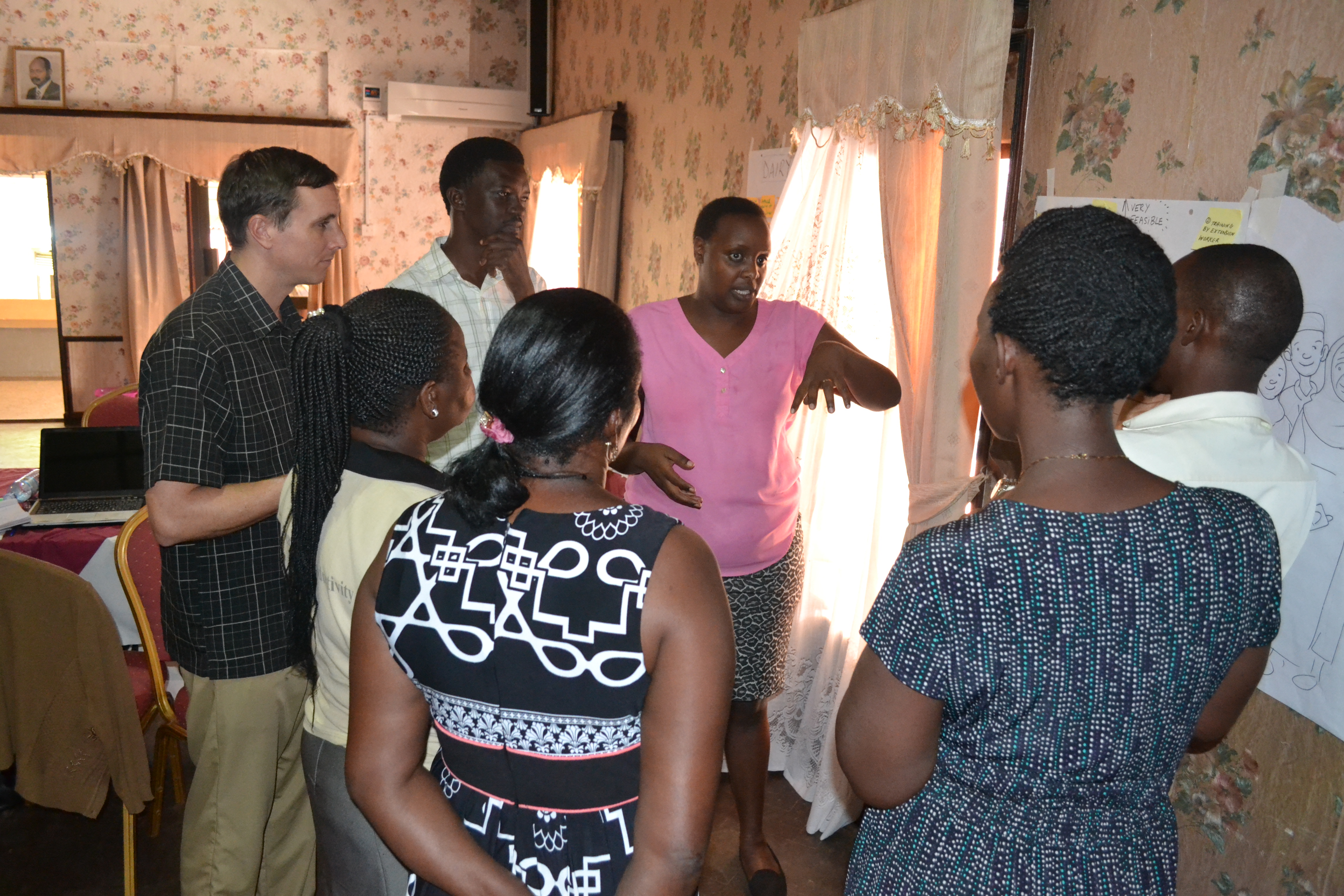 Authored by: Abigael Mchana, Communication Officer, CABI Kenya
Developing fit-for-purpose, interactive and effective communication materials for farmers and their intermediaries is not an easy task. You cannot create a poster with generic text or images and then distribute it to your audience en-masse. It requires an in-depth analysis of your primary stakeholder, an understanding of your audience's preferred communication channels and a realistic visualisation of how your intended audience will interact with the finished product.
CABI has, for a period of time, specialised in creating down-to-earth communication materials for farmers across sub-Saharan Africa and has been acknowledged for its efforts in disseminating agricultural information that resounds with its audience's needs amongst its stakeholders and partners. Furthermore, CABI has, over the years, built partners' capacity in developing communication materials.
The National Agricultural Research Organisation (NARO) recognised the useful input CABI contributes to knowledge dissemination, and as part of its Agricultural Technology and Agribusiness Advisory Services (ATAAS) project, contracted CABI with the objective of developing, promoting and disseminating information materials.
CABI was set to work with NARO's scientific and communication staff to consolidate the research and learning acquired through the project's lifetime. Content was repurposed into easy-to-understand communication formats for farmers and extension workers on five commodities: maize, beans, rice, cassava and dairy. In addition, CABI worked with Development Communication staff to build their capacity to package information materials, thus bridging the gap between scientists and end-users.
In an intensive co-creation workshop, CABI, in partnership with Mango Tree, engaged NARO staff in a needs analysis.  The aim was to identify and understand target groups as well as those involved in delivering the information. Technology briefs were then developed for the five commodities which would serve as a basis for designing prototypes of desired materials.
Participants had the opportunity of sampling non-conventional formats of farmer-oriented materials and decided on story charts and illustrative calendars. Working hand-in-hand with facilitators and illustrators, they were able to simplify complex content and insert it into their selected formats.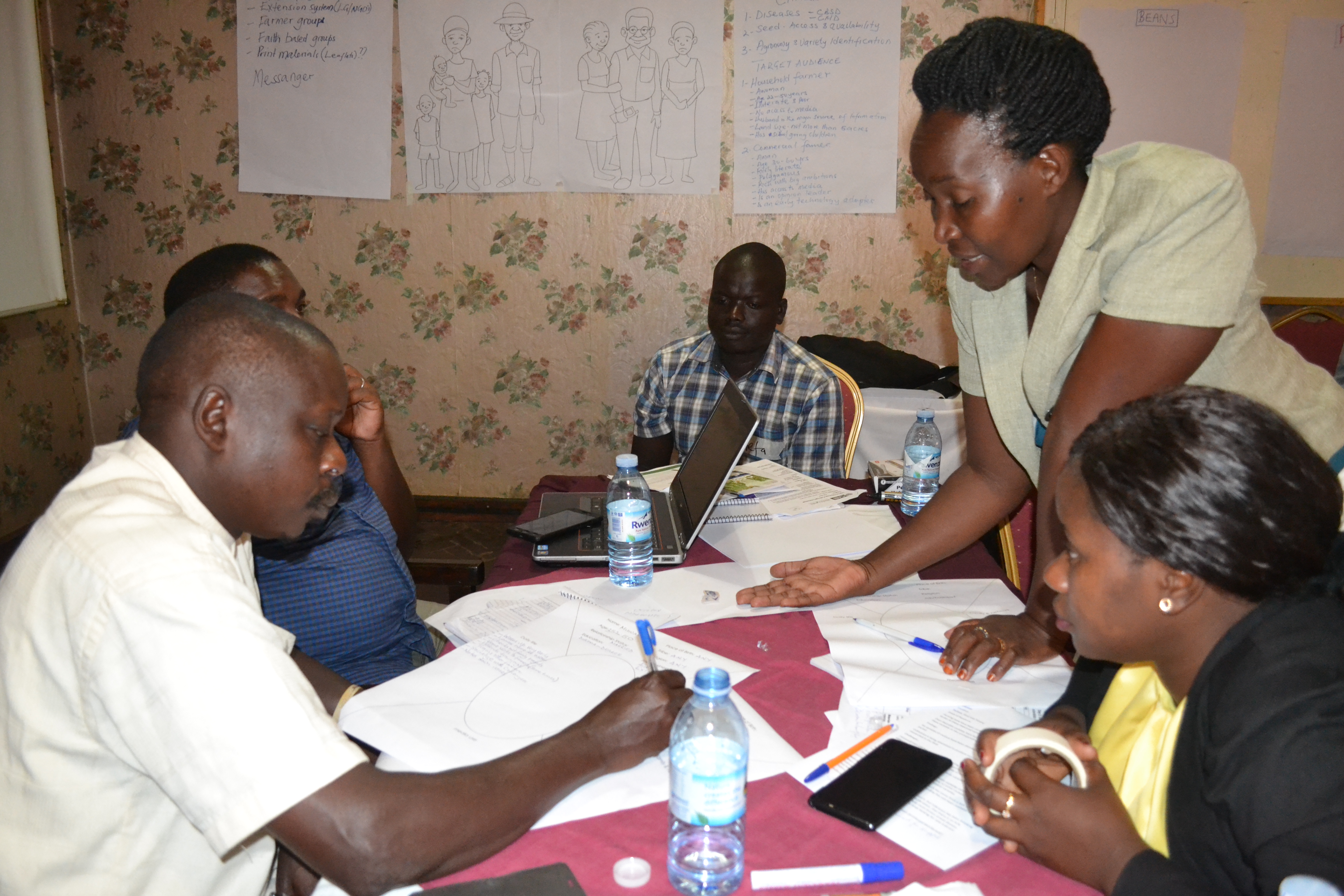 It was an exciting time for participants whose creative ability was stretched and whose understanding deepened in the intricacies of developing impactful resources. It was unlike anything they had experienced before and the majority of staff acknowledged that content creation was more than replicating information and mass-producing it to audiences. They appreciated the thought process that helps identify how farmers access, interpret and use information.
Learning continued. After developing prototypes, NARO staff had the opportunity to pre-test materials with farmers. Based on their feedback, NARO understood that even though information may be scientifically correct, its phrasing can potentially alter the intended meaning in the farmers' minds.
At the end of CABI's interaction with NARO staff, it was clear that NARO's approach to engaging farmers with varied communication formats would change. This was echoed by the Deputy Director General, NARO-SEC, Dr. Imelda, who promised to look into future possibilities of having similar capacity building sessions.
Related News & Blogs
The development of digital technology has been rapid in recent decades as we step into the 5G/6G internet network generation. This technology has been particularly useful during the Covid-19 pandemic, when self-isolation and social distancing have been…
15 April 2021