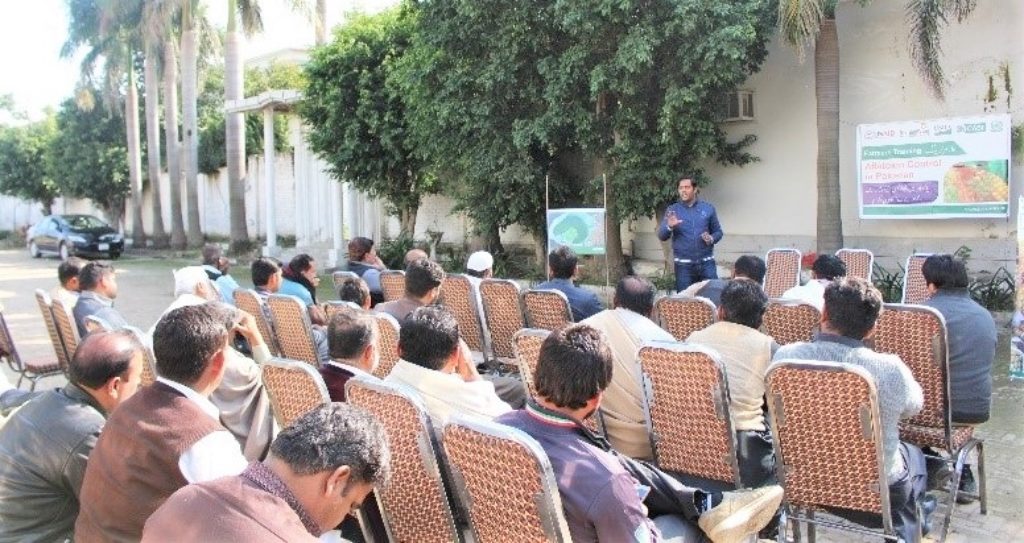 Dr Sabyan Faris Honey, CABI, and Deborah Hamilton, USDA
Farmers in the Punjab province of Pakistan produce 85% of maize not only for the purpose of helping to ensure local and regional food security but also for export to high end markets. Due to the presence of aflatoxin levels above permissible limits (20ppb) in maize grains, unfortunately local farmers are deprived of the ability to tap the high-end markets.
A major portion of the rejected maize, due to high levels of toxic aflatoxin, is being consumed in the domestic/industrial market which promotes diseases in humans and animals and causes direct financial losses to the farming communities due to low prices.
To try and address these issues CABl, in collaboration with the National Agricultural Research Centre and Rafhan Maize Products Co. Ltd, is conducting field trials of biocontrol product AflaPakTM at major maize growing areas of Punjab province. These include Faisalabad, Khanewal, Lodhran, Sialkot, Okara, Pakpattan and Kasur with the aim of providing healthier and improved maize produce free from harmful aflatoxins.
To strengthen the concept of biological control of aflatoxin for the provision of improved quality maize crop, the project planned to conduct a series of farmer training sessions in the aforementioned selected maize growing areas of Punjab and implemented ten trainings as the first phase.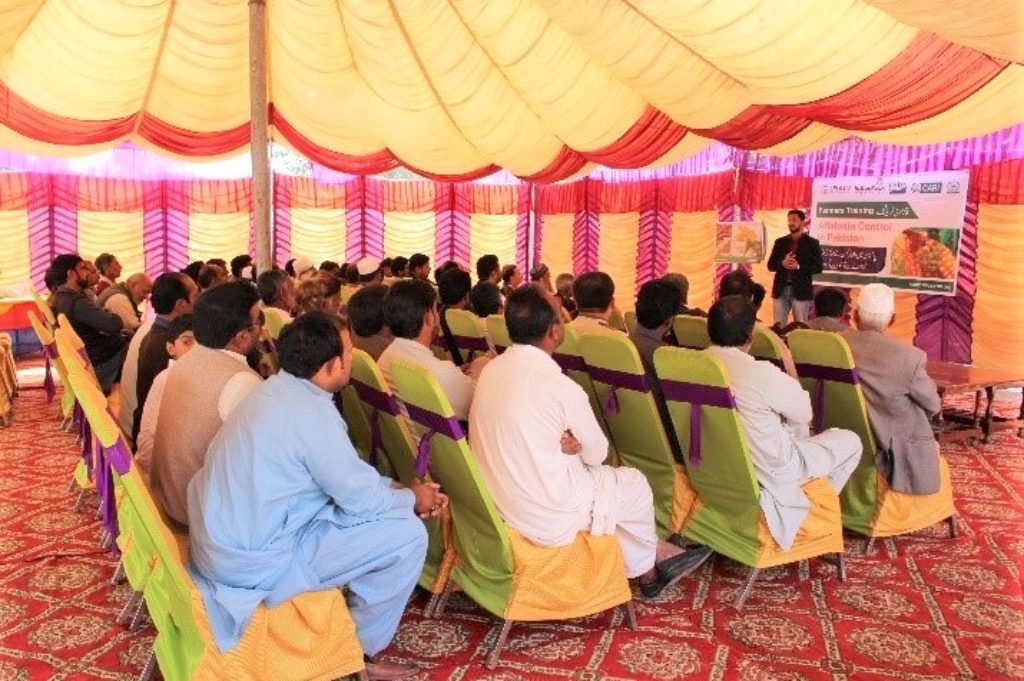 In total 527 maize growers took part in these training sessions and were educated on the problem of aflatoxin in maize crop, its hazards and implications on human and animal health, the role of aflatoxin in the rejection of maize consignment with financial loss and possible management strategies with special reference to application of AflaPakTM biocontrol.
Farmers were receptive to the concept of introducing a biocontrol product to deal with aflatoxin contamination in their maize crops. They further stressed that upon the commercial availability of AflaPakTM they will be able to claim that pertinent measures to control aflatoxin in their maize crop, which they are currently are unable to do so, have now been taken.
A group of farmers from District Kasur also shared their thoughts by further adding that AflaPakTM will help them to produce quality maize which will ultimately be accepted by the high-end markets and increase their livelihoods by realising a better price of their improved quality produce. The Aflatoxin Control in Pakistan team will continue to conduct field training sessions for farmers on aflatoxin management with special reference to its biological control.
Additional information
For more information, please contact:
Deborah Hamilton
USDA
202-720-0335
deborah.hamilton2@usda.gov
Dr Sabyan Faris Honey
CABI
+92 (0)51 8434979 Ext. 143
s.honey@cabi.org
Related News & Blogs
CABI's digital data expertise has been showcased through a project in Punjab, Pakistan, and will help smallholders in the fight against crop pests. The project is called: 'Strengthening food security post COVID-19 and locust attacks,' and will he…
30 August 2023