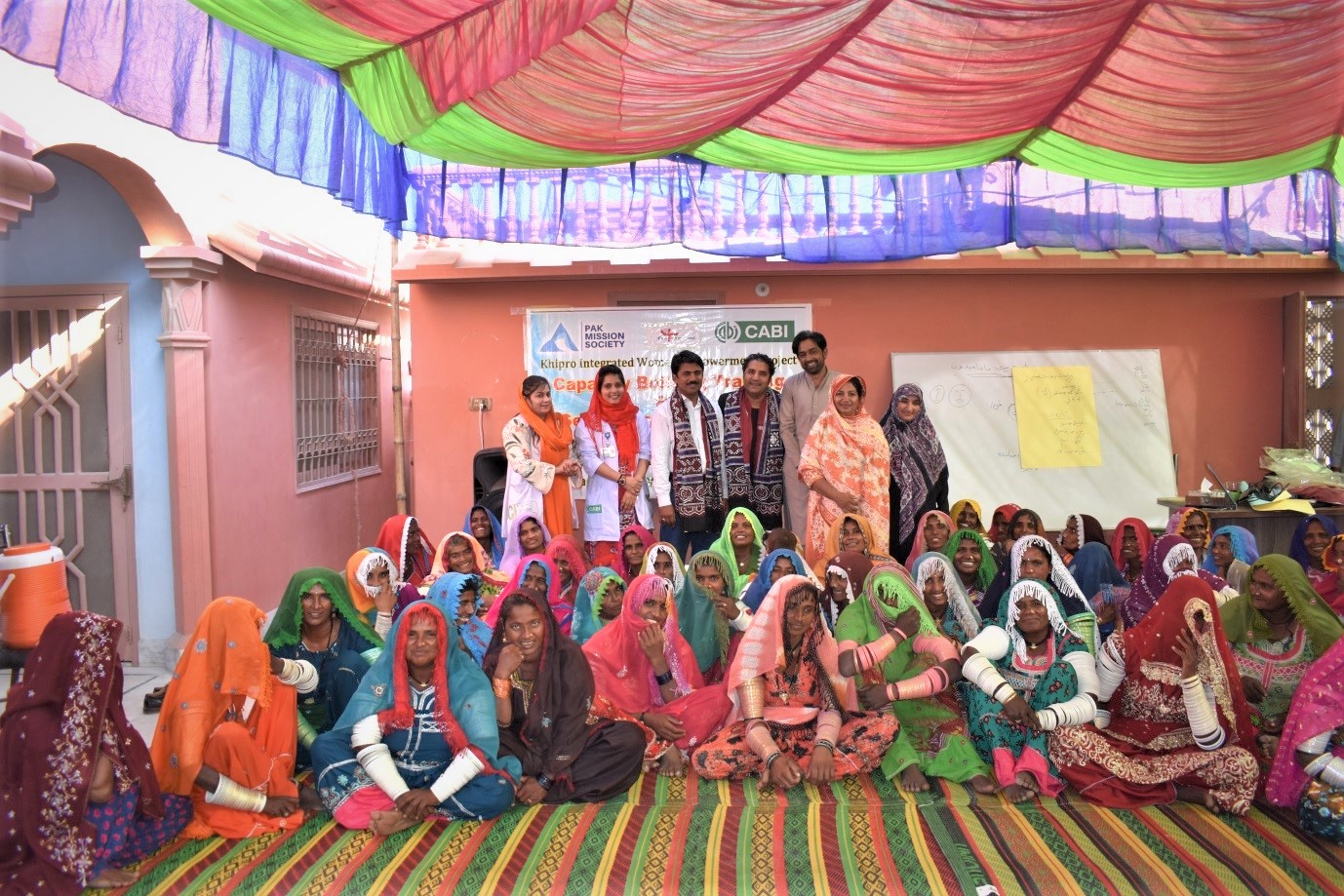 CABI is helping to engender a more productive and profitable cotton industry for Pakistan through the training of more than 57,000 farmers and farm workers – including these women picture above – as part of the Better Cotton Initiative.
The Pak Mission Society teamed up with CABI in the Tehsil Khipro, District Sanghar of Sindh province, to provide a training workshop to scores of women who are now better equipped to implement improved practices for cotton picking, handling and storage.
Cotton is Pakistan's largest industrial sector and has played an important role in the economic development of the country and remains a key livelihood source for more than one million farmers.
However, the misuse of pesticides and water, the inappropriate use of chemical fertilizers, transportation and storage problems as well as gaps in knowledge and skills have resulted in the industry annually losing around 10-15 percent of its value – equivalent to around $350m a year.
Female empowerment is seen a vital component to bring about equality between men and women with the shared goal of protecting crops from harmful pests and diseases and to conserve the natural habitats on the farms.
Better Cotton Initiative strategies are being rolled out on a countrywide basis with a view to reaching more than 500,000 farmers who rely on cotton crops for their livelihoods. This includes more than 18,000 women who been trained on proper cotton picking, health and safety, female empowerment and the prevention of child labour.
The participants were also trained on modern agriculture practices to grow vegetables through kitchen gardening in order to meet the household requirements for vegetables.
Dr Babar E. Bajwa, CABI's Central West Asia Regional Director, said, "These trainings provide an opportunity for female leaders and the community associated with them to live more healthier lifestyles through better nutrition as well as the chance to improve their economic development by following the principles of the Better Cotton Initiative."
Participatory training, involving CABI staff Mr Rauf Laghari, Mr Meer Muhammad Kolachi, Mehwish Eva and Kainat Panhwar, focused on issues of seed, land preparation, seed sowing, caring for the crop, using pesticides, harvesting, marketing and their solutions.
Dr Bajwa added, "The participants appreciated this initiative of CABI and viewed that this training is beneficial for smallholder farmers. The training came to its end with thanks from both sides and a commitment to working together on the same areas of interest to maximize the benefits for the farming community."
Funded by the Better Cotton Initiative's Growth & Innovation Fund, and working with a range of partners including the Government of Sindh Agricultural Research Department, CABI has trained more than 22,000 farmers and 35,000 farm workers (males and female) on ways of practicing Better Cotton production principles and criteria on 90,000 hectares of cotton crop from where nearly 96,000 metric tonnes of Better Cotton lint is produced.
In addition, CABI has enhanced the capacity of 840 medium-sized farmers to implement the Better Cotton Standard System with a focus on protecting crops from harmful pests and diseases and to conserve the natural habitats on the farms.
Additional information
Read more about 'Producing better cotton in Pakistan' on the project page.
See our cotton harvest picture special from Pakistan on the CABI blog.
Related News & Blogs
The majority of Zambia's 19.5 million citizens rely upon agriculture for all or part of their livelihoods with the country's 1.5 million smallholder farmers – of which 20% are headed by women – dominating the sector with maize being the main staple cro…
25 October 2023