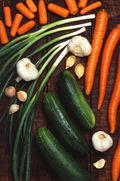 Germany seems to be suffering an outbreak of acronyms alongside an unusual outbreak of foodborne E. coli. Reports list the culprit as STEC, EHEC, VTEC, shiga toxin producing E. coli, verotoxin producing E. coli….They are all talking about the same thing.
Heres a quick guide to E coli diarrhoea acronyms and a summary of the outbreak plus some resources…(Photo: USDA)
E coli acronyms untangled
E. coli are classified in several ways according to their toxins, adhesion characteristics, whether they can invade cells and what cell surface polysaccharides they have.
One group of these bacteria produce verotoxins also known as shiga toxins. They can cause clinical disease but many do not. They are designated STEC or VTEC (shiga toxin producing E. coli or verotoxin producing E. coli). The subset of these bacteria that do cause clinical disease is called EHEC, enterohaemorrhagic E. coli, such as the one in this outbreak. The notorious E. coli O157:H7 responsible for many cases of  food poisoning is also an EHEC. So some articles are referring to a more general grouping than others giving us 3 acronyms to read.
 So whats happening in Germany?
The outbreak of bloody diarrhoea and haemolytic uraemic syndrome (HUS) linked to a shiga toxin producing E. coli in Germany has affected over 200 people since early May and killed more than 15, according to recent reports.
In Germany there are usually about 1000 cases of infection with shiga toxin producing E. coli  each year with 60 cases of HUS. This outbreak of over 200 cases so far represents one of the largest described outbreaks of HUS/STEC worldwide and the largest in Germany, with a very atypical age and sex distribution of the cases, according to a report from the Robert Koch Institute. Most of the patients are adults, often female rather than children under five and the cause is not the usual O157:H7 strain. Cases linked to this outbreak have also been reported in Sweden, Denmark, the UK and the Netherlands and in most cases the patients had recently travelled in Northern Germany.
The outbreak is caused by E. coli serotype O104. An outbreak of this type has only been reported once before in a US outbreak of food poisoning in 1994. Serotype O104 has however been reported in cattle, pigs, sheep and poultry.
Despite this E. coli strain being a pathogen of a range of livestock the source doesn't appear to be contaminated meat or milk. Epidemiological investigations indicate that salads, more specifically cucumbers could be the food involved. Salad crops are likely to have picked up this E. coli through water contaminated with manure from infected animals or directly from manure used to fertilise the crops.
This type of foodborne outbreak is becoming more common with the development of organic agriculture and growing demand for fresh bagged salads. E. coli and other enteric bacteria can actively attach to plants making them harder to wash off and there is also evidence they can multiply on the salad crop (See below for a book chapter from CABI that explores how bacteria can contaminate salad crops and grow).
The German Federal Institute for Risk Assessment advises German consumers not to eat raw vegetables for the time being while they investigate.
Resources:
Free book chapter  Human pathogens and the health threat of the phyllosphere.. This free book chapter discusses how enteric bacteria contaminate salad crops, and what is known about how they can grow and survive.
Book: See also CABI's recent book: Zoonotic pathogens in the food chain. A chapter in here explores how manure can spread foodborne diseases.
Web Resources on the outbreak:
Eurosurveillance article: Large and ongoing outbreak of haemolytic uraemic syndrome, Germany, May 2011
Robert Koch Institute: Outbreak of life-threatening haemolytic uremic syndrome (HUS) caused by bacterial infection
The German Federal Institute for Risk Assessment
Resources on Nutrition and Food Sciences Database (fulltext for subscribers only):
CAB Review: Plants as reservoirs for human enteric pathogens
CAB Review: Incidence and microbiology of salad-borne disease
Related News & Blogs
Faced with an humanitarian crisis taking place on their shores, EU governments debate how to redistribute Syrian migrants fleeing conflict. In 2009, international health and travel medicine specialists at ECTMIH (Italy) identified mass migration as a key public health issue that Europe needed to prepare for because of climate change. What lessons can we learn from handling the current migrant crisis to prepare for the future warming of the planet?
18 September 2015