A decision announced earlier in April by British tour operator First Choice to sell only all-inclusive holidays from next year has triggered a debate about the pros and cons of all-inclusive resorts. Leading travel writer Simon Calder is quoted by the BBC News website as calling all-inclusives "the devil's work", while industry bodies and pressure groups have also voiced criticism. But other operators of all-inclusive resorts have defended their record of spending money locally and being environmentally and socially responsible.
Travel firm First Choice, part of the TUI group, is to make all its holidays all-inclusive from next year, saying that this will make it the UK's first mainstream holiday company to take this route. Already most First Choice holidays are all-inclusive, and the move will help to differentiate the brand from other companies within the TUI groups. Non-inclusive holidays previously sold by First Choice will now come under the Thomson brand.
First Choice packages will include flights, in-resort transfers, hotel accommodation, three meals a day and unlimited local drinks as standard. First Choice said its research had shown that demand for all-inclusive holidays had grown by 32% in five years. Already, 65% of its holidays are of this type.
Johan Lundgren, managing director of TUI UK & Ireland, the parent company of First Choice, said the move was a first for the mainstream holiday industry.
It is marketing all-inclusive deals as suitable for budget conscious UK holidaymakers, citing a "price test", in which it compared the cost of a family holiday at its all-inclusive resort in Benidorm, to one staying in a bed and breakfast.
This, it said, showed a typical family could save more than £500 a week by taking the all-in option.
It suggested that a family staying at a bed and breakfast would pay £157.06 a week on entertainment and £38.43 on snacks.
Simon Calder, the travel editor for the Independent newspaper, queried some of the figures used in the price comparison offered, and said all-inclusives cut off a number of the pleasurable things to be experienced on holiday – and did nothing for local trade.
"From every point of view, except perhaps holiday company shareholders, all-inclusives are the devil's work" he said, quoted by the BBC. "From the holidaymaker's perspective, they dampen the appetite to explore – because as soon as you step beyond the walls the meter starts running and you're incurring extra costs."
Criticism also comes from pressure group Tourism Concern, which says: "We are dismayed by the news that First Choice is making all their holidays all inclusive from 2012 and this really highlights how, despite all the tourism industry talk of becoming more sustainable, it still has a very long way to go."
"All inclusive resorts generally provide extremely limited benefits to local economies, beyond poorly paid jobs. Meanwhile, land prices and the cost of living for local people increases, and access to precious natural resources, such as water, can become compromised due to heavy consumption by resorts. Even the food is usually imported rather than sourced locally, while tourists are discouraged from leaving the resort apart from on specially organised excursions."
And TUI UK's decision to have First Choice sell only all-inclusive holidays has been slammed by the Association of Independent Tour Operators (AITO), which called it "extremely disappointing" for many countries.
But First Choice says that the all-inclusive market has grown by 32% in 2004-2009, and that criticism is ill-founded. The company claims that they encourage hoteliers to work with local suppliers, and promote local excursions to holidaymakers. In a guest comment on Travel Weekly, the chief executive of Sandals Resorts also defends the all-inclusive concept, and claims that Sandals encourages "off-property" excursions and supports local communities.
A blog by tourism researcher Harold Goodwin attempts to bring balance to the debate, and calls for research comparing economic impacts of holidays in all-inclusive and traditional hotels and resorts. He says "All inclusives in Turkey and Cuba…employ local staff, in larger numbers because of the range of activities provided, the levels of occupancy over a longer season are greater, requiring higher levels of permanent employment. Food and drink are locally produced and the entertainments and activities provided are locally owned and staffed."
Having just returned from Cuba, I heard while there that although the local staff at inclusive resorts receive low wages (according to what I heard there, only around $20 of the $400 a month that holiday companies pay the Cuban government for their services), the jobs at resorts are still much in demand due to shares of tips received, in a country where most goods are available only to those with access to the "convertible peso" used by tourists. And at the inclusive resort I briefly visited outside the town of Trinidad, many guests do go to visit the town and sample the music and dancing there in the evenings.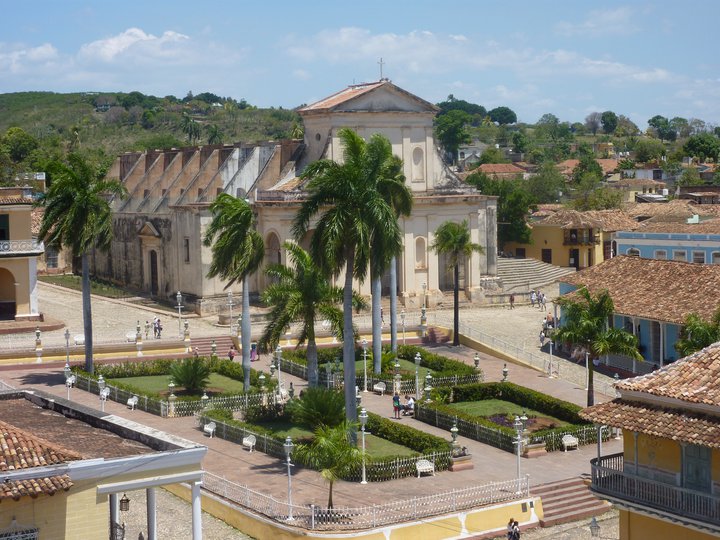 All-inclusive resorts aren't for all – they appeal little to me – and the companies who operate them do have control over which local suppliers they use, rather than holidaymakers themselves having a wider choice over where their money goes. But a quick search of the Leisure Tourism Database finds very little published research on their economic and social impact: as Harold Goodwin says, perhaps this is long overdue.
Related News & Blogs
A few months ago 2020 was predicted to be a record-breaking year for tourism, continuing the apparently unending pattern of annual growth recorded since the tourism industry began collecting data on numbers of people travelling. Even allowing for the f…
2 June 2020