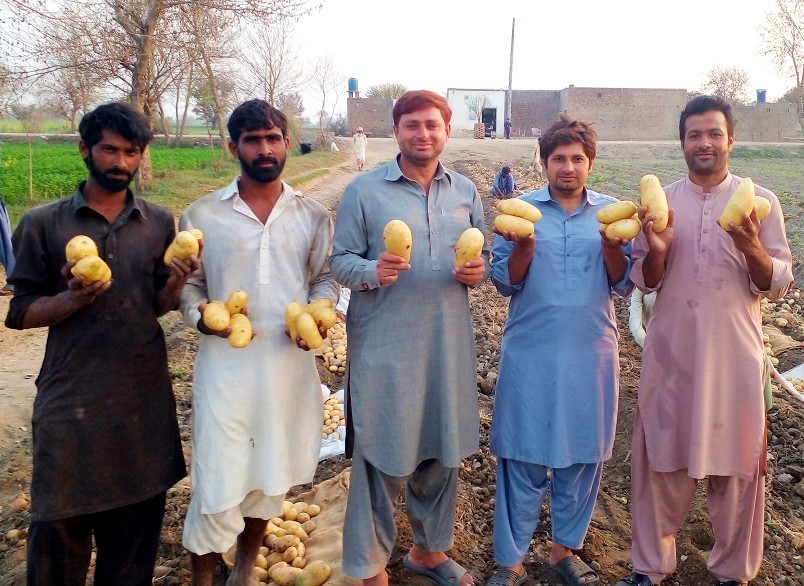 Meet Ali Azhar and his family. Mr Azhar is a young potato grower who lives in Punjab, Pakistan. Over 95% of the country's potato production originates from this province.
Third generation potato producer
Mr Azhar has followed in his grandfather's footsteps and is a third-generation potato producer on the family's farm in the village Thatha Nonari, Depalpur, Okara district. Here, many small landholders grow potatoes and rely on potato farming for a living.
Despite applying large amounts of fertilizers and pesticides, Mr Azhar had not been achieving a high potato yield. One of the challenges to increased productivity and profits is the lack of quality affordable seed potatoes. Other challenges include limited access to extension services and improper use of fertilizers and pesticides. These hurdles are widespread in Punjab.
About the project
A project called 'Capacity building of small-scale potato growers in Punjab Pakistan' has been working to mitigate challenges faced in the smallholder potato sector. It's been doing this by building the capacity of small-scale potato growers, both men and women, in good agricultural practices. This includes the sustainable and safe use of pesticides.
By using demonstration plots, practical training is given to farmers. Farmers field days and group discussions also help to share best agricultural practices with smallholders. And the development of extension material, such as manuals and leaflets, disseminates knowledge even further. In addition, CABI and district 'master' trainers monitor the farmers' potato crops and help them to overcome challenges.
To improve productivity, smallholders need access to technical knowledge and skills on potato production. There are many advanced potato production practices that farmers can follow. These include:
selection of good quality seed varieties
proper planting distances
fertilization strategies based on soil fertility
integrated pest management (IPM) strategies based on pest scouting
safe use of pesticides
advanced harvest, post-harvest and storage practices
CABI and Wageningen University & Research (WUR), one of the project partners, make recommendations for potato farming and their experts provide advice on how to improve potato yields and quality. In particular, the knowledge is helping Mr Azhar to grow better quality 'ware' potatoes. These are potatoes meant for human consumption, as opposed to seed potatoes which are grown to be replanted. Ware potatoes are sold directly to market for people to buy and eat.
Improving prospects for smallholders
Previously, Mr Azhar experienced massive yield losses in 2020 as a result of using low-quality seed potatoes to grow his crop, and a severe attack of late blight disease.
The project, which is funded by the Netherlands Enterprise Agency (RVO), is improving the prospects for young smallholders like Mr Azhar. One of the ways it is doing this is by establishing demonstration plots. These are small area of land that display the recommended practices to grow ware and seed potatoes. The team has also provided hands-on training on potato production practices to men, women and youth, such as Mr Azhar.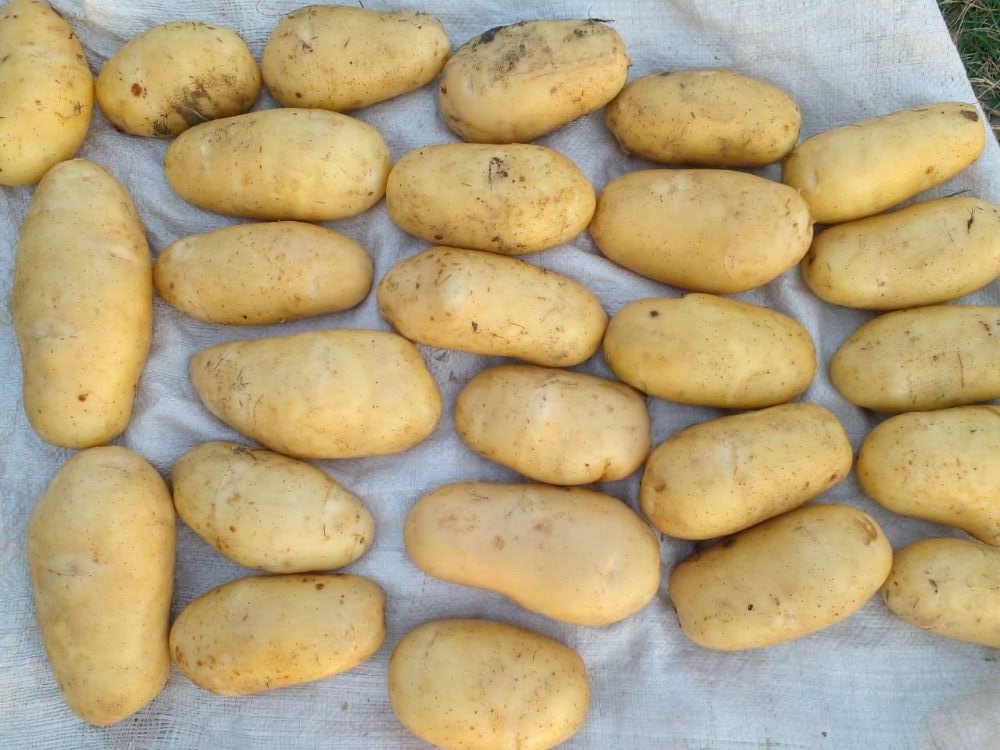 One of the demonstration plots of the ware crop was set-up on Mr Azhar's farm. This plot was established and maintained according to CABI and WUR experts' recommendations.
For comparison, Mr Azhar also established a farmers' plot close to the demonstration plot. Here, he cultivated potatoes according to his traditional practices. After harvesting, the yield achieved from the demonstration plot was approximately 65% higher than the traditional plot.
Higher yield achieved
Mr Azhar said, "After implementing the planting distance, fertilization and integrated pest management (IPM) advice provided by the project team, I was able to plant 40% less of the seed potatoes than I had previously.
"Optimising use of fertilizers, according to soil fertility analysis and a better IPM strategy, not only reduced the cost of production but, importantly, resulted in a higher yield (6.52 metric ton per acre) and premium quality tubers which get higher prices at the local market."
The project is implemented in collaboration with Pakistan Agricultural Research Council (PARC), Department of Agri Extension – Punjab, University of Agriculture – Faisalabad, Punjab Rural Support Programme, Ministry of National Food Security & Research, Potato Research & Development Board – Punjab Potato Growers Society and the Pakistan Farmers Associates.
Additional information
Main image: Mr Ali Azhar (second from the right) and his family with some of their yield which has increased thanks to the capacity building project (Credit: CABI).
Authors
Ms Maila Al Saba Shah – Monitoring Evaluation and Gender Assistant
Mr Yasar Saleem Khan – Provisional Team Manager
Contributors
Dr Hafiz Mahmood ur Rehman – CABI Master trainer
Dr Hassan Raza – Master trainer
Dr Rene Eschen – Senior Research Scientist
Dr Umair Safdar – Project Manager
Relevant stories
'CABI 'chips-in' to help build capacity of potato growers in Punjab, Pakistan.'
'Empowering smallholder farmers in Punjab to 'sow the seeds' of better potato production.'
'Boosting socio-economic gender equity for smallholder potato farmers in Pakistan.'
Related News & Blogs
CABI's digital data expertise has been showcased through a project in Punjab, Pakistan, and will help smallholders in the fight against crop pests. The project is called: 'Strengthening food security post COVID-19 and locust attacks,' and will he…
30 August 2023