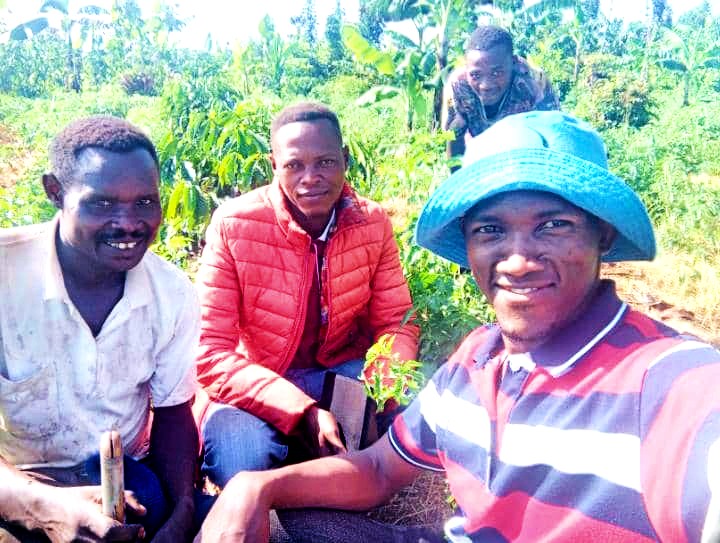 Brian Semata is a young smallholder farmer in Uganda. He is a married man with one child who has been working with CABI, as part of its project with the Zirobwe Agaliawamu Agri-business Training Association (ZAABTA), to help other smallholder farmers have greater access to agro-inputs.
Brian is one of 85 youth skilled in agricultural service provision in Uganda by CABI. This includes skills in how to diagnose pests and diseases, collection of soils and provision of spray services.
It is hoped that these agro-inputs will help them grow healthier and profitable crops – thereby increasing their livelihoods and food security. Here Brian tells the story of the project so far and one of the beneficiaries Anthony Ssenyonga.
The piece follows the recent UN World Youth Skills Day 2023 which celebrates how the transformative power of skills development is shaping and improving the lives of young people around the world.
Access to quality agro-inputs is crucial
Access to quality agricultural inputs is crucial for smallholder farmers to enhance productivity and profitability. However, in Uganda, where 80% of the population relies on agriculture for their livelihoods, accessing such inputs remains a significant challenge.
The lack of reliable suppliers, high costs, and the prevalence of counterfeit products pose obstacles for farmers in rural areas. In this blog post, we will explore how CABI's successful training programme with ZAABTA in Luweero District has empowered smallholder farmers by providing them with easy access to agro-inputs.
Overcoming the Challenges
Prior to the intervention by CABI, smallholder farmers in rural Luweero faced low crop yields due to inadequate access to reliable and quality agro-inputs. Many farmers had to travel long distances to find reputable suppliers, and some were exposed to expensive and fake inputs.
Recognizing these challenges, CABI chose Zirobwe/Luweero District to implement its programme, aiming to promote public-private partnerships and improve market access.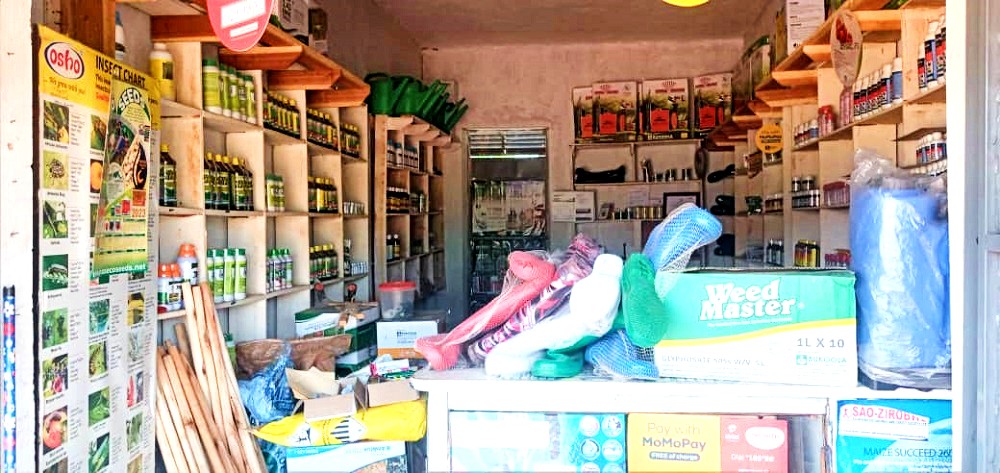 CABI's mission and strategies
CABI's mission is to transform the extension advisory services for youth, fostering greater family food security and promoting participation in commercial activities along the agricultural value chain while respecting natural resources.
By creating public-private partnerships that financially support extension services, CABI aims to enhance smallholder farmers' access to agricultural development and profitable market opportunities.
Empowering farmers through training
CABI facilitated comprehensive training programs for farmers and extension agents in selected communities. The training covered various thematic areas, including pest and disease diagnosis and chemical handling, addressing the specific needs of the target beneficiaries.
Over 300 youths received certificates in safe chemical use and handling, pest and disease diagnosis, and became equipped to provide after-sales services to farmers through the PlantwisePlus plant clinic programme.
Community impact and economic growth
The training provided the youth with improved knowledge and skills, enabling them to start their own agro-input businesses in their communities. These businesses began as small units selling a range of inputs such as seed varieties, herbicides, fungicides, spray pumps, vegetable seeds, and coffee seedlings.
As a result, employment opportunities were created for the youth and the wider community. Anthony Ssenyonga, who established Devine Mercy Agro-input in Zirobwe town, is a testament to the positive outcomes of the programme.
Networking and exposure
Through CABI and the ZAABTA programme, Anthony's capacity has been strengthened in terms of management, input and output sourcing. The network established by CABI has allowed him to operate competitively with other agro-dealers in the district.
Anthony appreciates the benefits of friendship, strong ties, and information sharing with 27 other agro-input dealers across the country. This wide network has enabled him to access a diverse range of inputs from reliable sources.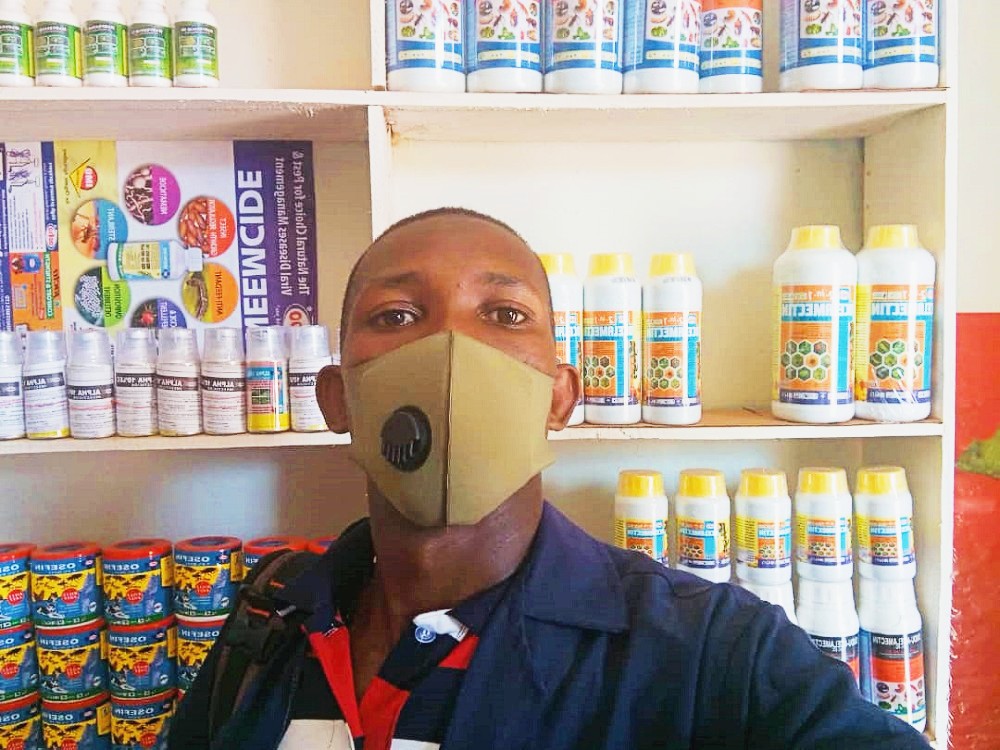 Challenges and lessons learned
Anthony acknowledges that challenges are an inherent part of running any business. He has faced difficulties, such as low-performance levels of inputs, seasonality of the business, poor weather conditions affecting farmer perceptions, and high employment turnover.
However, he emphasizes the critical role of rural input stockists in improving access to quality agricultural inputs in Uganda. Developing smaller, affordable packaging and encouraging certified suppliers can help meet the demands of rural farmers effectively.
Conclusion
The successful training programme conducted by CABI and ZAABTA in Luweero District has significantly improved smallholder farmers' access to reliable and quality agro-inputs.
Through the acquisition of new knowledge and skills, Anthony and his colleagues have established agro-input shops, benefiting their communities by enhancing the quality and quantity of agricultural products.
The positive impact of CABI's intervention reinforces the importance of providing training and support to empower smallholder farmers and promote sustainable agricultural development. Long live CABI and its dedication to improving the lives of farmers!
Additional information
Main image: Anthony Ssenyonga (right) with fellow smallholder farmers in Luweero District, Uganda (Credit: Brian Semata).
Relevant stories
'Africa's youth unemployment challenge needs a revolution in order to sustain global development.'
'Transforming agriculture with drones: empowering youths for a sustainable future.'
'New study suggests innovative value chain financing approaches for youth engagement in agribusiness.'
Dr Joseph Mulema interview on Look Up TV
Dr Joseph Mulema, Senior Scientist, Research at CABI, was interviewed on Kenya's Look Up TV about youth and agribusiness in Africa. Here is a clip from the interview.
Relevant book
See also from the CABI Bookshop 'Youth and the Rural Economy in Africa: Hard Work and Hazard' edited by James Sumberg, Institute of Development Studies, UK.
Related News & Blogs
CABI has shared its expertise in agriculture value chain development and market access as part of a panel discussion highlighting smallholder farmers facilitation in international trade organised by the World Trade Organisation (WTO) Informal Working G…
17 July 2023