CABI scientist Dr Jayne Crozier has co-authored the 4th Edition of the Pesticide Use in Cocoa manual published by the International Cocoa Organization (ICCO) in close cooperation with the cocoa industry.
Dr Crozier, who is a plant pathologist specialising in the detection and controlling of tropical diseases – particularly cocoa, bananas and coffee with a focus on biological control – co-authors the manual with Dr Roy Bateman.
Pesticide Use in Cocoa provides broad guidelines on the choice and application of pesticides used in the cocoa supply chain and follows first, second and third editions of the manual which were published in 2008, 2010 and 2015 respectively.
Delicacy that is cocoa
According to the ICCO, chocolate and other cocoa products are delicacies that people all over the world love and enjoy. The key ingredient in these delicacies is derived from cocoa beans, also known as the "food of the gods", and popularly renowned for its ancient history as well as its health and nutritional attributes.
However, the use of chemical control measures to manage cocoa pests and diseases could cause food safety concerns if pesticide application is not done in the prescribed manner, leading to residues above maximum prescribed levels for chemical compounds that are dangerous to the health of the consumers.
Sustainable use of pesticides
The fourth edition of the Pesticide Use in Cocoa manual is packed with more information on the science and application of pesticides. In addition, there are new sections on policy changes in traceability schemes, EU Green Deal on sustainable use of pesticides, bio-alternatives to chemical control and an analysis of emerging pest threats.
It is intuitively designed to be user-friendly, particularly for cocoa farmers and cocoa traders. The manual is also a training guide for agricultural extension agents, agricultural students and staff of cocoa institutions and bodies.
The manual will be very useful for cocoa warehouse managers, pesticide manufacturers, pesticide sellers and any other party that desires to know more about the safety of cocoa for consumption.
Additional information
Main image: Pesticide is sprayed onto cocoa crop (Credit: CABI).
Pesticide Use in Cocoa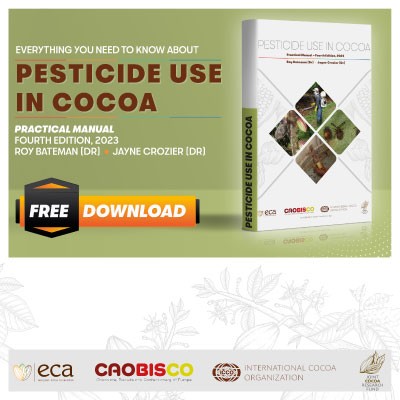 You can download for free the Pesticide Use in Cocoa Practical Manual 4th Edition, 2023, by Roy Bateman and Jayne Crozier by clicking on the image above or here.
Related News & Blogs
Otherwise known as 'the food of the gods' Theobroma Cacao is cocoa – the key ingredient from which chocolate is produced. The various species of cocoa such as Criollo and Forastero mainly originate from the Amazon jungle and are planted and produced in Colombia, Brazil, Ivory Coast, Cameroon, Indonesia, Ghana, Ecuador and Nigeria
9 April 2020