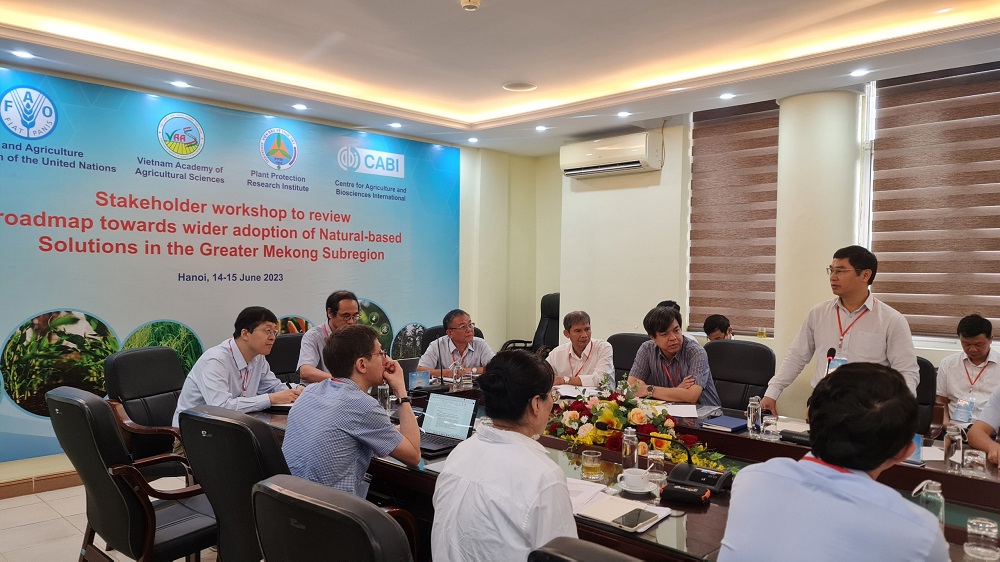 CABI in partnership with the Food and Agriculture Organization of the United Nations (FAO), Vietnam Academy of Agricultural Sciences (VAAS) and Plant Protection Research Institute (PPRI) has convened a workshop to explore the greater use of Nature-based Solutions (NBS) to fight crop pests in the Greater Mekong Subregion (GMS).
Forty representatives from CABI, FAO, VAAS, PPRI, the Institute of Plant Protection of Chinese Academy of Agricultural Sciences (IPPCAAS), Plant Protection Department (PPD) of Ministry of Agriculture and Rural Development (MARD), Vietnam National Agricultural Extension Center (NAEC), Vietnam National University of Agriculture (VNUA), Bac Giang University of Agriculture and Forestry, Mak Group Corporation and other local institutions joined the meeting in Hanoi.
Representatives from Laos, Cambodia and Thailand joined the workshop virtually to discuss more sustainable ways of ensuring greater food security for the GMS's 326 million residents.
The drive towards wider use of NBS to mitigate crop pests is even more poignant, delegates heard, in light of the negative impacts of overuse of synthetic pesticides with serious consequences for environmental pollution, animal and human health, and overall societal wellbeing.
Rice, for example, is the most important staple crop in GMS but productivity is relatively low with millions of tonnes lost to pests, diseases and weeds. The intensive use of pesticides has already led to insecticide resistance, outbreaks of secondary pests and damage to farmers' health.
However, work by CABI, for instance, such as the project 'Increasing rice production around the Mekong', funded by DevCo EuropeAid, and research, published in the journal Insects, suggests biological controls can be a viable alternative to pesticides for rice farmers keen to protect their livelihoods and food security.
As part of the workshop, Dr Feng Zhang, CABI's Regional Director, East & South East Asia, and Dr Hongmei Li, Senior Scientist, spoke about CABI's plans with the FAO to promote NBS as part of a 'One Health' approach to promote environmentally healthy food production – where such a strategy can also help mitigate the impacts of climate change.
This included presenting a case study of the fall armyworm pest in Vietnam which was first detected damaging corn in 40 different provinces in 2019. The CABI scientists highlighted how the Ministry of Agriculture and Rural Development (MARD) issued directives to provide prevention and control measures for the pest which featured the use of pheromone traps and biopesticides.
According to CABI study, as part of a series of recommendations made to increase the uptake of a more NBS-centred approach to pest management, there is a strong need to support government to strengthen frontline extension services and ICT-mediated extension campaigns where various digital tools can also be promoted.
One of the tools highlighted included the CABI BioProtection Portal which has been recently upgraded to make it faster, sleeker and easier to use for those wanting information about registered biocontrol and biopesticide products to fight crop pests and diseases.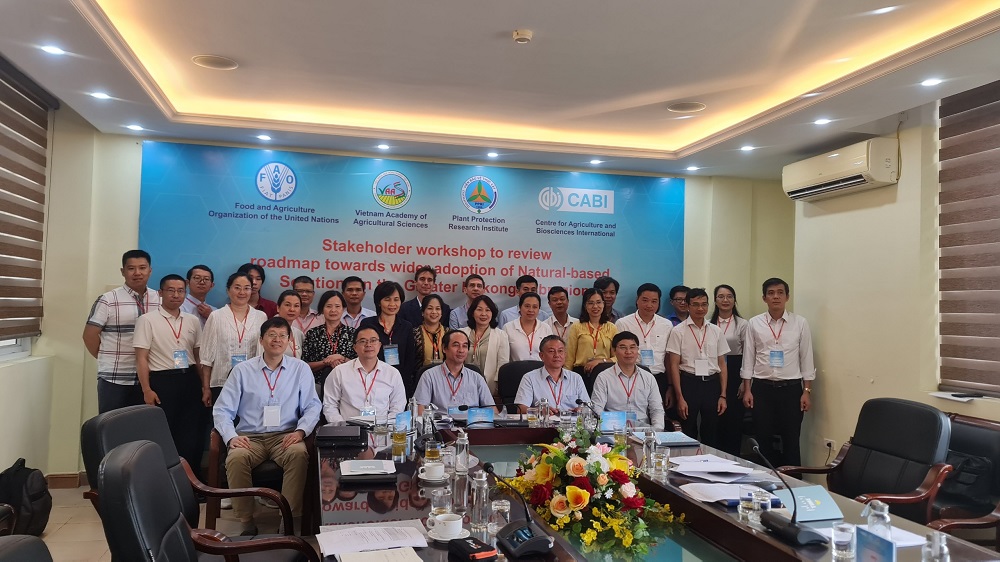 The Portal provides users with nationally registered bioprotection products that can be used for the particular crop or pest problem they select. Additionally, the site includes vital information for growers who want to learn more about biocontrol, including how to identify, apply and store bioprotection products.
Dr Yubak Dhoj GC, FAO Representative, pointed that number of innovations already developed, but why they have not been applied in the region. Good products exist but are not being adopted widely. The main reason can be their effectiveness or availability, and government policy supports. Integration of NBS in GMS can build from laboratory to policy level. The workshop can help to identify where there are gaps.
Dr Zhang said, "The widespread use of fertilizers and chemical pesticides is not a sustainable approach to food production in the long run where concerns on protecting soils and biodiversity, as well as human and animal health, are exacerbated by the effects of climate change.
"We are pleased to be working in partnership with the FAO and government agencies in Vietnam and other GMS countries to further research in the field where NBS can become an integral part of an IPM strategy for the pest problem."
At the workshop, Dr Dao The Anh, VAAS Vice President and CABI Liaison Officer, said the Government of Vietnam has developed a national action plan to transform the country's food systems all along the food value chain toward Transparency, Responsible and Sustainability by 2030. He said a 'One Health' approach is currently being promoted which focuses mainly on animal health at the moment but that this will soon include plant and human health in the future.
Dr Nguyen Quy Duong, Deputy Director General of PPD, highly appreciated the NBS initiative, which fits well with the national plant protection work plan (2022-2030). He also expressed strong interests to work with CABI and seek synergy with ongoing Integrated Plant Health Management project in Vietnam.
Dr Wende Liu, Assistant Director General of IPPCAAS, expressed strong willingness to cooperate with CABI and GMS country partners, and to build a regional network on transboundary crop pests and diseases management. Green plant protection techniques and products will be deliberately selected and adapted for technology transfer from China to the target countries.
One of the key outcomes from the workshop is the concept note of a China-FAO SSTC Project Proposal, entitled "Enhancement and adoption of Nature-based Solutions for safe rice production and pesticides reduction in the Greater Mekong Subregion to improve food security and farmer livelihoods," which has been developed and will be finalized this month.
The project, partially funded by CABI's Membership Support Programme, also involves CABI staff from its centres in Switzerland, India and the UK where Dr Urs Schaffner is the Project Executive and Dr Hongmei Li the Project Manager. CABI's Membership Support Programme seeks to promote collaboration among CABI Member Countries, and strengthen partnerships with other stakeholders.
Additional information
Main image: The move towards more Nature-based Solutions to fight crop pests in the Greater Mekong Subregion is being driven by the desire to produce food more sustainably amid growing concerns of the impacts of climate change (Credit: CABI).
Relevant stories
'Plantwise approach' to promote nature-based solutions for sustainable agriculture in South East Asia addressed at ASEAN forum.'
'Study suggests biological controls to fight crop pests can be a viable alternative to pesticides for rice farmers in the Greater Mekong Subregion.'
'CABI-led £1.6 million collaboration helps reduce China's reliance on harmful pesticides.'
Related News & Blogs
CABI has shared its expertise in agriculture value chain development and market access as part of a panel discussion highlighting smallholder farmers facilitation in international trade organised by the World Trade Organisation (WTO) Informal Working G…
17 July 2023