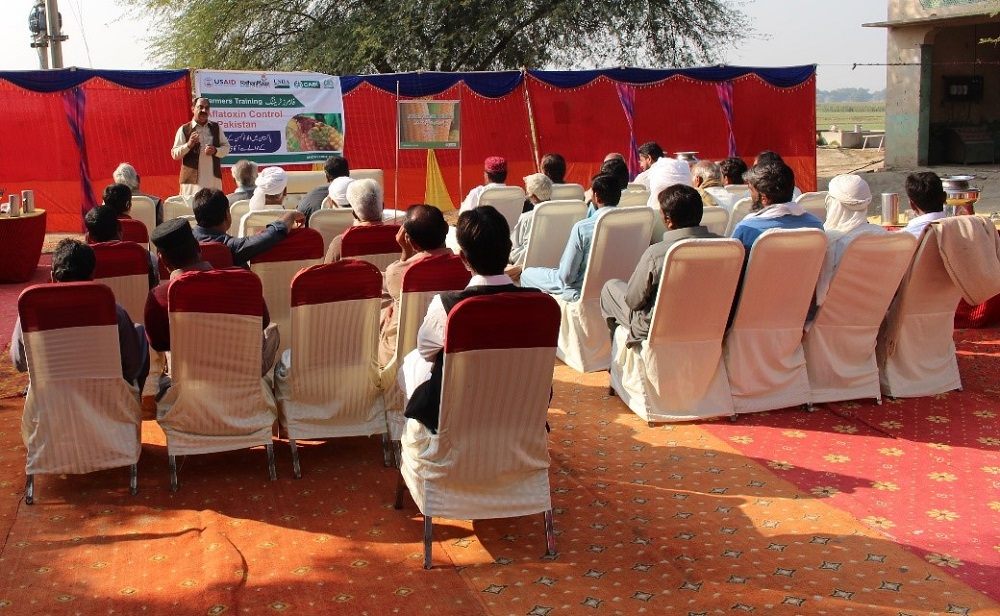 Aflatoxin Control in Pakistan is a game changer initiative for the country's maize industry. Maize growers adopt cultural practices, such as the drying of maize cobs on concrete grounds and delaying the harvesting to reduce moisture on the standing crop.
These cultural practices are being recommended by maize procurement officers which ultimately serve the purpose of reducing the impact of the harmful fungus – still unknown to some farmers.
Apart from lacking knowledge on these aflatoxin causing fungi, maize growers are also unfamiliar about the harmful effects of aflatoxins generally which can cause health problems for humans and livestock.
Accordingly – and in line with experimental trials conducted to test a biocontrol product AflaPakTM, a native fungal biocontrol product to out compete the strains of aflatoxin producing Aspergillus flavus – CABI conducted 10 awareness sessions in the major maize growing districts of Punjab including Khanewal, Vehari, Lodhran, Okara, Kasur, Sialkot and Faisalabad. These were carried out in consultation with Rafhan Maize Products Co. Ltd.
The awareness sessions – delivered to 527 maize growers – were made possible as part of the Alfatoxin control in Pakistan project funded by the United States Department of Agriculture, Foreign Agriculture Service (USDA-FAS) and the United States Agency for International Development (USAID).
They focused on aflatoxin and its hazards and implications on human and animal heath as well as the management of aflatoxin with special reference to the application of biological control technologies.
The intensity of aflatoxin exposure to maize crop is high in spring compared to autumn in Pakistan. This is owing to environmental conditions not conducive to the growth of aflatoxins during autumn.
To further strengthen the message of the biological control of aflatoxins in maize crop, the project team – in consultation with partners Rafhan Maize Products Co. Ltd and Crop Diseases Research Institute (CDRI), NARC – have planned to conduct a series of field trainings in major maize growing areas Punjab prior to the initiation of the maize spring season this year.
These trainings will help maize growers to produce safer maize – armed with their knowledge on the reduction of aflatoxin contamination by adopting Good Agricultural Practices (GAP) and through the application of AflaPakTM at recommended stages to bear maximum benefits.
Additional information
Aflatoxin Control Programme
Find out more about CABI's work on aflatoxin control in Pakistan.
Authors:
Dr Babar E. Bajwa – Project Executive
Dr Sabyan Faris Honey – Project Manager
Contributors:
Dr Hamzah Shahbaz Bhatti
Dr Muzammil Farooq
Mr Saqib Ali
For more information, please contact:
Deborah Hamilton
USDA
202-720-0335
Deborah.Hamilton2@usda.gov
Related News & Blogs
CABI's digital data expertise has been showcased through a project in Punjab, Pakistan, and will help smallholders in the fight against crop pests. The project is called: 'Strengthening food security post COVID-19 and locust attacks,' and will he…
30 August 2023