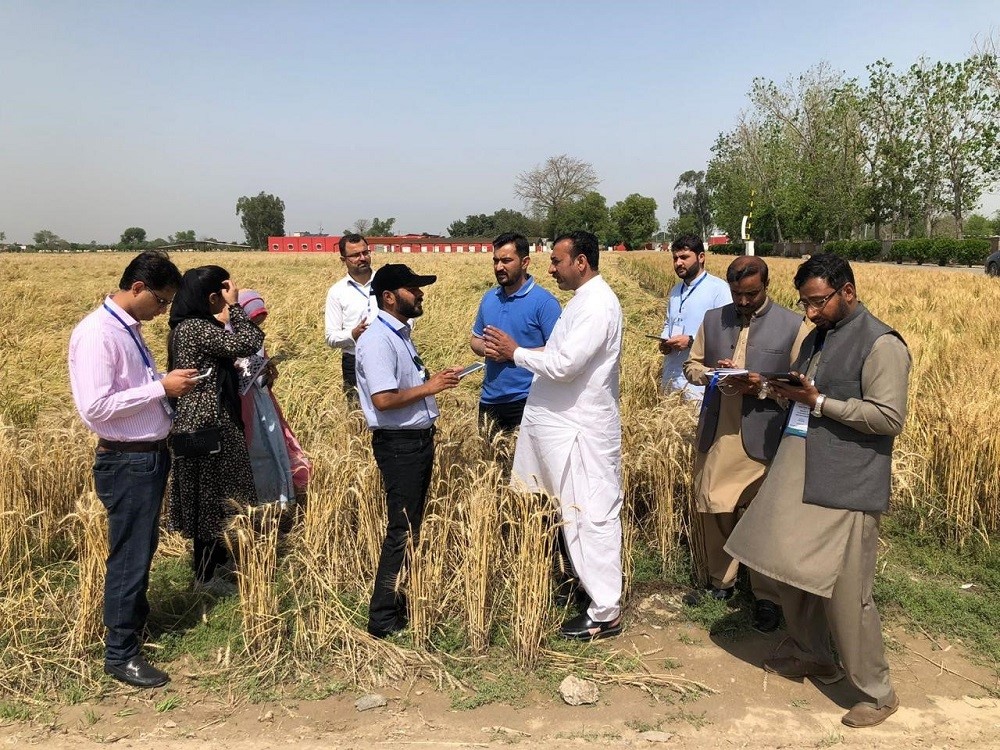 CABI's digital data expertise has been showcased through a project in Punjab, Pakistan, and will help smallholders in the fight against crop pests.
The project is called: 'Strengthening food security post COVID-19 and locust attacks,' and will help to achieve sustainable agricultural growth and mitigate food security risks following the COVID-19 pandemic. The Asian Development Bank (ADB) funded this initiative under its Technical Assistance Programme. This programme aims to strengthen Pakistan's food security and resilience in agriculture as a response to the impacts of COVID-19 and an unprecedented locust infestation.
CABI helped to create a digital app for the Directorate General of Pest Warning and Quality Control of Pesticides (PWQCP) in Punjab. The Directorate is responsible for pest monitoring activities in the province.
Until now, the Directorate had been using conventional paper-based methods for data recording of pest observations in farmers' fields. However, the new app will transform its data collection process. CABI and ADB supported the Directorate in using the Android app, and data from the digital tool will help to generate models for future pest threats. These threats can seriously harm the livelihoods of smallholder farmers as well as food security more generally. Models can help farmers prepare.
Initially, the pest surveillance app was developed and piloted in Faisalabad District. Later, the scope of the app was extended to 21 districts in Punjab across six divisions. This happened following a recommendation from the PWQCP office's Director General, Mr Faqir Ahmad.
The project's activities support various organizations. This includes the Ministry of National Food Security and Research (MNFSR) and the Department of Plant Protection (DPP). It also includes Provincial Agriculture Departments of Pakistan. The project work helps these organizations adopt and disseminate modern technologies to enhance agricultural productivity in Pakistan.
Training of PWQCP officials on digitization of pest surveillance data
The Directorate wanted CABI to help strengthen pest surveillance systems with modern technology. ADB agreed with this approach. Following the development of the app, ADB and CABI held a two-day 'training of master trainers' session to help people use it. It was entitled 'Digitization of Pest Surveillance Data using Android Application,' and was held at the Entomological Research Institute in Faisalabad.
The training of trainers' workshop was attended by 24 staff members from the Directorate. ADB Data Processing Specialist Mr Ali Raza provided advice on how to the use the app to carry out pest surveillance using theoretical situations. CABI Project Manager Dr Kazam Ali helped attendees with a practical demonstration, using the app for real-time data recording in the field and synchronizing data in the dashboard.
The next session brought together 103 staff from the Directorate. This included master trainers from six divisions (Bahawalpur, D.G. Khan, Multan, Sahiwal, Faisalabad and Sargodha). They were trained in pest surveillance data collection using the app. The staff were also provided with gadgets and tools for data collection.
The training workshops were a success. The app was found to be effective and aligned with the needs of the Department. Mr Saqib Ali Ateel, Secretary Agriculture South Punjab, gave his appreciation of CABI and ADB. He commented on how their efforts had helped to modernize the Department.
The Secretary was especially interested in converting paper-based surveillance data into digital data as it can help to save time, and to increase the authenticity and accessibility of the pest data. He added that a digitized data system will serve as a bridge between the Department's staff and extension workers, and that ultimately farmers will benefit.
Mr Faqir Ahmad shared his views that collaboration and knowledge sharing is very important for progress and growth in the agricultural sector. He commented on how it's the responsibility of all of us to modernize conventional pest surveillance practices. He continued to say that the pest surveillance app will strengthen the reporting mechanism. And it will also make it faster and more authentic, bringing fruitful results to farming.
Dr Kazam Ali expressed the CABI and ADB teams' commitment to the successful implementation of the pest surveillance digitization tool. He said: "Pest surveillance digitization is undoubtedly a key enabler of data's authenticity. It's also beneficial for safe storage, easy access and a paperless working environment. This advancement will improve pest management practices at the farm level. And it will also aid in pest forecasting. Additionally, it will enhance the country's agricultural exports. It will do this principally by facilitating the adoption of WTO-led SPS regulations."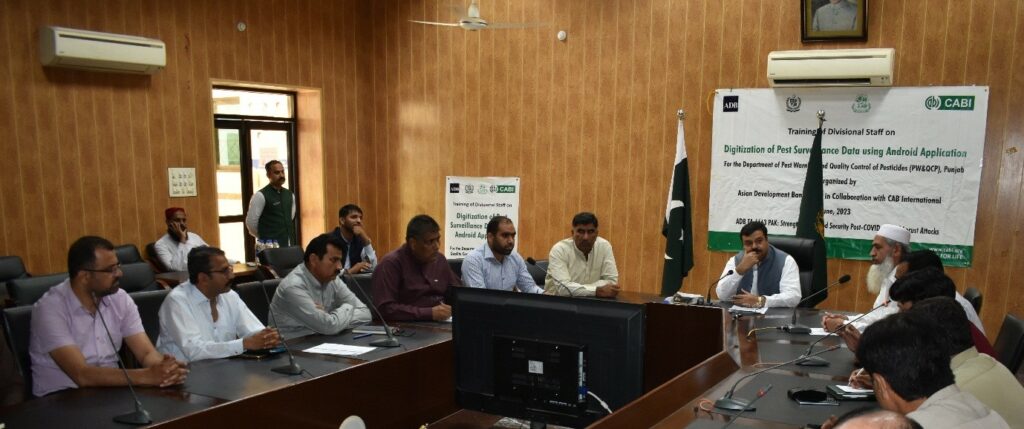 Additional information
Main image: The pest warning staff put their learning into practice, collecting pest surveillance data using the Android app at Faisalabad (Credit: CABI).
Relevant project page
Find out more about how CABI has been helping to strengthen food security systems in Pakistan on the project page here.
Author
Kazam Ali – Project Manager
Related News & Blogs
Meet Ali Azhar and his family. Mr Azhar is a young potato grower who lives in Punjab, Pakistan. Over 95% of the country's potato production originates from this province. Third generation potato producer Mr Azhar has followed in his grandfather's foots…
29 August 2023