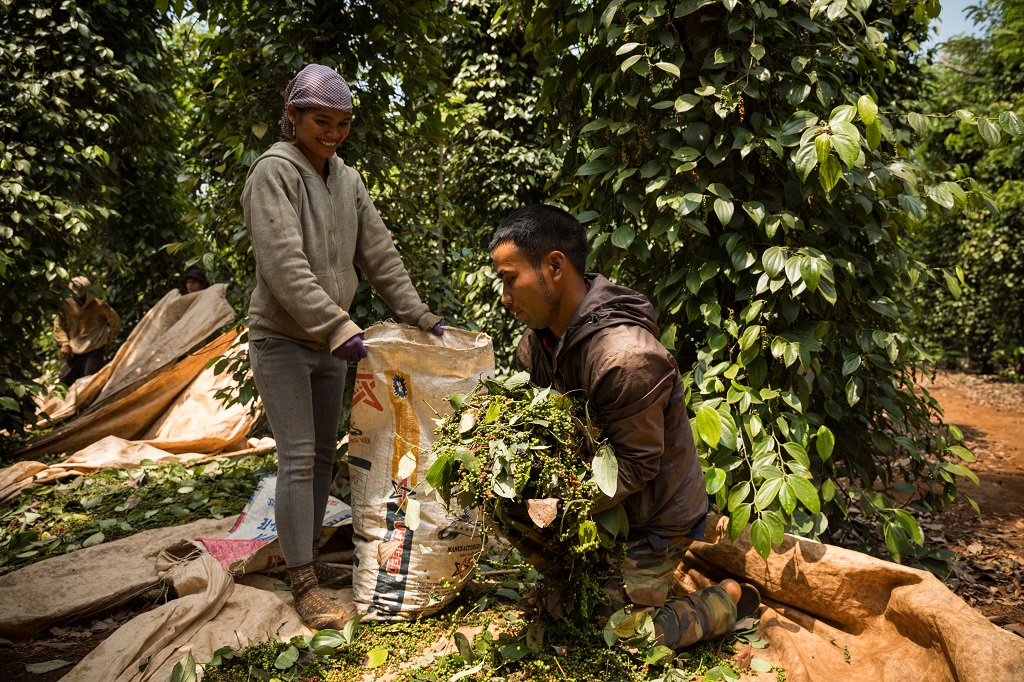 For many years, Vietnam has been the world's main exporter of pepper. In 2018, exports of pepper from Vietnam accounted for 25% of the global market. In the same year, Vietnam's total pepper production was nearly 40% of the world's total pepper output. Vietnam's pepper is exported to 109 countries and territories including the United States and European Union (EU) member countries. It is also an emerging industry for neighbouring Cambodia and Laos.
Recently, however, smallholder farmers in these countries have struggled to sell their peppercorns into lucrative regional and international markets because they cannot achieve the necessary food safety and hygiene standards for their produce.
With demand for peppercorn high in regions like Europe, they are missing an opportunity to sell more and grow their incomes. CABI has been working with farmers to understand the challenges they face and find effective solutions to help them attain a higher quality of produce for export.
Between 2018 and 2019, together with Vietnamese partners, CABI successfully completed several peppercorn projects in Vietnam. Two of CABI's studies focused on understanding the peppercorn value chain. This research formed an important step because the peppercorn value chain is complex, and an overview of the chain revealed where interventions are most needed.
Findings of the first study, funded by CABI's Plantwise programme, were used to build up a detailed picture of the supply chain, identify major constraints for people working throughout the chain, including smallholders, and present opportunities to improve peppercorn production in a sustainable way. The outputs of this study were used by the Vietnam Pepper Association (VPA) to develop a holistic crop health training programme for peppercorn farmers, input suppliers and other stakeholders as part of their capacity development activity. In addition, the study also identified and engaged with key private sector stakeholders and provincial pepper associations such as Chư Se Pepper Association and Bà Rịa-Vũng Tàu Pepper Association.
A second study made clear the opportunities for private sector engagement. With local support from VPA and the Western Highlands Agriculture and Forestry Science Institute (WASI), the study successfully identified contamination and traceability as major hurdles that can lead to produce being rejected by, for example, EU authorities. A SWOT analysis suggested actions to take including ways of improving food safety and farm productivity.
A separate project assessed private global black pepper plantations (e.g. Olam International and Welt Bio Company) in order to find gaps in pest and disease management. The goal was to build the capacity of the plantations' field agronomists and managers around pest management for black pepper crops on their farms. The project successfully trained the agronomists and managers so that they better understood the pepper plant, crop irrigation, pest diagnosis and monitoring, and integrated pest management strategies.
After the training, course participants commented on how the course was a valuable investment and how they had learnt new information and skills, which they could now confidently apply to their work.
"It was indeed good opportunity for my team to learn and gain additional knowledge on pepper cultivation with a more focused P&D management. Thanks to you Dr Siva and Dr Anh for the training given to my team, which I am sure will benefit immensely in their day-to-day activities." – Lingaiah Veluswamy, Plantation Project Director, OLAM International.
---
All photos ©Binh Dang for CABI
Related News & Blogs
Vietnam is one of the world's largest producers of peppercorn exporting an estimated 220,000 tonnes a year to over 100 countries including high-value markets in Europe and the United States, the world's largest importers of the product. Peppercorn farm…
21 November 2022