In the week that the UN Decade of Family Farming was launched, Segenet Kelemu, the Director General of the International Centre of Insect Physiology and Ecology (icipe), tells CABI's sister organisation SciDev.Net that women can be good leaders and science managers.
In a candid interview, she reveals how she came from humble beginnings (having to run barefoot to school) to a position of power and influence in the field of agricultural science. Nominated by Bill Gates as one of five inspirational people around the world, Ms Kelemu goes onto describe her journey from rural Ethiopia to a position as head of one of the world's leading agricultural research centres.
See the video in which Segenet Kelemu is interviewed
[youtube https://www.youtube.com/watch?v=zTEkuOq_NFI&w=560&h=315]
Additional Information
Read the full Q&A: 'Global Village' needed to raise a scientist on SciDev.Net
Relevant CABI-published book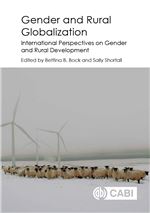 Gender and Rural Globalization: International Perspectives on Gender and Rural Development, Edited by B Bock, Wageningen University, The Netherlands, S Shortall, Newcastle University, UK
Related News & Blogs
Welcome to the CABI podcast, a series dedicated to agricultural science and how it can improve lives and address the challenges faced by people around the world.
10 March 2022