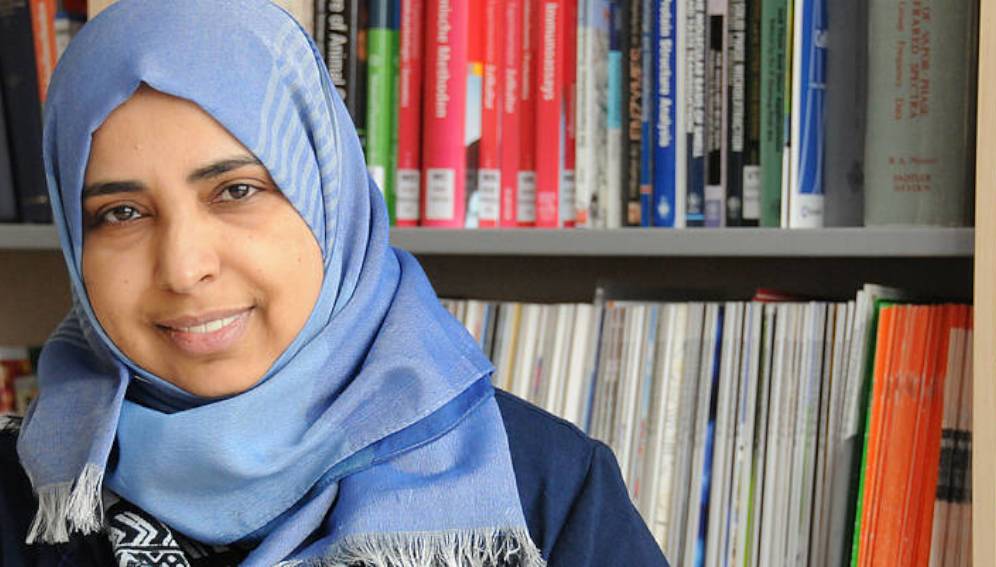 SciDev.Net – the world's leading source of reliable and authoritative news, views and analysis about science and technology for global development – is owned by CABI and highlights the role of women in science.
On the eve of the UN International Day of Women and Girls in Science next month (11 February) we share this incredible story, by Adel Aldaghbashy, of scientist Ghaneya Al-Naqeeb who fled her war torn homeland of Yemen to seek sanctuary and a new life in science in Germany….
Ghaneya Al-Naqeeb began life in a village near Taiz, the third largest city in Yemen. From there, she pursued an academic career studying plant science in Malaysia, the United States, and then back in her home country at Sana'a University. Along the way, she picked up several international awards and two patents. But in 2017 she fled the war in the country, and now works in Germany.
Al-Naqeeb was among four researchers featured in the documentary 'Science in the Exile', which documented how Arab researchers struggle to work and meet basic needs abroad. SciDev.Net asked her about her career and what it is like to be a female researcher while war rages in Yemen, one of the Arab world's poorest nations.
How did you get started as a researcher?
I won a scholarship to study a bachelor's degree in Syria, and this guided my scientific trajectory from then on. I studied food sciences at Damascus University, and got interested in medicinal plant research.
My background shaped my ambitions from a very early age. I grew up in a country where many people work in agriculture. I was also deeply influenced by my father, who had an interest and knowledge of the use of plants in preventive medicine.
Tell us more about your research work
I earned my masters and PhD degrees in Malaysia, where I have spent nine years and published 25 papers and two patents. I was then awarded a scholarship to work at the University of North Dakota, US, in 2014. The two patents mean a lot to me. They concern Black Seed — the first looking at how to extract a chemical called thymoquinone from the seeds' oil, and the second the uses of that chemical in cancer and cardiac medicine.
When I was back in Yemen, my research aimed to uncover the preventive potential of plants that grow in my home country. We have a great heritage of traditional medicine, yet we lack scientific research about many of the plants and how the chemicals in them can be used effectively.
How was the situation in Yemen, when you decided to leave?
Everyone knows that scientific research in Yemen is in dire situation. However, I didn't give in, and continued to work there since I returned from Malaysia in 2011. I even tried to open my own laboratory for breeding animals to use in experiments [since facilities are not easy to get to]. I also supervised students and funded my own research, publishing five papers.
I have received financial support from the AlSaeed Foundation for Science and Culture, a local institution, as well as from The World Academy of Sciences, although the latter was withdrawn due to the political situation. In 2014, my old supervisor in the United States also offered to fund my research, but then withdrew for the same reasons.
Then, things got worse, and just going to the faculty of agriculture meant risking my life — it had been converted to military barracks.
We witnessed a shortage of essentials like water and electricity, animals died, students stopped going to school, samples got corrupted due to electricity cut offs. Eventually external supervisors apologised and said that they cannot go on supporting me. Research got totally paralysed [in 2016], which made me consider whether I should to stay and stop my work as some other academics have done or emigrate.
So, in the end, you left?
While I was in this dilemma I received a message from a professor who knew about my situation. He offered me an opportunity as a professor in Institute for Pharmacy and Food Chemistry at Würzburg University in Germany.
Making the journey posed several challenges — for instance obtaining sabbatical leave from my faculty, and then how to travel amid a travel ban and security concerns. I also had difficulties with transferring from one city to the other, especially between Sana'a and Aden, Yemen's capital. We were stopped dozens of times because we are from the north.
Another problem was getting the German visa, despite having all necessary documents. We were obliged to head to Sudan first, where we had stayed for four months, until we got the visa.
What has it been like working as an immigrant?
After arriving in Germany, I still had challenges, for instance the language barrier and working in highly advanced labs. I got over these due to my previous experience and fluency in English.
I have to admit that my family has given me more than I needed or expected, they have given me total freedom and trusted me to travel. I also owe my husband — he has always been understanding and supportive — and supervisors inside and outside my country, and of course the organisations that acknowledged my work through awards or scholarships.
What is your advice for your female researchers?
There are many supportive entities for academics suffering conflicts, so, don't hesitate to go abroad, if the opportunity is there. Actually, there are multiple opportunities for academics at risk. And risk here is not just political; it includes many risks that could threaten the academic or hinder the research process. These scholarships are safe havens for researchers to pursuit their careers.
What's your next step, remain abroad or go back to Yemen?
Sooner or later, I would go back to Yemen. I believe that if all researchers run away we will wake up to a disaster [the shortage of researchers]. After finishing the two years in Germany, I will return to Sana'a University. It is like a second home, even though the university had threatened to let me go because my work there was interrupted [by leaving without permission].
But I will always keep in touch with the research community abroad. It helps keep my work up to date, even if it is interrupted. And this eventually helps Yemen, which needs us the most right now.
This piece was produced by SciDev.Net's Middle East & North Africa desk and was first published as part of their Role Models series.
Related News & Blogs
The majority of Zambia's 19.5 million citizens rely upon agriculture for all or part of their livelihoods with the country's 1.5 million smallholder farmers – of which 20% are headed by women – dominating the sector with maize being the main staple cro…
25 October 2023