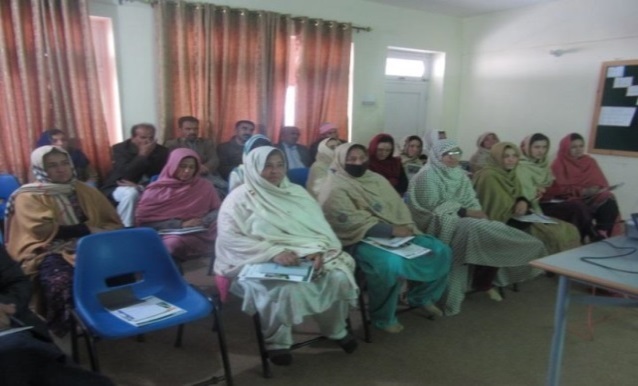 More women in the Gilgit Baltistan (GB) region of Pakistan are benefiting from a Phytosanitary Risk Management Programme (PRMP) aimed at using a range of biological controls to fight the fruit fly pest which can impact heavily on rice and horticultural crops.
PRMP, which is funded by USAID via United States Department of Agriculture (USDA), was initiated in GB in 2016 with the purpose of implementing the biological control of fruit flies in the region. A Biological Control Laboratory was established to develop mass rearing technologies to facilitate the augmentative releases of the Biological Control Agents (BCA) of fruit flies Dirhinus giffardi and Diachasmimorpha longicaudata. So far, around 400,000 BCAs of fruit flies have been released in the region to control the pest.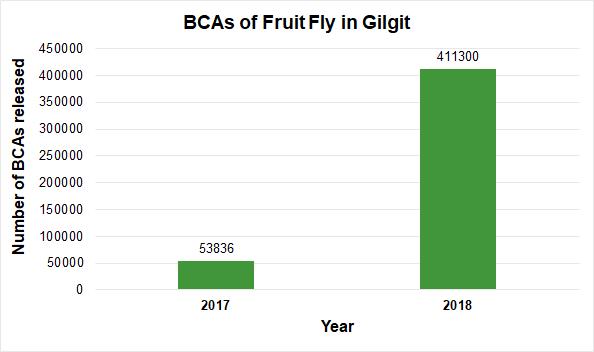 Pakistan's agriculture sector plays a central role in the economy of the country as it contributes 18.9 percent to the GDP. Almost 42.3 percent of its population is directly involved in this sector of which 73.8 percent employment is held by women.
In GB region, 49 percent of the agricultural labour force is comprised of women who play an important role in almost every sphere of agricultural development. Women here are not thought of as farmers, yet they are deeply involved in all agricultural operations. Many women in GB region are considered as entrepreneurs where they undertake their own development initiatives and actively attend training courses organized by local government stakeholders.
In respect of female farmer training sessions in GB, CABI, under the PRMP, has worked on the capacity building of women farmers regarding the identification of fruit fly species, their life cycles and their natural enemies. The training also includes aspects of sanitation, trapping and the release of biological control agents. Women in the community have shown a very promising response to enhance their capacity. So far in 2018, PRMP has conducted 75 training sessions for 531 farmers (366 of which were women) on the importance of the biological control of insect pests in GB.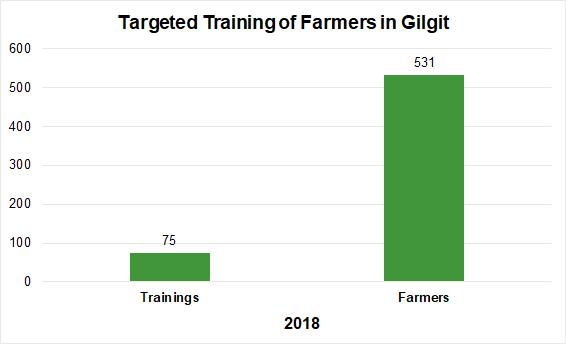 Moreover, training on Sanitary and Phytosanitary (SPS) compliance in horticultural commodities were also conducted in GB. PRMP master trainers built the capacity of the smallholder farmer communities regarding SPS compliance in fresh produce to access high-end markets. Women have been involved in PRMP activities since its introduction in GB and many were active participants of the training on SPS compliance in fresh produce conducted by PRMP in December 2017.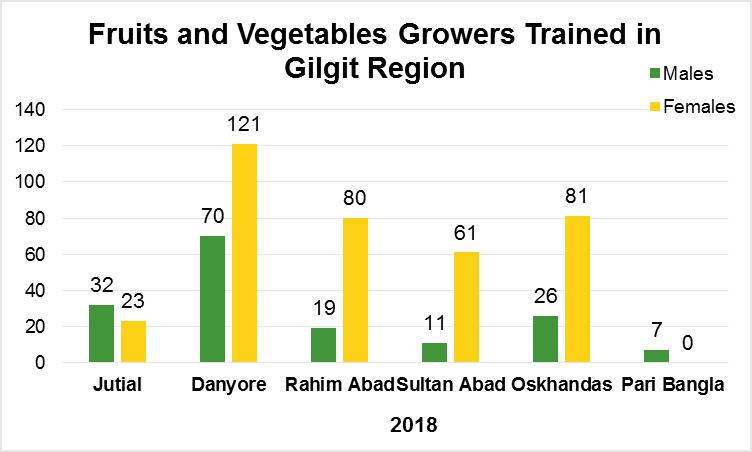 The biological control interventions taken in the current year will be fruitful in the coming season where female farmers are optimistic to see the application of their training result in an increase to their profits and livelihoods. Between 48-50 percent of total income is contributed by the agriculture sector in the region which indicates that the livelihoods of the local population are heavily dependent on this sector.
Dr Sabyan Honey, CABI's PRMP Project Manager, said, "The project will complete its activities in GB in August next year from where local government stakeholders will ensure the continuation of the project interventions.
"PRMP has enabled women farmers to increase their farm production and, together with local government stakeholders, will work to sustain their development and increase their livelihoods after the project completes its activities in the region."
Additional information
Find out more about the Phytosanitary Risk Management Programme in Pakistan.
Related publications
Bajwa B., H. Bhatti and M.S. Mazhar (2017). Potential of biological control of aflatoxins causing organisms in rice and maize value chains in Pakistan. J. Agric. Entomol. Sci., 6(1): 1-19.
Honey, S.F., B. Bajwa, M.S. Mazhar and W. Wakil (2017). Trogoderma granarium (Everts) (Coleoptera: Dermestidae), an emerging threat to rice supply chain of Pakistan. Internat. J. Entomol. Res., 5(1): 23-31.
Related News & Blogs
When it comes to Pakistan's potato value chains, women's participation is critical. Women make up around two thirds of the agricultural labour force in Pakistan. However, the role of women in potato value chains is even more valuable compared to other…
4 December 2023