How I Spent my Summer Vacation: Hunting for Bears in my Backyard
By Sara Dubois
How does an animal welfare scientist and wildlife biologist spend their annual vacation? Well as I have been working in this field for almost 20 years now, these days I spend most of my time behind a computer, in team meetings, and travelling to yet more meetings. Which means getting back out in nature is the first choice for my time off. The ultimate destination is generally motivated by what kind of interesting animals I will see when I get there, and moderate temperatures that won't melt this ginger scientist.
I am very fortunate to be born, raised, and resident in a place so plentiful with wildlife and natural beauty – British Columbia (BC), Canada. Although I love travelling to other countries to marvel at their unique native wildlife (I am currently obsessed with wombats), I have not spent enough time in my own "backyard". I have worked on the coast and in the mountains, and been thrilled at the sight of the variety of species found in BC, including bears. I work on campaigns to protect endangered species and end trophy hunting, but I realized last year I needed to recharge my wildlife batteries and go to the Great Bear Rainforest.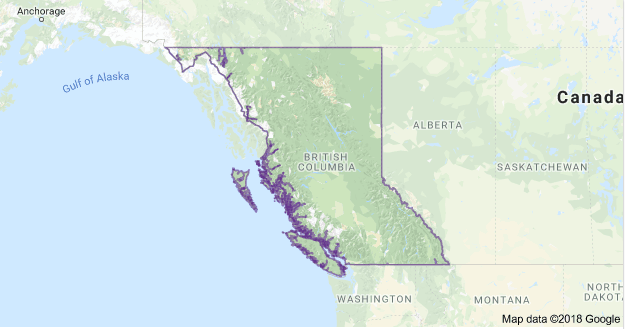 You may have heard, BC is not only home to grizzly bears and black bears, but also "Kermode" or "Spirit" bears living in remote areas of the central coast. It has been on my bucket list for years to see these mysterious white-phase black bears, especially knowing they exist only here in BC. Over the years, I had bookmarked a few tour operators that sailed in the Great Bear Sea, visiting the coastal rainforests with the permission of local First Nations. I decided 2017 would be year of the bear, finally.
Being a bear tourist was new to me. I know that many international visitors come every year to my home province just for this activity, not just on the central coast, but throughout BC. I have studied bear tourism, especially as it relates to feeding activities (refer to chapter). I know the pros and cons of the industry – well from the scientist perspective. Yet I had never experienced being the traveler seeking this kind of adventure. So like many who love bears and want to see them in their natural environment, I wanted to select the right kind of trip. I wanted to contribute to tourism that respected both the welfare and conservation of bears, and the local people who will continue to live with them when my boat leaves.
Going to the Great Bear Rainforest in summer 2017 was especially timely, as with a change in government the previous year, the hunting of grizzly bears in this unique ecosystem was set to be closed permanently by the end of year. A monumental and moral decision victory for many non-profit organizations, First Nations and citizens who care passionately about bears and the environments that depend on them. But knowing I might cross paths with hunters, with a different approach to tourism by taking their last stand that final hunting season, was unsettling.
The journey via Bella Bella – a 10 day boat trip – was even more spectacular that I ever could have hoped for. Humpback whales, harbour seals, sea lions, pine marten, bald eagles, dozens of seabird species, schools of salmon returning to spawn, which of course brought out black bears, grizzly bears and the animal I had been waiting my whole adult life to see – the Spirit bear. I was honoured and humbled to be in his/her/the bears presence, thankful for the local guides who planned the trip respecting the bears' behaviour at all times – we were in their home. The memory of this experience has recharged my wildlife batteries for years, although I plan to go back long before they drain again.

Dr Sara Dubois is Adjunct Professor at University of British Columbia and British Columbia SPCA Chief  Scientific Officer, Canada.
Her chapter, 'Lessons from Winnie-the-Pooh: How Responsible Bear Tourism Can Teach Us Respect and Compassion, and Benefit Bears' is included in our new book, Tourism and Animal Welfare.
Don't forget to sign up to receive the rest of our blogs running throughout the week!
Related News & Blogs
Resilience is about changing in response to a disturbance; changing the ways parts of the "system" are connected, emphasizing some and de-emphasizing others. It's the capacity to absorb disturbance and re-organize to keep functioning in the same way.
2 July 2020