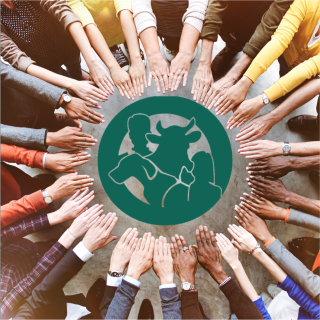 By Rebeca Garcia Pinillos
"Health for all" has been the guiding vision of the World Health Organisation (WHO) for more than seven decades, underpinning the principle that "all people should be able to realize their right to the highest possible level of health". This of course includes both health and welfare, terms that are intrinsically connected.
The year of 2018 marks the 70th anniversary and WHO is calling on world leaders to commit to concrete steps to advance the health of all people and support the Sustainable Development Goals. WHO reports that at least half of the world's people is currently unable to obtain essential health services. The Tokyo declaration calls, by 2023, for extension of essential health coverage to 1 billion additional people. It also calls for action to halve to 50 million the number of people pushed to extreme poverty as a result of health expenses. Both One Health and One Welfare are tools that can help support the SDGs and contribute towards better global health and wellbeing.
What can One Welfare do for World Health?
Ensuring that all people can access the health services they need – without facing financial hardship – is key to improving the wellbeing of a country's population. The One Welfare Framework comprises five sections that, either directly or indirectly, support improvements to humans, animals and environmental wellbeing. Whilst health is a key priority, looking after our wellbeing and that of animals, society and the environment is paramount. Improved wellbeing has an effect within the immune system that indirectly enhances animal and people's health and life expectancy; It can strongly support efforts to better health care and by interconnecting professionals working with humans, animals and the environment we can strengthen the effect and efficiency that one profession would have alone. A One Welfare approach can help support gender equality by, for example, recognising the support that working animals provide to women in certain developing countries. Improved working animal welfare will result in better support to those who rely on them for their daily chores, such as water transport. One Welfare also relates to those in poverty; a good example of this is the bond between homeless people and their companion animals.
Whilst health is a key priority, looking after our wellbeing and that of animals, society and the environment is paramount.
Some organisations and Governments have already identified areas of shared responsibility, mainly under the One Health concept, however those falling on the welfare and wellbeing areas are often neglected. Increasing recognition for One Welfare framework areas can help make significant progress towards people's and nations' health and well-being and support universal health coverage improvements.
The One Welfare Framework book includes 20 real case studies of successful organisations implementing the one health approach for the good of animal welfare, human wellbeing and the environment. The examples range from the link between animal and human abuse, working animal welfare, food safety, the impact of war and climate change and sustainability, biodiversity and conservation. All of them key areas for improved human health and a better society overall.
The Tokyo Declaration includes a commitment to support innovation and encourage the implementation of initiatives going beyond "business as usual," and commits to developing and supporting strategies, policies and systems at the global and country level to harness and sustain the transformative potential of innovation. The One Welfare Framework is a novel tool that can help underpin new ways of working to support improved global wellbeing.
| | |
| --- | --- |
| | Note: There is currently a crowdfunding to make The One Welfare Framework book free access electronically. You can support this initiative here. |
Related News & Blogs
In sub-Saharan Africa, economic growth from agriculture is 11 times more effective at reducing extreme poverty compared with any other sector. In Kenya, 71% of the rural population work in the agriculture sector, accounting for nearly 70% of export ear…
2 November 2023