Following the recent eradication of rinderpest virus in cattle (see blog), the veterinary profession is contemplating which viral disease of animals should be targeted for eradication next. This is not an easy task considering the vast number of viral diseases that plague livestock animals and have devastating effects on animal health, public health and people's livelihoods.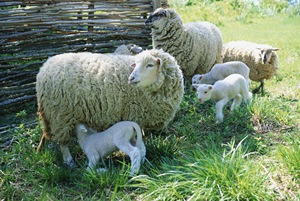 According to the authors of a scientific editorial (1) and a review article (2) that appeared in the recent issue of Veterinary Record published on 1st July 2011, the next livestock virus targeted for eradication could be peste des petits ruminants (PPR) virus.
Dr Michael Baron and colleagues from the Institute for Animal Health (IAH), Pirbright, UK said in their review that the Food and Agriculture Organization (FAO) and the World Organisation for Animal Health (OIE) should focus on PPR virus as the next livestock virus for eradication.
PPR virus affects sheep and goats and is closely related to the recently eradicated rinderpest virus. Cattle can also be infected with PPR virus but they do not show obvious signs of disease. PPR is circulating on the edges of the European Union, on the southern shores of the Mediterranean. Outbreaks were reported in Morocco and Tunisia in 2008 and there is evidence for its presence in Algerian sheep this year. It has also been present in Turkey for many years. PPR is the fastest growing and one of the most economically important diseases of sheep and goats, the animals that play a very important role in sustainable agriculture and development in Africa and Asia. Mortality in infected animals ranges from 10 to 90%, depending on age, breed and secondary infectious agents. Animals that survive become anorexic, their milk yield is reduced, and they are susceptible to secondary infections and abortions.
Baron and colleagues are already working on the development of a "smart" vaccine for PPR, one that leaves an antibody signature different from that created by infection with the virulent virus, so that vaccinated animals can be distinguished from animals that have been infected by virulent virus, and vice versa. They are also working on a "dip stick" test for PPR virus, similar to the one that IAH developed for the rinderpest eradication programme.
There are good reasons to believe that the eradication of PPR is an achievable goal, because the PPR virus shares a number of properties with rinderpest virus that contributed to the successful campaign to eradicate the latter, i.e. there is a safe and reliable vaccine; simple and effective diagnostic tests are available; the virus has a short infectious period, with no carrier/persistent state; transmission occurs only by close contact; and there is an economic incentive to eradicate it.
However, before a massive commitment of national and international resources for a successful eradication campaign, which would require surveillance and monitoring over a long period, a thorough evaluation of the likelihood of success of an eradication campaign, as well as its costs and benefits, is of utmost importance. Potential for eradication of other diseases such as foot and mouth disease (FMD) or rabies virus, for example, also needs to be evaluated.
CAB Direct database offers an excellent source of scientific information and is a very useful tool for evaluating potential for eradication of any viral disease of animals. It comprehensively covers world's scientific literature from over 150 countries and in over 50 languages on all the viral diseases of animals, including PPR, FMD and rabies. CAB Direct database contains over 17000 records on rabies, over 13000 records on foot-and mouth disease and over 800 records on peste des petits ruminants.
References:
1. Anderson J., Baron MD., Cameron A., Kock R., Jones B., Pfeiffer D., Mariner J., McKeever D., Oura, CAL., Roeder P., Rossiter P. and Taylor W. (2011): Rinderpest eradicated – what next? Veterinary Record, 169: 10-11, doi: 10.1136/vr.d4011.
2. Baron MD., Parida S. and Oura CAL. (2011). Peste des petits ruminants: a suitable case for eradication? Veterinary Record, 169: 16-21 doi: 10.1136/vr.d3947.
Related News & Blogs
In the midst of the COVID-19 pandemic, vaccination has been hailed as the light at the end of the tunnel. However, even though the UK is one of the top countries in the world for the number of vaccinations doses administered, there is mistrust an…
30 March 2021