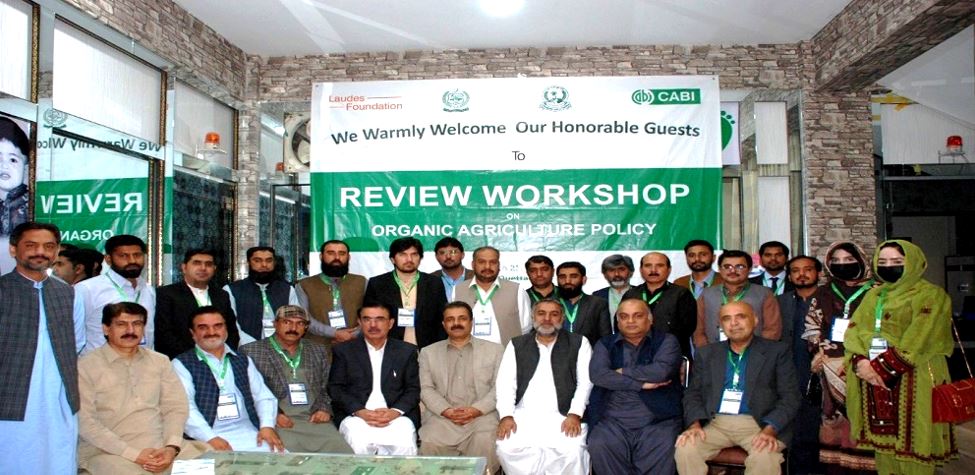 A workshop has been held in Balochistan, Pakistan, to showcase a review of the country's Organic Agriculture Policy.
The event included representatives from academia, research, extension, associations, foundations, farmers, industries, inputs manufacturers, suppliers and agriculture experts.
The workshop was held in Quetta-Balochistan under the CABI-led project 'Building the policy ecosystem for organic production landscape in Balochistan, Pakistan' which is funded by the Laudes Foundation.
It aimed to develop a strong and effective policy that can address the key issues and support the standardized policy-based system, making the decision clear for adaptable sustainable organic agriculture.
Increased production of organic crops
The workshop embraced discussions on developed policy draft for organic agriculture in Balochistan province, aiming to improve the practices and increase the production of organic crops with long-term adaptability and ultimate credibility.
Mr Abdul Wahab Kakhar, Director General, Directorate of Agriculture Extension, Government of Balochistan, chaired the session and emphasised the importance of organic agriculture for the future of farming in the Balochistan province. He also commended the efforts of CABI for organising the high-level event.
"The Balochistan Government is committed to promoting sustainable agriculture practices and organic farming because this is going to be an ultimate solution to boost the economy and help in mitigating climate change issues," he said.
Dr Jawaid Tareen, Technical Member CMIT, lauded with efforts of CABI with the support of the Laudes Foundation in making efforts towards greater organic agriculture as this is a need for Pakistan to explore for a more sustainable farming system and increased profits through exports.

Mr Mashood Ahmad Siddiqui, Country Head, Laudes Foundation, shared his experiences and insights on the benefits of organic agriculture. This included its potential to promote sustainable farming practices and benefits in return for the environment. He also highlighted the challenges that farmers face when transitioning to organic farming and discussed ways to overcome these obstacles.
Commitment to improvement
The workshop concluded with a commitment from all participants to continue working towards improving the policy and practices for organic agriculture in Balochistan. They also pledged to share their knowledge and experiences with others in the community to promote the benefits of organic farming and support the growth of the sector.
The Government of Balochistan promised to provide support to the CABI team in the approval process for organic agriculture policy. They are also willing to join CABI in promoting sustainable agriculture practices and supporting the growth of the organic farming sector in the province.
Additional information
Main image: Participants at the workshop which was held in Balochistan, Pakistan, to showcase a review of the country's Organic Agriculture Policy (Credit: CABI).
Authors
Muhammad Waseem Ishaq – Project Manager (OAPs)
Dr Saif Ali – Project Officer (OAPs)
Contributor
Abdul Rehman – Deputy Director Programme
Project page
Find out more about how CABI is developing a sustainable organic agriculture landscape to address issues regarding organic agriculture from the project page here.
Relevant stories
CABI works in partnership to promote organic agriculture in Pakistan
Workshop reviews Pakistan's organic policy plans for more sustainable food and cotton production
Related News & Blogs
When it comes to Pakistan's potato value chains, women's participation is critical. Women make up around two thirds of the agricultural labour force in Pakistan. However, the role of women in potato value chains is even more valuable compared to other…
4 December 2023