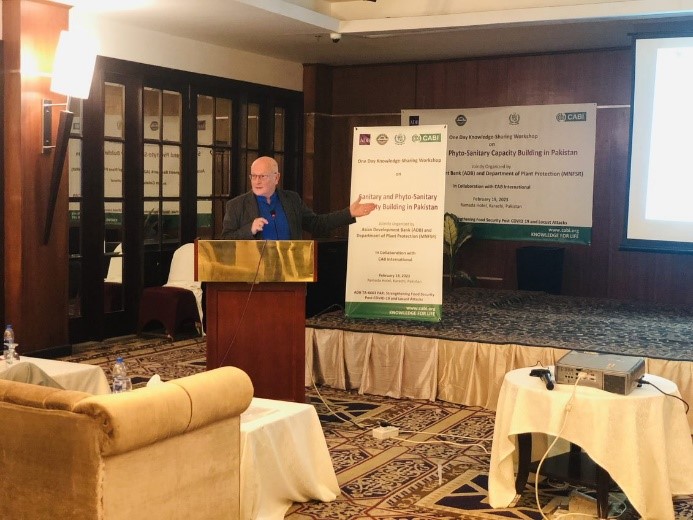 CABI, the Asian Development Bank (ADB) and the Department of Plant Protection (DPP), have held a workshop aimed to strengthening Sanitary and Phyto-Sanitary (SPS) measures to ensure greater food security in Pakistan amid risks posed by quarantine pests and chemicals due to high toxicity levels.
Pakistan needs to meet the high international standards for food safety and SPS (Sanitary and Phyto-Sanitary) measures to maintain access to markets as part of sustaining farmers' livelihoods and the national gross domestic product.
Every year a number of export shipments of cereals and fruit from Pakistan are rejected due to the presence of quarantine pests or chemical pesticides above maximum residual limits (MRL). There was a dire need for an increased understanding and knowledge of SPS requirements and international standards for phytosanitary measures.
The meeting in Karachi, entitled 'Sanitary and Phyto-Sanitary Capacity Building in Pakistan,' was held as part of the technical assistant programme of the ADB 'Strengthening Food Security Post-COVID-19 and Locust Attacks.'
The experts outlined the importance of meeting SPS measures for Pakistan trade and showed that Pakistan is not meeting standards in that 20% of imports into the European Union during 2019 failed tests for chemical pesticide levels.
The honourable guest at the workshop was Dr David Hunter, International Consultant in IPM for the ADB from Australia, who spoke about the World Trade Organisation-led SPS regime in Pakistan. He was joined virtually by David Mckaller, Plant Health Expert and International Consultant for the ADB.
Mr David McKellar (Plant Health Expert, ADB) via Zoom then gave detailed analyses of the SPS standards and methods for implementation. McKellar outlined how meeting SPS standards help ensure market access and presented the protocols for inspection of key export products.
Others who attended the event included those from the DPP, Karachi, and Sindh Agriculture University, Tandojam, as well as Dr MaryLucy Oronje, Senior Scientist, SPS, CABI, based at its regional centre for Africa in Nairobi, Kenya and Dr Robert Black, International Consultant in Biosecurity Law and Risk Assessment for the ADB.
Dr Babar Bajwa, CABI's Senior Regional Director, Asia, welcomed the participants and started by highlighting how other countries are adopting "21st Century pest management systems" for ensuring quality and safe agricultural products.
However, Dr Bajwa added, Pakistan is lagging behind and needs to meet the latest export standards to make its products acceptable for world markets.
Dr Bajwa thanked Ms Noriko Sato, Senior Natural Resources Specialist from the ADB, for her continuous support and added further that the workshop and other collaboration is paving a way forward towards strengthening Pakistan's national SPS system for enhanced trade with international partners.
Ms Sato then presented an overview of ADB's support towards agriculture and food safety in Pakistan – particularly its current knowledge and technical support for the Ministry of National Food Security & Research (MNFSR).
She said Pakistan needs to follow the SPS-World Trade Organisation (WTO) requirements to enhance trade and to stand with the world in the current scenario.
Meanwhile, Mr Sohail Shehzad, Director Technical Quarantine on behalf of the Director General, Department of Plant Protection (DPP), highlighted the DPP's engagement in modernizing the SPS measures to facilitate trade and improved food security in Pakistan.
He stated that Pakistan is among those nations of the world who ranked top in various crop production but the country is in dire need to follow WTO standards to enhance its agricultural exports to maximise the industry's potential.
During the conclusion, it was highlighted that next steps will be discussed and shared with everyone by DPP and ADB in the implementation of SPS, as part of the ADB program of Technical Assistance. Concluding remarks by Director Quarantine expressed his appreciation to ADB and CABI for the wide range of training given on SPS and its importance for Pakistan trade.
Additional information
Main image: Dr David Hunter, International Consultant of the ADB delivers a lecture on World Trade Organisation-led SPS regime in Pakistan (Credit: CABI).
Relevant project page
Find out more about how CABI has been helping to strengthen food security systems in Pakistan from the project page here.
Authors:
Dr Kazam Ali – Project Manager
Dr M. Sajid Qureshi – Plant Protection Specialist
Dr Talha Nazir – Plant Protection Specialist
Contributors
Mahwish Sarwar – Communication Officer
Related News & Blogs
CABI's digital data expertise has been showcased through a project in Punjab, Pakistan, and will help smallholders in the fight against crop pests. The project is called: 'Strengthening food security post COVID-19 and locust attacks,' and will he…
30 August 2023