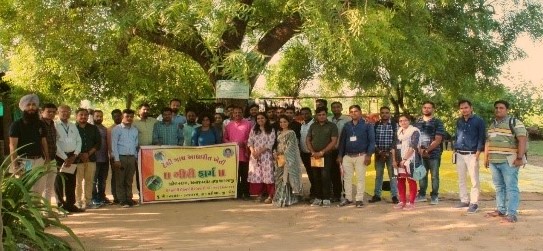 CABI's centre in India is busy working in partnership to help cotton growers increase their yields and livelihoods by fighting pests and diseases with safer-to-use and more environmentally friendly bioprotection products.
India is the largest producer of cotton globally and provides livelihoods to around 60 million people. The crop grows over 11.7 million hectares in India compared to about 31.2 million hectares around the world.
The value of the exports amounted to US $6.3 billion in the year 2020-21, and US $9.9 billion between April 2021-February 2022.
Furthermore, the Government of India along with the export promotion council has set a long-term target of US $100 billion of textiles industry exports by 2025-26 and growing productivity from the current level of around 450 Kg lint per hectare to at least 800-900 Kg lint per hectare.
Susceptible to pests and diseases
However, cotton in India, as in other producing countries, is susceptible to a wide range of potentially devastating pests and diseases such as the pink bollworm (Pectinophora gossypiella) and American bollworm (Helicoverpa armigera).
Phase one of CABI's work – carried out as part of the Better Cotton Initiative (BCI) – saw CABI staff train partners on the sustainable management of general pests and diseases of cotton.
Now a second phase of activity has been conducted to facilitate the mass production of biocontrol agents and biopesticides to tackle crop pests and diseases which blight the efforts of India's 5.8 million cotton farmers. This work was achieved by joining hands with the Anand Agricultural University (AAU) in Vadodara, India.
The target was to train 30 'master trainers' as part of a six-day training programme to cascade knowledge to farmers. This sought to increase the availability and accessibility of bioagents in their areas where cotton crops are grown.
Such capacity building not only trains them on the equipment that needs to be used and process of mass production but also the on-farm feasibility to produce bioagents in the first place – taking a full 'hands-on' approach.
The bioagents chosen for this training were chosen for their significance in the cotton ecosystem: Trichogramma, Chrysoperla Reduviid bug; and the biopesticides Trichoderma harzianum and Beauveria bassiana.
Capacity building
A baseline assessment of the master trainers' knowledge clearly showed their awareness of biocontrol agents and how they benefit agriculture.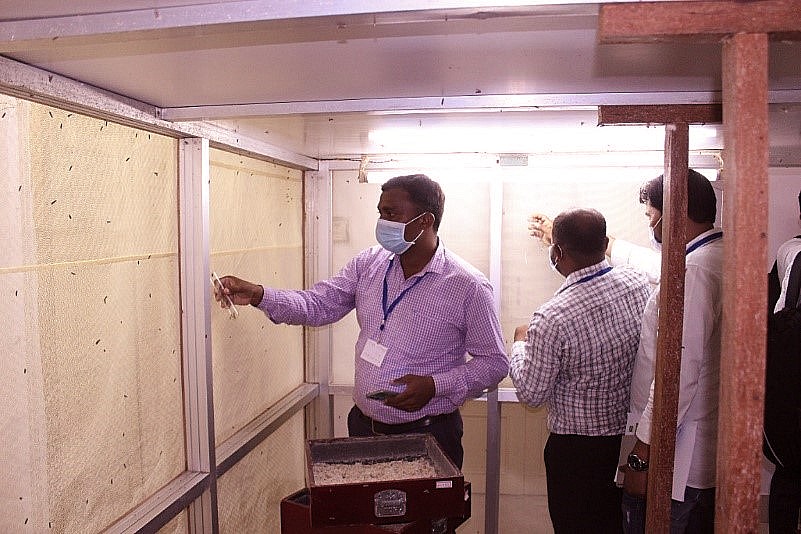 Participants learned with great interest how to produce bioagents and clearly understood that parasitoids like Trichogramma chilonis are instrumental in addressing the range of cotton pests that also included the cotton leafworm (Spotoptera litura), Egyptian stem borer (Earias insulana) and the spotted bollworm (Earias vitelli).
The training also included practical sessions. For instance, the master trainers were able to be hands-on for the host insect Corcyra cephalonica and the biological control agent Trichogramma chilonis.
Participants also learned about the significance of maintaining a contamination-free pure culture.
Producing biocontrol agents
Similarly, participants learned the process of producing other important macrobials like Chrysoperla carnea and Reduviid bug. These biocontrol agents are very effective against Cotton mealybug (Phenacoccus solenopsis), Aphis gossypii and tobacco whitefly (Bemisia tabaci). Classroom activities and presentations kept the trainers well-informed on what is expected in the practical sessions.
This training also included a lesson on the most useful bioproduction products like Trichoderma and Beauveria spp. The advantage of these two bioagents is that they have considerable shelf life so they can be stored on agro-dealer shelves.
However, often these bioagents are not available. Therefore, understanding their basic fungal characteristics and factors can help in their production. This can lead to better efficacy in the field.
Since these two bioagents target important pest and diseases like bollworm, root rot and wilt disease, producing them locally would facilitate application. This could, therefore, help manage pests and diseases in the cotton ecosystem.
Master trainers focused further on the mass production of these microbial pesticides through the process of sterilization, media preparation, inoculation, incubation and formulation.
Site visits
Dr Malvika Chaudhary, Regional Coordinator Asia for Plantwise and Project Manager, said, "It is important to link producers at the local community-level to nearby university and government science centres so that they can procure nucleus cultures and get the quality of their products checked from time to time.
"This will also ensure the safe and proper use of the biocontrol agents. The master trainers also learned about quality control in biopesticides; a crucial part of biopesticide production."
As part of the training, the participants visited an organic cotton farm where they learnt about the different methods pertaining to organic cotton farming. This was in addition to the production and use of biocontrol agents in their fields. This farm also had a variety of other crops including pulses and millets.
Another visit, this time to a commercial production unit, demonstrated the constraints in production but also showed the links to the distribution channels. In particular, to complement their products with macrobials that the big as well as small- and medium-sized enterprises are generally unable to provide.

Additional information
Main image: CABI is helping to train farmers in India on how to increase their cotton yields and profits through the use of more sustainable biocontrol agents to fight pests and diseases (Credit: CABI).
Related News & Blogs
CABI has shared its expertise in data policy and practise at the International Conference on Open and FAIR Data Ecosystem Principles, Policies, and Platforms held in New Delhi, India from 11th – 13th September 2023. Arun Jadhav, Manager – Digital Devel…
21 September 2023