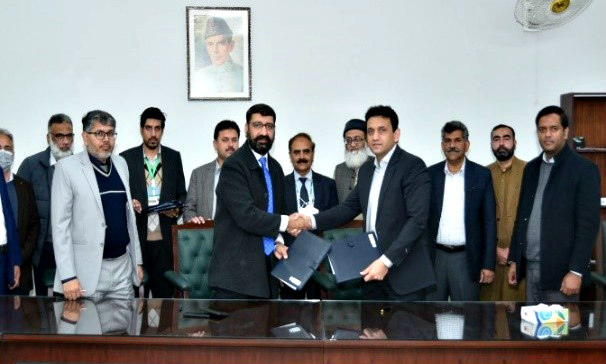 CABI in Pakistan has joined forces with the Pakistan Agricultural Research Council (PARC) and Ministry of National Food Security and Research (MNFS&R) to further research into a biological control to mitigate aflatoxins in red chilies.
Aflatoxins are a group of toxins produced by certain fungi found in crops such as maize and groundnuts. These aflatoxins are toxic and can cause serious health problems for humans and livestock.
They can also cause problems within the food chain because they contaminate crops, cause food safety, nutrition and security issues and consequently affect a country's ability to trade.
The agreement to collaborate more closely will see the partnership working to strengthen the red chili sector in Pakistan – especially for the revival of the Dandicut (Longi) variety – by addressing various chili crop production problems.
Recent studies concerning the contamination of red chilies by aflatoxins have been conducted by CABI and the Crop Diseases Research Institute (CDRI) based at National Agricultural Research Centre (NARC).
PARC revealed high incidences of aflatoxin levels in red chili samples collected from Umerkot, Hyderabad, Mirpurkhas, Matiari, Tando Allahyar and Sanghar regions of Sindh with estimated contamination rate ranging from 65% to 75%.
Biological control is one way of sustainably handling aflatoxins in crops. Therefore, CABI in Pakistan and PARC have joined hands to demonstrate an indigenous biocontrol technology using native a-toxigenic strain of Aspergillus flavus.
The biocontrol product – locally known as AflaPakTM – will be broadcasted prior to flowering with the objective of it acting as a competitive displacement to tackle aflatoxin causing Aspergillus flavus. This is a novel approach and is the first ever aflatoxin biocontrol field demonstration in Pakistan for red chilies.
Field response of biocontrol product will be assessed under a flagship programme 'Regulatory Harmonization in Pakistan for MRLs and Biopesticides' which is being led by CABI with the support of PARC and United States Department of Agriculture (USDA).
This programme is focused in building the capacity of the Government of Pakistan and associated stakeholders to understand the regional regulatory scenarios and to develop harmonization with science-based international standards. This will help to devise a regulatory mechanism in country and to facilitate the regional trade – strengthening the capacity of farmers and the country's economic situation.
The cooperation was signed in a ceremony held at NARC, Islamabad. Officials from PARC, including The Chairman, Secretary Council, Member Plant Sciences Division (PSD), Member Coordination & Monitoring Division (C&MD) and officials from CABI in Pakistan (Senior Regional Director Asia and Project Manager) participated in the ceremony. It was agreed to jointly put efforts to make this cooperation a successful endeavour.
Additional Information
Find out more about CABI's work on Regulatory Harmonization in Pakistan for MRLs and Biopesticides
Authors:
Dr Babar E. Bajwa – Project Executive
Dr Sabyan Faris Honey – Project Manager
Contributors:
Dr Hamzah Shahbaz Bhatti – Programme Officer
Dr Muzammil Farooq – Project Officer
Saqib Ali – Communication Officer
For more information, please contact:
Jessica Mudjitaba Fernandez – FAS
USDA
jessica.mudjitaba-fernandez@usda.gov
Related News & Blogs
Pakistan is the world's fourth-largest producer of chillies. The country accounts for around 4-5% of global chilli production. Sindh province is where 85% of Pakistan's chillies are grown, making it one of the biggest chilli-producing regions worldwide…
9 November 2023