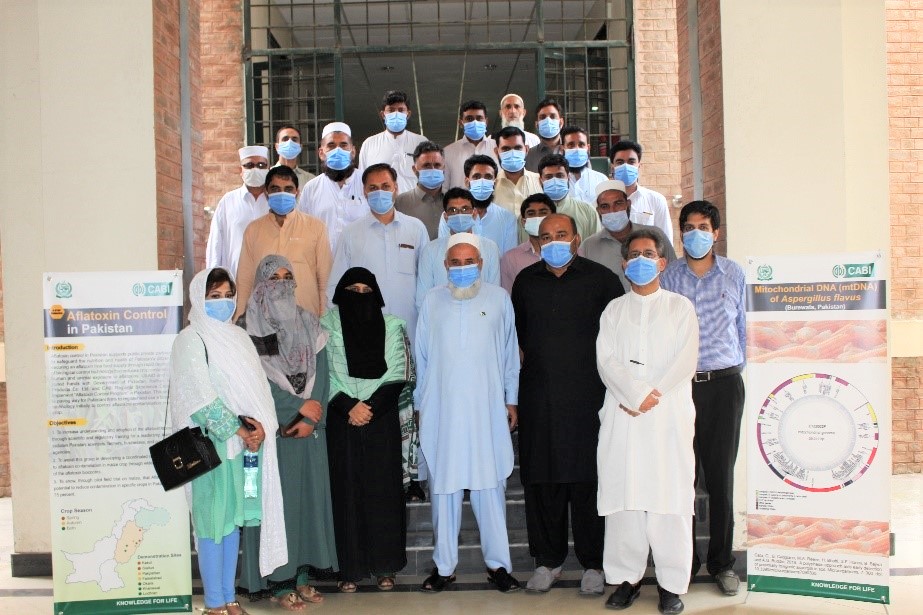 Pakistan produces many dry fruits such as almonds, walnuts, raisins, pine nuts and pistachios from which Khyber Pakhtunkhwa province has the major market share in production of dried fruits. These dried fruits are exported and consumed in large quantities worldwide during the winter seasons.
Therefore, there is a need for them to be stored correctly to maintain the quality and integrity of the product. In general, all dried fruits, especially peanuts, pistachio and walnuts, are susceptible to aflatoxin contamination and the consumption of aflatoxin contaminated fruits have hazardous effects on human health such as acute liver failure.
Under the umbrella of 'Aflatoxin Control in Pakistan', the project team organized a one-day training session for the staff of the Department of Agriculture Extension, Khyber Pakhtunkhwa (KPK) in Peshawar. The project team shared natural aspects for aflatoxin contamination to the crops, concept of aflatoxins and their prevalence in the food chains, health concerns for humans and animals on consumption of aflatoxin contaminated food.
They also spoke about the theory behind the biological control of aflatoxin in maize crop aligned with ongoing developments/innovations, prospects for the trade sector expansion if the issue of aflatoxin addressed, and opportunities for the research and development sector for the horticultural commodities being grown in KPK. This training session was attended by 23 participants (20 Males, 3 Females) from 9 districts of KPK. Participants included the Director General, Director of Plant Protection Department KPK and Agriculture Officers along with their field staff from Department of Agriculture Extension, Khyber Pakhtunkhwa.
Dr Abid Kamal, Director General delivered the concluding remarks and shared that to overcome problems in the agricultural sector, awareness and knowledge sharing amongst all the relevant stakeholders including researchers, farmers, processors, exporters and consumers is essential to combat the situation.
Moreover, along with postharvest measures, pre-harvest technologies need to be enhanced which will play an imperative role to reduce the levels of aflatoxins in horticultural commodities. He further urged the agricultural officers and their field staff to educate growers on the concept of mitigating aflatoxins in crops for ensuring improved health.
Additional Information
Photo: group photo of training participants along with Dr Abid Kamal, Director General (Credit: CABI).
Aflatoxin Control Programme
Find out more about CABI's work on aflatoxin control in Pakistan.
Authors:
Dr Babar E. Bajwa – Project Executive
Dr Sabyan Faris Honey – Project Manager
Contributors:
Dr Hamzah Shahbaz Bhatti – Programme Officer
Dr Muzammil Farooq – Project Officer
Mr Saqib Ali – Communication Officer
For more information, please contact:
Deborah Hamilton
USDA
202-720-0335
Deborah.Hamilton2@usda.gov
Related News & Blogs
CABI's digital data expertise has been showcased through a project in Punjab, Pakistan, and will help smallholders in the fight against crop pests. The project is called: 'Strengthening food security post COVID-19 and locust attacks,' and will he…
30 August 2023