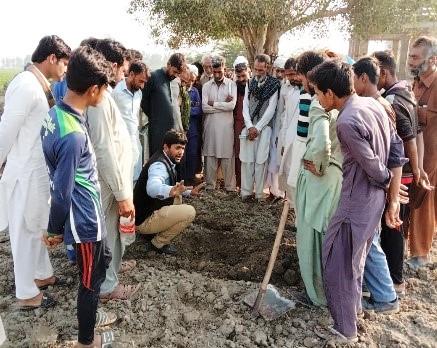 CABI is transforming the fortunes of small-scale potato farmers by introducing advance potato production technology thanks to the technical support of Wageningen University & Research, Netherlands (WUR) experts and financial assistance provided by the Netherlands Enterprise Agency (RVO).
In order to increase per-acre yield of potato crop, it is vital to have capacity building sessions to upgrade potato growers' knowledge and technical skill. The project aims to mitigate constraints faced in the potato value chain by building the capacity of small-scale potato growers – particularly women – in good agricultural practices, including the sustainable and safe use of pesticides.
In accordance with the project objectives and the inputs provided by the stakeholders, CABI has adopted a Farmer Field School (FFS) approach to disseminate advance potato production technology to the smallholders of four core potato producing districts (Okara, Sahiwal, Pakpattan and Kasur) of Punjab.
Intending to build the capacity of smallholders on advance potato production technology both on ware and seed crop, training sessions has been conducted to provide technical knowledge to around 500 farmers including 100 women.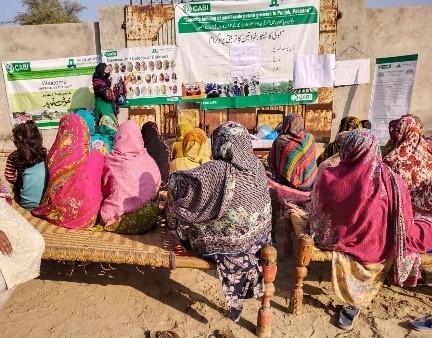 In these training sessions, farmers were introduced to soil and water sampling, interpretation of the soil and water testing reports, seed selection, seed treatment and seed planting for both seed and ware crop. The training on the fertilization scheme, irrigation strategies and integrated pest management, has also been introduced among the registered farmers.
Moreover, 24 demonstration plots were established to demonstrate the advance production practices and provide a comparison between conventional and advance production practices. These demonstration plots established in growing season were able to successfully portray the proverb "seeing is believing."
Farmers also visited these demonstration plots and participated in the practical demonstration of these techniques on them. They also took part in a discussion session on the potato production practices.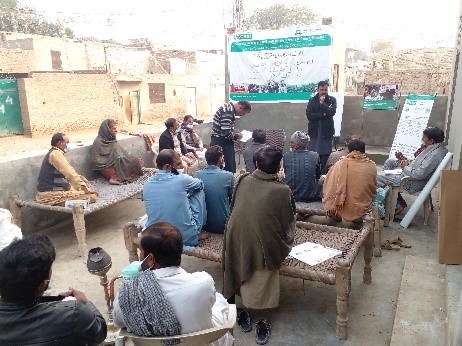 Each training session concluded with the stimulating discussion of advance production practices and the best package of practices to be adopted for a high yield as well as precautions to considered and possible solutions of the constraints faced by the farmers. Farmers' queries were also addressed in the discussion session.
A farmers' manual on potato production technology, topic related leaflets and photo sheets in Urdu language were also developed and disseminated. Host farmers were thankful for the CABI team and the master trainers for conducting the training session and the establishment of the demonstration plots.
The effective transfer of the advance production technology will help in the adaptation of improved practices by enhancing productivity and uplifting the livelihood of the small-scale potato growers.
The work is being carried out as part of a project collaborating with the Pakistan Agricultural Research Council (PARC), Department of Agri Extension – Punjab, University of Agriculture – Faisalabad, Punjab Rural Support Programme, Ministry of National Food Security & Research, Potato Research & Development Board – Punjab Potato Growers Society and the Pakistan Farmers Associates.
It was officially launched in February last year by Dutch Ambassador Wouter Plomp who said food security is a growing concern globally, especially in the Punjab region due to impacts of climate change and rapid increase in population.
"Meeting up with nutritious food demand is a challenge for Pakistan, and the Netherlands has knowledge, technology and skills to help Pakistan overcome these challenges. For instance, Pakistan imports 13.000 metric tonnes of seed potatoes from the Netherlands per annum", he added.
Additional information
Main image: CABI is transforming the fortunes of small-scale potato farmers by introducing advance potato production technology (Credit: CABI).
Blog authors
Yasar Saleem Khan – CABI Master Trainer
Maila al Saba Shah – CABI Master Trainer
Dr Umair Safdar – Project Manager
Other relevant news story
See also the news story 'CABI 'chips-in' to help build capacity of potato growers in Punjab, Pakistan.'
Related News & Blogs
The Punjab province of Pakistan is one of the most important growing districts with over 95% of potato production originating from here. The crop is significantly valuable as a commodity for both farmers and consumers. However, potato growers in Pakist…
28 April 2023