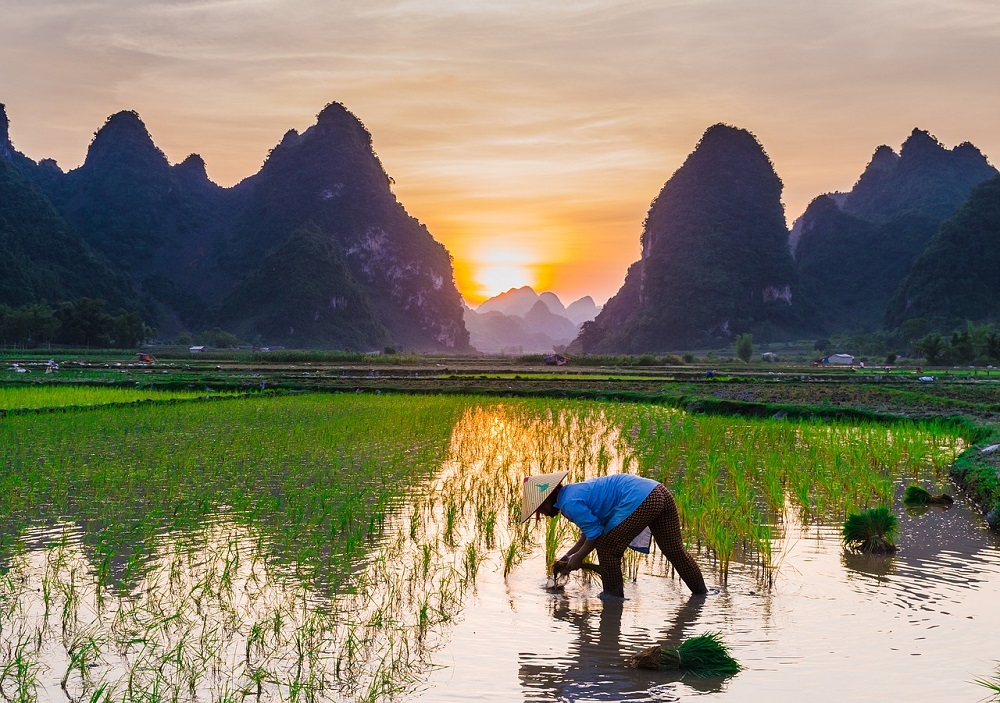 Some may wonder, yet again, where agriculture was at COP26. Despite agriculture being the sector most vulnerable to climate change impacts particularly in low-income countries, and globally is one of the largest contributors to greenhouse gas emissions, it remains side-lined from the main negotiations.
Nonetheless, COP26 provided a number of opportunities for organisations concerned about the impacts of climate change on smallholder farmers, and those demonstrating innovative opportunities to address both adaptation and mitigation in the sector, to highlight the centrality of agriculture to climate action.
CABI was at the forefront of these discussions. On Finance Day, Wednesday 3rd November, the CASA programme's work on engaging investors to mobilise climate finance towards the $100bn per year climate finance goal was showcased with a video shown throughout the day at the UK Government Pavilion, at the heart of the event.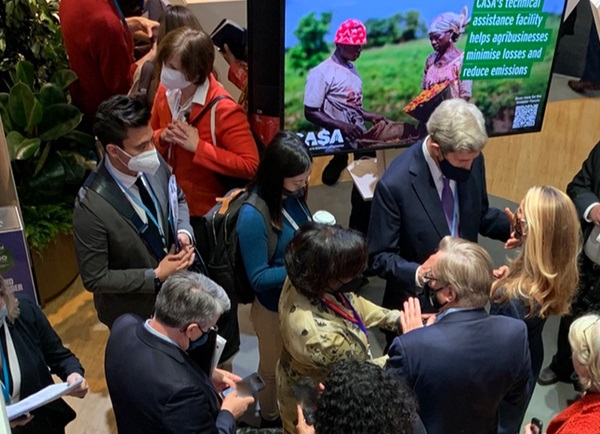 CABI's climate change manager, Jonny Casey, was on-hand throughout the day to talk about the CASA programme's work with attendees, including a number of government ministers from the UK, Uganda, and beyond.
Later that day, Jonny was a panellist at an IFAD-organised event on innovative approaches to climate risk management in agriculture. See a replay on the event in the video below:
Jonny presented the findings of some of the CASA Programme's pioneering research work, which provide key insights for investors on issues including physical climate risk assessments in agriculture, the role of private finance in climate adaptation, and investment opportunities in frontier climate-smart agriculture technologies in Asia and Africa. See here for the four briefing papers on climate change presented at COP26.
Jonny also joined a high-level panel of climate change experts as part of a side event entitled, 'Developing climate resilient food systems pathways – approaches from Sub-Saharan Africa', organised by FANRPAN together with CABI, CARE International, CIMMYT, and the World Bank, and moderated by Mr Lwembe Mwale from COMESA.
The discussion included Jonny highlighting how CABI's work is supporting the organisation's Member Countries to address climate change resilience challenges throughout Africa. Jonny outlined how reaching scale can be enhanced by digital technologies, particularly mobile phones, for advisory services, early warning systems, and climate information services, such as the CABI-led Pest Risk Information Service (PRISE).
Jonny explained how CABI has seen much greater impact achieved through a blend of both digital and in-person support. Jonny also highlighted how we also need a clear focus on equity and ensuring that all farmers, in any given context, can access and act upon agricultural advisory information.
Overall, the feeling among many attending COP26 was one of frustration that the political negotiations did not lead to commitments to keep projected global warming to below 1.5C° and that realistic opportunities to do so are now rapidly slipping away. Similar frustration was expressed that the decision on the next steps for the Koronivia Joint Work on Agriculture process, designed to 'bring agriculture to the table' of the negotiations, was delayed until COP27 next year.
But there were also signs of hope. There was no questioning of the science of climate change and the outcomes of the recent IPCC Working Group 1 report on the physical science basis of climate change and its assertion that there was now certainty of humanity's impact on global warming. Moreover, there were some ambitious agreements to tackle deforestation, cut methane emissions, and a small increase in adaptation funding.
For CABI, the outcomes of COP26 signify the importance of supporting its member countries and farmers across the world to build resilience and adapt to the impacts of climate change. Even under the best-case scenario of limiting warming to 1.5°C, there will still be increasingly severe impacts on agriculture and the environment, particularly for low-income countries in the global south. The time to act is now.
You can also see replays of all of the COP26 side events from the COP26 YouTube channel here.
CABI's work on climate change and biodiversity
CABI is helping farmers to adapt to the major challenges of climate change through projects that apply, among other things, our expertise in digital development and crop health.
Through knowledge creation, management and sharing, we help environmental managers, farmers and researchers protect biodiversity by using natural, sustainable approaches such as biopesticides and invasive species management.
Learn more here.
Related News & Blogs
Women are often left in the shadows when it comes to addressing the climate crisis, even though they are at the forefront and can offer unique insights. The climate crisis does not affect everyone equally. Women and girls are more likely to experience…
13 October 2023