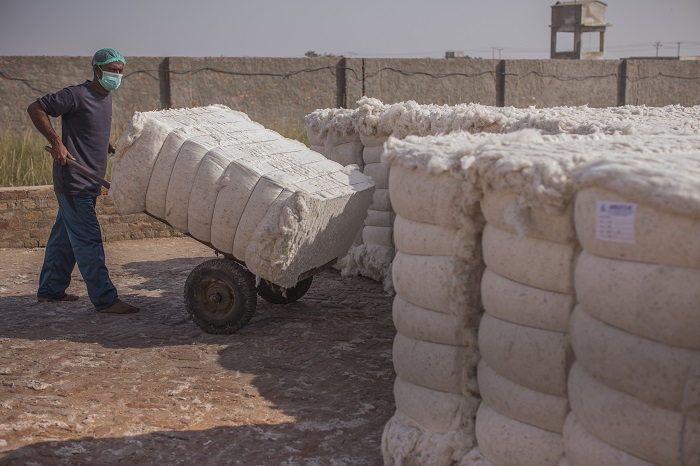 Cotton crop is the main source to produce the fiber, cotton seed cake, and for animal feed to support an increase in milk production and oil in good quantities. The sticks of cotton crop also support in burning fires for cooking purpose in the rural areas of Pakistan in places where other resources are not available.
However, this crop is subjected to a huge amount of chemical sprays and farmers expend maximum amounts of money to purchase pesticides for the management and control of insect pests to help ensure a good production of cotton. While farmers have been fighting back with pesticides, this is not sustainable in the long run. Due to the excessive use of pesticides, there are many issues related with human health in addition to the economic losses farmers are suffering through labour charges and the purchasing of expensive pesticides.
To produce pesticide free and organic cotton, it is important to select virgin land. In the light of this condition, CABI launched an initiative to produce organic cotton seed through the Cotton Advocacy for Policy and Seed (CAPAS) project – funded by Laudes Foundation – in Baluchistan province of Pakistan. This area was chosen because these lands are free from contamination.
Through this project, and to produce good quality of seed for multiplication, it is important to implement an Integrated Pest Management (IPM) strategy. It is also important to enhance the capacity of farmers regarding pests and beneficial insect identifications and biological control methods. In this regard, CABI arranged a training program in two districts of Baluchistan, Lesbella and Barkhan, where the farmers are growing organic cotton.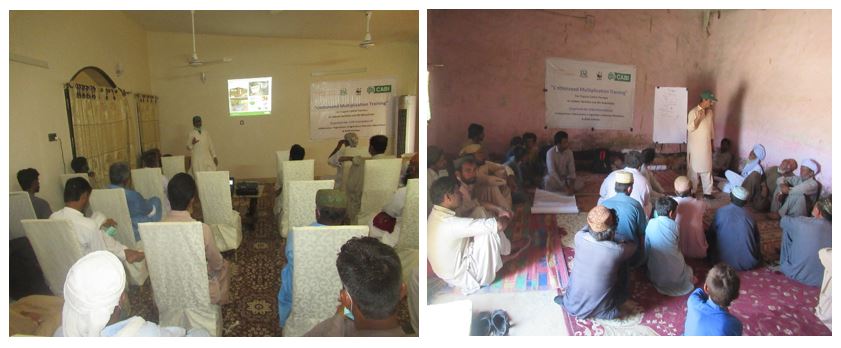 During a capacity-building program, IPM practices with strong cultural and biological control-based components were promoted among agriculture officers, field assistants, field facilitators and more than 108 organic cotton farmers. Considerable support from national stakeholders, who were excited to increase their capacities in the area of IPM and biological control, was also given.
To promote biological control, training sessions conducted on the Natural Enemies Field Reservoir (NEFR) technology were held. It was shared with that the NEFR is an approach which provides a safe habitat to the already existing natural enemies of the target pest by manipulating the existing environment on the farmer's field.
Details were shared with farmers regarding its infrastructure, required management techniques and how this farmer-based field laboratory can be run successfully. They were also shown pictures of the beneficial insects which will be reared in laboratory as part of the control measures of the harmful insect pests of cotton without use of any pesticides.
Before this, there was tension and stress concerning how organic cotton could be produced without the use of any pesticides and they had no prior knowledge about NEFR technology. The farmers also had little knowledge of biocontrol agents, how safe they are, or how beneficial they can be.
The farmers now feel happy and shared that this simple technology is easy to install, manage at farm level, and will support us to reduce the frequent use of pesticides and save the expenses incurred through their purchase. Through this technology implementation we are happy and able to produce organic cotton to a very good quality. Furthermore, they are willing to install 25 mini-NEFRs in the area where the organic cotton is growing.
Additional information
Main image: Cotton is a major crop of Pakistan after wheat and occupies the largest area in Pakistan compared to other crops (Credit: CABI).
Authors:
Mr Ashfaque Ahamed-Project Manager
Mr Babar Latif Baloch-Policy Officer
Donor
Partners
Central Cotton Research Institute (CCRI) Sakrand
Pakistan Central Cotton Committee (PCCC)
Balochistan Agriculture Extension Wing
Balochistan Agriculture Research Institute – BARI
Federal Seed Certification and Registration Department (FSC&RD)
Pakistan Agricultural Research Council (PARC)
Ministry of National Food Security & Research (MNFS&R)
Find out more how CABI is helping to promote sustainable organic cotton production and supply in Pakistan from the project page.
Related News & Blogs
CABI's digital data expertise has been showcased through a project in Punjab, Pakistan, and will help smallholders in the fight against crop pests. The project is called: 'Strengthening food security post COVID-19 and locust attacks,' and will he…
30 August 2023