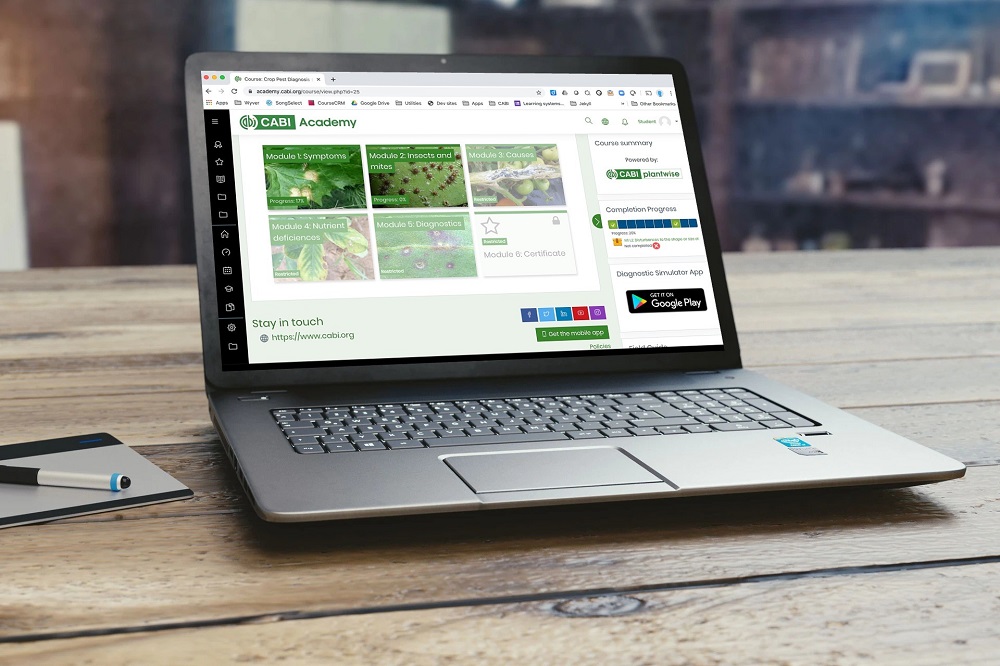 CABI is providing two weeks free access to its Crop Pest Diagnosis online course to encourage knowledge expansion on healthy plants – supporting students and plant health specialists during the coronavirus COVID-19 pandemic.
Registrants can benefit from the course online, or using an app. It is designed to support extension workers and plant doctors directly, as well as teachers and trainers in agricultural education institutions and the workplace.
Around 40% of crops worldwide are lost to pests – putting the livelihoods of millions of smallholder farmers and global food security at risk. CABI is helping to mitigate these challenges through its expertise in plant health and Integrated Pest Management (IPM) using more sustainable biological controls where possible.
The Crop Pest Diagnosis course features 15 hours of training across five modules, over 400 knowledge checks and 1,000 images for symptom recognition. The course supports field-based diagnosis using the Diagnostic Field Guide and covers pathogens, pests and nutrient deficiencies. It complements another interactive course, Crop Pest Management, which is also available through the CABI Academy.
Get your two weeks' free access
To start enjoying free access to the Crop Pest Diagnosis course, follow these simple steps:
• Create an account here
• Confirm your email address by clicking on the link sent to your email
• Go to the Crop Pest Diagnosis course
• Look for the Enrolment key box under the heading: Temporary open enrolment (2 weeks free access) [see screenshot below]

• Enter the key: CoronaVirus and click/tap on Enrol me
• Start working through the course
For more information about the Crop Pest Diagnosis and Crop Pest Management courses visit the CABI Academy
Related News & Blogs
CABI has highlighted its expertise in digital tools, to aid the management of crop pests, at the International Symposium on Tropical Fruits (ISTF 2023) held recently in Guangzhou, China. The objective of ISTF 2023 is to generate interest in the adoptio…
27 November 2023