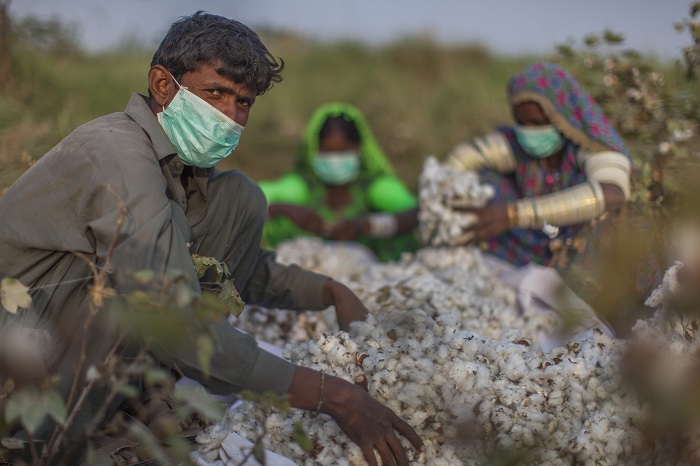 A CABI Study Brief, entitled 'Improving the safety and quality of cotton production in Pakistan' shares findings on the impact of a CABI capacity building programme for farmers and farm workers involved in the Better Cotton Initiative (BCI) in two Pakistan districts.
The aim of the partnership between CABI, BCI, Partners in Development and Consultancy (PIDC) as highlighted in the study, is to improve cotton quality and promote practices that are safer for workers' health and the environment in areas that face a range of potential negative social and environmental effects of intensive cotton production.
Agriculture is central to Pakistan's economy and cotton is one of the most important crops; it generates the largest export revenue of any crop. In Sindh Sanghar and Mirpurkhas, two key districts in Sindh province, 31% of all cotton in Pakistan is produced. Therefore, cotton production is responsible for employment, income and livelihoods, especially in these districts.
Through the capacity building programme, CABI successfully trained 11,360 farmers on choice of pesticides and alternative practices, 22,252 male farm workers on handling and applying pesticides safely and 16,000 female farm workers on safety, quality and better picking practices during the cotton harvest.

Based on the seven BCI key principles, the study achieved safer use of pesticides by farm workers including proper storage and disposal of pesticide containers; higher adoption of safety measures by female farm workers who pick cotton; improved cotton quality; increased financial benefits to the farmers; increased potential for collective action amongst farmers and increased awareness around decent work conditions.
The study did, however, find that the direct financial impact of improving cotton quality was inadequate as new standards did not translate to higher pay for farm workers – this signifies the need for increased engagement with key value chain actors going forward.
Read the full brief to find out more about the impact of training cotton farmers and farm workers in the Better Cotton Initiative.
Full paper reference
Lohano, H.D., Mari, F.M., Stewart, J., Ali, I and Romney, D. (2019). Improving the safety and quality of cotton production in Pakistan. CABI Study Brief 30: Impact. DOI: https://dx.doi.org/10.1079/CABICOMM-62-8106
Additional information
CABI helps Pakistan's cotton industry to reduce losses of around $350m a year
'Sowing the seeds' for better cotton crops: a farmer case study
Producing better cotton in Pakistan
Related News & Blogs
The devastation brought about by the monsoon floods in Pakistan left millions displaced and without food, clean drinking water, and shelter. After major destruction in several areas of Balochistan and Khyber Pakhtunkhwa, the floods inundated major dist…
14 April 2023