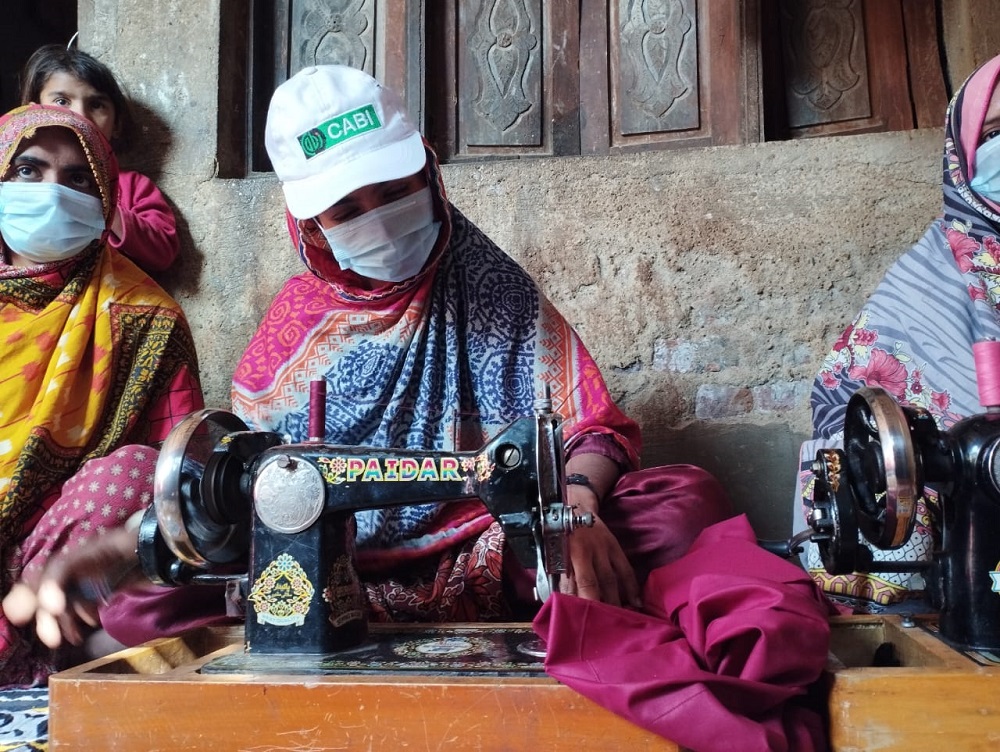 CABI strongly upholds the importance of women's empowerment for community development and to help the sustainable progress of the country where they live and Pakistan is no exception.
Adhering to CABI's Medium-Term Strategy 2023-2025 goal to 'reduce inequality through better opportunities for rural women and youth,' CABI launched an entrepreneurship programme in Sindh to improve the livelihoods of vulnerable women and girls in the villages of District Matiari.
Matiari is a remote district and does not have many facilities for women's education and development. Many women and young girls of the area are illiterate, poor, vulnerable and mainly carry out unpaid household work.
Most valuable pathways
Skill development is among the most valuable pathways to increase their productivity, earnings and independence – in turn reducing their dependency on male counterparts.
This drive is part of CABI's ongoing engagement with 'Better Cotton Initiative' in Sindh with the support from Sustainable Trade Initiative IDH (BCFT Fund), Better Cotton Growth & Innovation Fund (BCI GIF) and managed by: Sustainable Trade Initiative (IDH). This project is run by CABI in collaboration with Department of Agriculture Research, Sindh.
Through this programme, the CABI team set up eight sewing centres in villages of district Matiari where sewing and tailoring trainings were provided to women to establish their business of readymade clothes. This programme will help in upgrading the financial bearing capacity of the local community.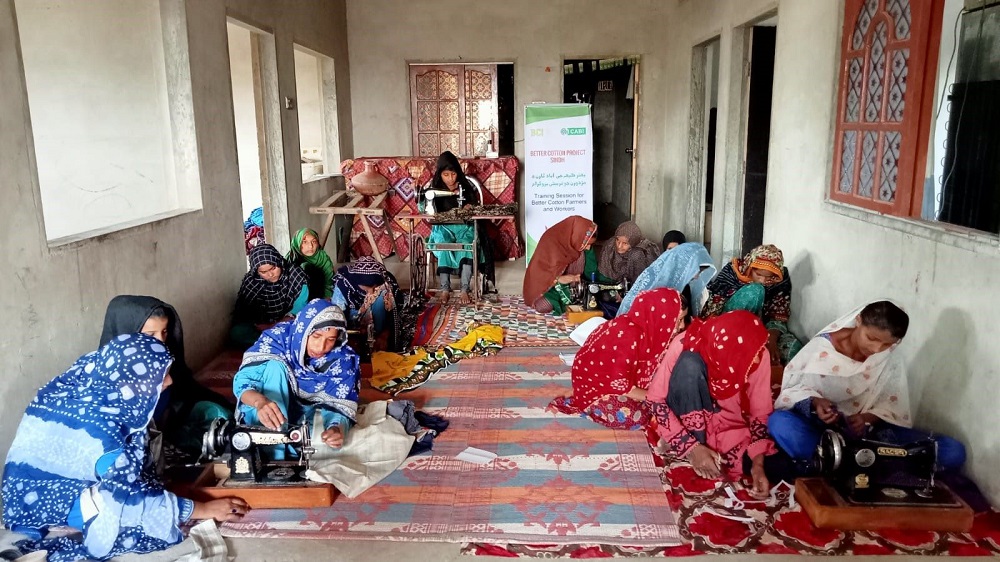 CABI established the sewing centres where special emphasis was given to vulnerable women who are treated unequally and also are expected to support their families.
Under this initiative, sewing machines and sewing supplies were distributed among 28 women. These included 12 metres of cloth, a tailoring scissor and a packet of different colourful threads.
Master trainer trainings
From each centre, one master trainer was selected from these women who was assigned as the master trainer for that respective centre. The responsibility of the master trainer was to train 10 girls or women of her village.
In total, eight master trainers were identified from eight villages to train 10 fellow women villagers. This chain of empowerment will be continued and the maximum number of women will be benefited.
The center has already started achieving self-sustainability where village women have stood up in making themselves economically and socially independent. This transformation has brought many positive changes in their lives and their source of income has started growing steadily.
Confidence and leadership
Now they earn approximately Rs. 7000 to 8000 per month depending upon demand. This has boosted their confidence and leadership skills. Furthermore, they can use this money to fulfil their personal needs and support their families in living as well as their children's education.
Ms Shamshad, one of the women acknowledged the efforts of CABI in bringing a ray of light in her life. She said, "Stitching is a reasonable source of income generation and allows for a more noble living. Now I can contribute towards my children's school fees so that they can get a good quality education. I've never dreamed about this success, I've just worked for it."
This initiative has created a more confident and supportive environment for the women's families. They are more empowered, earn money and their families also support them. They are excited to enhance their skills and learn more about entrepreneurship.
Additional information
Main image: Ms Arfa Wassan learning the skill of stitching at sewing centre established in Agham Wassan village (Credit: CABI).
Find out more about how CABI is looking at ways increase participation in the Better Cotton supply chain and secure domestic funding for the implementation of Better Cotton Initiative from the project page 'Producing better cotton in Pakistan.'
Authors
Noor Nabi Bhutto – Project Manager
Rehana Ali – Project Officer
Contributor
Mahwish Sarwar– Communication Officer
Related News & Blogs
CABI's digital data expertise has been showcased through a project in Punjab, Pakistan, and will help smallholders in the fight against crop pests. The project is called: 'Strengthening food security post COVID-19 and locust attacks,' and will he…
30 August 2023