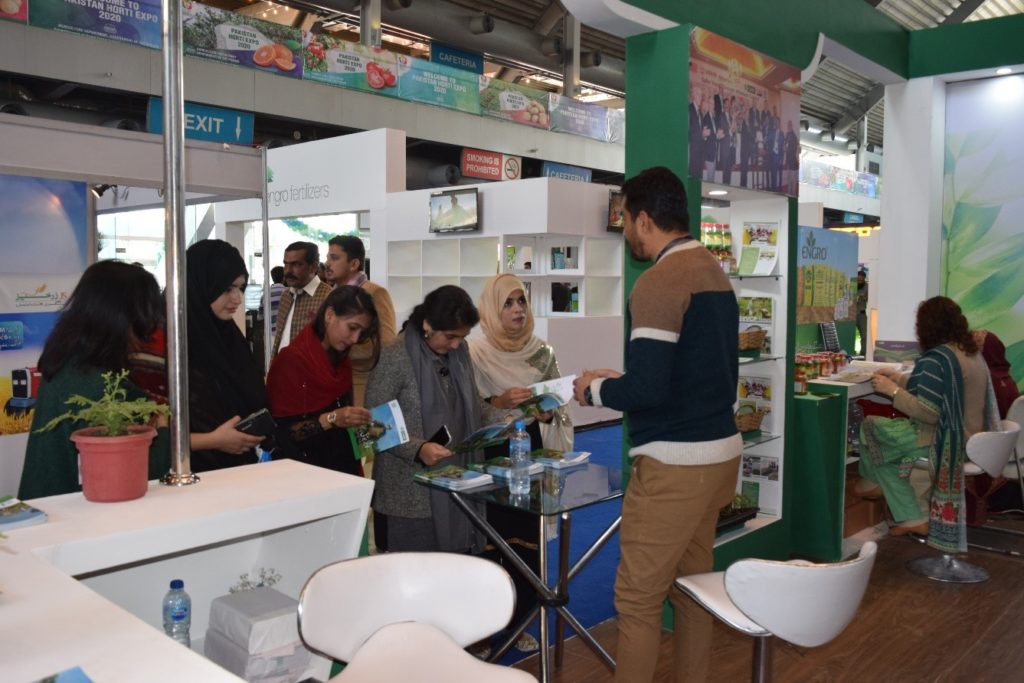 As part of the 'Establishment of Model Farms' project initiated by the Government of Punjab's Agricultural Department, a two-day Pakistan Horti Expo held at the Expo Center, Lahore, from 22-23 January 2020. The event urged key 'players' in agricultural value chains including smallholder farmers, processors, wholesalers, distributors, retailers and exporters to help boost the country's fruit and vegetable exports.
Malik Nauman Ahmad Langrial, Minister of Agriculture Punjab inaugurated the Expo and was one of the visitors to the CABI stall; where he was briefed about various ongoing CABI projects being implemented with various local partners. On day one, more than 50 researchers from various research organizations, 300 farmers, over 1000 students from various universities, several exporters, and about 1000 members of the general public visited CABI's stall. Literature of all CABI projects including Action on Invasives was distributed to the visitors.
Mr. Abdul Rehman, CABI Deputy Director Programme (DDP) briefed the delegates and held series of meetings with national stakeholders regarding Parthenium awareness and management, in addition to providing information about upcoming invasive threats.
During a discussion where the Action on Invasives (AoI) team briefed the media about the menace of Parthenium, emphasis was laid on the threat of parthenium to our biodiversity, crops, and health of humans and livestock. Short snippets from these discussions also aired on national television channels.
On day two of the Expo about 1000 farmers, 120 researchers from various organizations, 40 exporters, 1500 students and 2000 members of the general public visited the AoI stall at the CABI pavilion. They received information about the different stages of Parthenium, its phenology, distribution in Pakistan, harmful effects on crops, animals and humans as well as interactive material via videos were also shown to them for better understanding. The AoI team also discussed possible biological solutions for Parthenium and what CABI has achieved so far for the awareness and management of Parthenium.
Mr. Abdul Rehman DDP CABI stated that these kinds of expos are one of the best platforms to raise community awareness on the negative impact of Parthenium. He further added that through these expos more diverse groups of community will be sensitized about the issue.
Co-author: Abdul Rehman, Deputy Director Programmes
Blog contributors:
Kauser Khan
Kazam Ali
Related News & Blogs
CABI's digital data expertise has been showcased through a project in Punjab, Pakistan, and will help smallholders in the fight against crop pests. The project is called: 'Strengthening food security post COVID-19 and locust attacks,' and will he…
30 August 2023