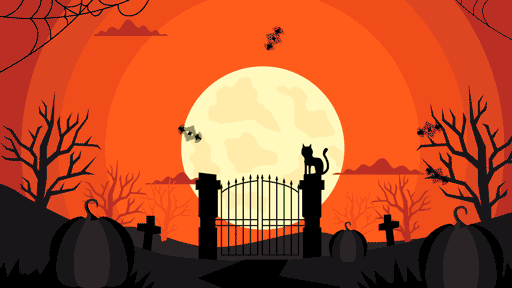 Did you know that in many countries around the world pumpkins are a beloved staple food – not just in the Autumn/Fall and during Halloween but all year round?
Yet, this humble cultivar of a squash plant, like any other food, is susceptible to a range of pesky pests – from the Pumpkin Beetle to the Lesser Pumpkin Fly.
In this Halloween pumpkin special, we take a 'tasteful' look at how invasive pests impact on this most beloved and hallowed, and not to mention versatile, of plants.
In the West – for millions of people, pumpkins convey the ambience and tastes of the season with a plethora of recipes from pumpkin pies and soups to pumpkin spiced lattes all synonymous with the entrance of autumn and Halloween.
A time when the pumpkin's role is again significant in a most important piece of Halloween folklore – the jack-o-lantern – a vegetable lantern expertly carved from an emptied pumpkin, as a somewhat scary human face traditionally.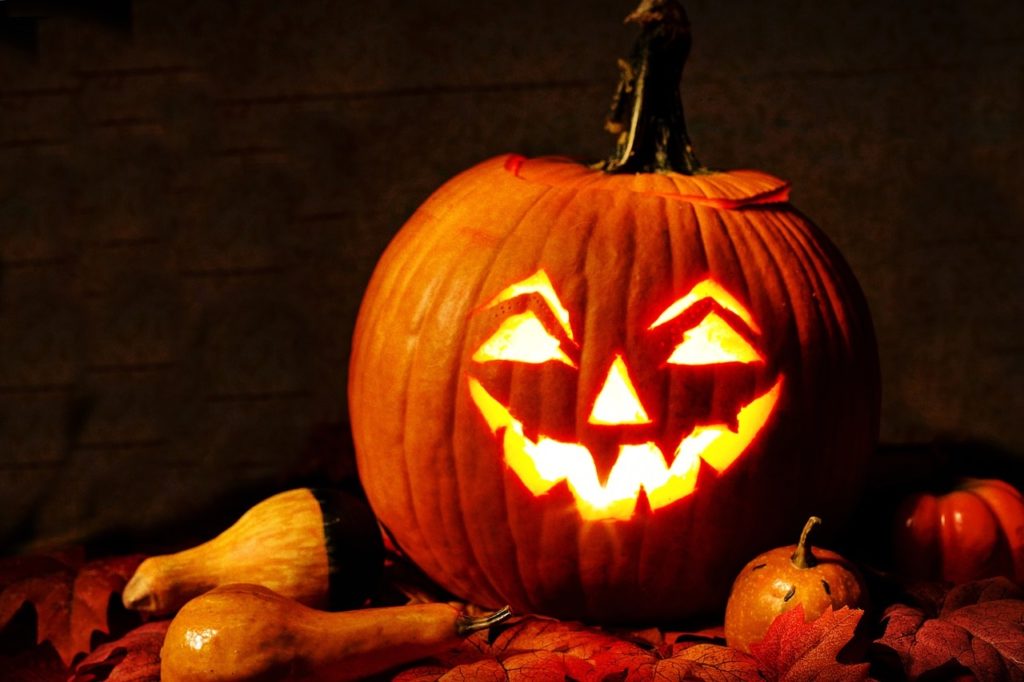 In other parts of the world, such as in Nigeria, Cameroon, Togo, Ghana, Sierra Leone, Uganda, Zimbabwe, the pumpkin is cultivated and eaten as part of the daily diet and is also used as animal feed.
Curiously in China, though, while people in the north of the country steer clear of pumpkins, people in the south love it made into soup. In Shandong province there is even a factory to make pumpkin flour for export to Japan.
So, what is a pumpkin and what nutritional value does it have?
The versatile gourd is considered a fruit because it has seeds. It is a member of the Cucurbits or gourd family which also includes melons and cucumber. There are varying species of pumpkin all over the world; they come in different shapes, sizes and colours.
In addition, they have different flavours and uses. Most of a pumpkin's parts are edible and depending on what species, the shell, seeds, leaves and flowers can be cooked in a variety of ways.
In Nigeria, for instance, a nationwide staple and delicacy relies on two different species of pumpkin Citrullus lanatus – the key ingredient in Egusi soup and Fluted Pumpkin or Telfairia occidentalis – also a member of the Cucurbits family or Ugwu – a vegetable Egusi soup cannot do without. Egusi seeds are cleaned, dried, husked and crushed to form a white powdery paste and then prepared with meats, palm oil, seasoning and the ugwu vegetable – fluted pumpkin leaves.
Beyond its ability to transform into a scary face, most varieties of the humble pumpkin are filled with nutrients such as Vitamin A, folate and magnesium and, therefore, may have the ability to ward off potential health problems.
The insects that eat them

The Pumpkin Beetle, also known as Aulacophora, is native to the Pacific and is distributed across Asia, Africa and Europe. It is an 8mm long orange coloured beetle that attacks and destroys crops in the curcurbit family by feeding on leaves, seedlings and roots.
Whiteflies are widely distributed around the world. They suck sap from leaves and transmit viruses which prevent crops from functioning normally. These dangerous flies also secrete a sticky substance called honeydew which can become a serious problem when it is colonised by sooty mould fungi.

The cucurbit Fruitfly, or Bactrocera cucurbitae, is native to India and is distributed throughout parts of Asia, Africa and the Pacific. The fruit fly is said to be most problematic insect pest of all cucurbits; in addition, it attacks tomatoes and peppers. The female lays eggs inside the fruit thereby causing damage; the flies also attack the flowers, steam and root tissue of cucurbit crops
Closely following is the South American cucurbit fruit fly. It is native to South America and its larvae causes the main damage by feeding on fruit and causing rot. This fly attacks and destroys various species of pumpkins, watermelon, cucumber and calabash gourd.
The lesser pumpkin fly is a major pest of several types of cucurbits in Africa, Asia and the Middle East. This fly often competes with but is no match for the cucurbit fruitfly. The female lays eggs in the fruit and the young larva feed in the fruit when the eggs hatch thus leading to destruction.
Wilt, Mould, Rot and everything in between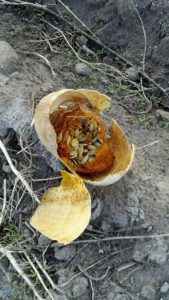 What is scarier than a well carved, well-lit jack-o-lantern? A mouldy diseased pumpkin! The Phytophthora blight can, for example, lead to 100% crop loss of jack-o-lantern pumpkins.
This fungal disease is caused by Phytophthora capsica – one of the most serious threats to cucurbit crop production. It is a soil borne disease and thrives on poorly drained soil. Symptoms may include crown rot, fruit rot, seedling damping off, leaf spots, stem lesions and foliar blight.
Fungal wilt or Fusarium wilt is also soil borne and identified by yellowing of leaves. It can also be prevented by reducing irrigation frequency and by proper drainage of fields.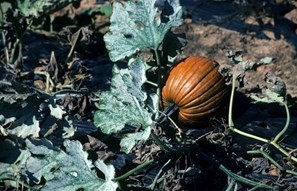 Powdery mildew, also fungal, appears first as white powdery freckles on leaves of pumpkins. It slowly spreads to stems, flowers and fruit causing destruction of the crop. The fungus is spread from diseased to healthy leaves by wind or water splashes.
One final thought, whether you are using a pumpkin as a jack-o-lantern and/or for food – spare a thought for the producers of the pumpkin who are tasked with growing this celebrated plant amidst all the pesky pests and diseases mentioned.
Additional information
Did you know?
In 2017, China was the biggest producer of pumpkins (including squash and gourds) at 8 million tonnes followed by India (5.1 million tonnes), Russia and Ukraine (both at 1.2 million tonnes) and the USA with 1.1 million tonnes.
Find out more about Pumpkin fruit rots
Book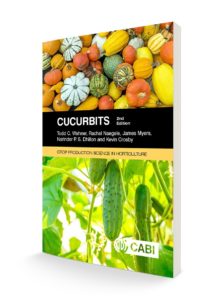 Out soon – Cucurbits – By: Todd C Wehner, North Carolina State University, USA, Rachel Naegele, USDA ARS, USA, James Myers, Oregon State University, USA, Kevin Crosby, Texas A&M University, USA, Narinder P S Dhillon, World Vegetable Center, Thailand
February 2020 | Paperback | 240 Pages | 9781786392916
---
Watch this video about pumpkin pests and diseases symptoms and management.
Related News & Blogs
Sometimes truth is stranger than fiction. It may seem like some of the species in this article are the making of horror films and scary stories but they're all too real. Besides giving us the creeps, these spooky specimens offer up some surprising 'tri…
31 October 2018