Aflatoxins are a group of toxins produced by certain fungi found in crops such as maize, peanuts, cottonseed and tree nuts. The fungi responsible, Aspergillus flavus, can contaminate crops before and after harvest as well as contaminate animal products if infected feeds are given to livestock.
Consumption of these toxins in high concentrations can contribute to stunting growth in children and cause liver illness with fatal consequences. Estimates of deaths due to aflatoxin ingestion range up to 100,000 or more per year worldwide.
In October 2018, the US Department of Agriculture (USDA) launched the 'Safer Food Through Aflatoxin Control' programme in Pakistan to mitigate aflatoxin in maize crops. The programme aims to develop a cutting-edge USDA technology which will be patented as AflaPak in Pakistan. AflaPak will exploit a biocontrol product known as A. Toxigenic Aspergillus flavus to mitigate the toxigenic Aspergillus flavus.
The technology aims to safeguard Pakistan's staple crops, such as maize and groundnuts, against aflatoxin contamination and significantly reduce nutrition-related diseases in the country.
At an AflaPak reception in Pakistan on 17 October, John Hoover, Deputy Chief of Mission, US Mission to Pakistan, congratulated programme partners and highlighted the long history of US-Pakistani cooperation in the field of agriculture.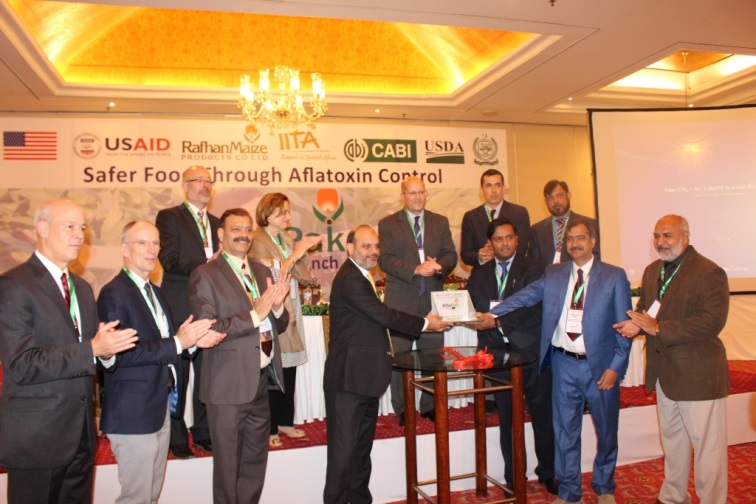 Dr. Muhammad Yusuf Zafar, Chairman, Pakistan Agricultural Research Council (PARC) shared the importance of eradicating the toxic fungus from food chains and reiterated PARC's commitment to conducting research on plant diseases and to provide support for producing and developing the technology for provision of a safer food supply.
To implement this technology in Pakistan, key partners working with the USDA include; CABI, Rafhan Maize Products Co Ltd, International Institute of Tropical Agriculture and National Agricultural Research Centre.
CABI will be coordinating with the USDA, The University of Arizona USA, Government of Pakistan and private stakeholders to implement the project in Pakistan. CABI will ensure the delivery of the programme at all levels and conduct regular meetings with all stakeholders. Furthermore, CABI will support national and international stakeholders by providing a microbiological analysis service on samples for cross-verification.
This joint effort to mitigate aflatoxins in crops will make Pakistan a leader in global efforts to grow safer food for human consumption.
Additional information
Relevant publication listed on CAB Direct
Aflatoxin. Scientific background, control, and implications By L.A. Goldblatt, New York and London, Academic Press
Related News & Blogs
CABI's digital data expertise has been showcased through a project in Punjab, Pakistan, and will help smallholders in the fight against crop pests. The project is called: 'Strengthening food security post COVID-19 and locust attacks,' and will he…
30 August 2023