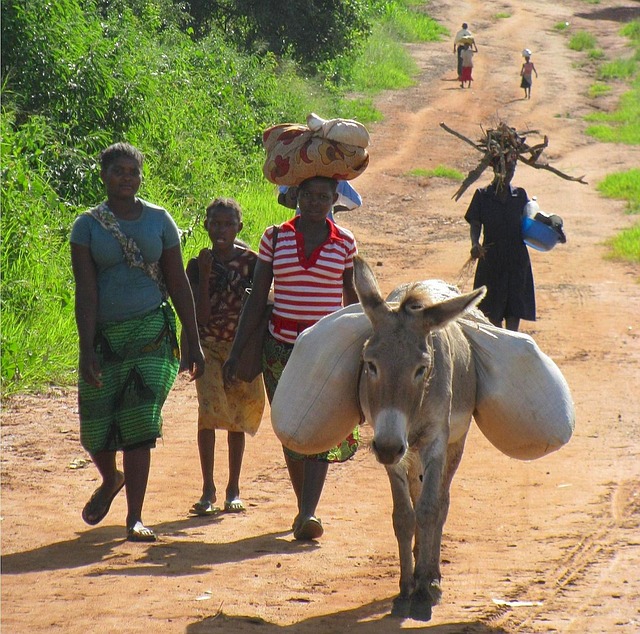 A report launched this month by the animal welfare organisation the Brooke highlights the extent to which women in developing countries rely on donkeys and other working equids. The report, Invisible Helpers, calls for greater recognition of the role of working equine animals in supporting women and their families, and emphasizes the importance of looking after the health and welfare of these valuable animals.
 In 2013, The Brooke initiated the Voices from Women research project to explore the role of working horses, mules and donkeys in supporting the lives of women from the perspectives of the women themselves. The Invisible Helpers report is based on discussions with focus groups and individuals in Ethiopia, Kenya, India and Pakistan.
It found that working equine animals help to lessen the burden on women's lives, providing a 'support system'. Over three quarters of the groups (77%), including all of those in Kenya and India, ranked donkeys, horses and mules as the most important of all their livestock. They generate income, help with household chores, give women an increased social status and help women collect food and water for other livestock.
If these animals are sick or die, the impact can be devastating on women and their families. As one of the study participants said, "It is a pain to live a single day without a donkey. That is because donkeys are the base for our life. So if we lose our donkey, we will buy another one by selling one of our calves, goats, sheep or even a heifer." (Urgo Yassin, Gedeba, Ethiopia).

The research shows that good equine welfare is essential for women and their families since working animals in poor health are less able to help with physically demanding chores or to generate income.
Unfortunately, while working equine animals are not necessarily excluded from donors' and policy makers' definition of "livestock", they are rarely acknowledged, as the emphasis is on animals that primarily produce "food or fibre outputs". As a result they may be absent from livestock related policies, standards, guidelines, programmatic interventions, livestock statistics and animal health systems, and excluded from livestock vaccination campaigns. The lack of attention to equine welfare is reflected in the training of vets which rarely includes an equine element.
The health and welfare of working equine animals in developing countries is often poor. For example, a recent assessment of the welfare of working donkeys in Mekelle City, Ethiopia, showed that many of the donkeys working in the area were experiencing multiple welfare problems and that 57.9% of diseased donkeys did not get any help from their owner and were forced to work regardless of the disease. [Read full text of paper published in Global Veterinaria (pdf)].
The Brooke study found that despite the important role of women in managing and keeping working equine animals, they have limited access to equine training and extension services. The Brooke are helping women to become 'agents of change', improving the lives of working horses, donkeys and mules by providing training on equine management, welfare and primary treatment.
The Brooke is calling for a clear link in policy and practice to be made between working equine welfare and human development; working donkeys, horses and mules to be recognised in gender and livestock policy and programming; and for women's access to training and extension services which include working equine welfare to be improved.
Read report:
Invisible Helpers: Women's views on the contributions of working donkeys, horses and mules to their lives (pdf) Voices from Women International Report, The Brooke, May 2014.
The CAB Abstracts database comprehensively covers the husbandry, health and welfare of working equine animals. A selection of papers is referenced below.
References
An assessment of the Brooke international extension related activities for the welfare of equine in District Faisalabad, Punjab, Pakistan. Hameed, A.; Saghir, A.; Ashraf, I.; Asghar, K.; Muhammad, S. A.; Global Veterinaria, 2014, 12, 4, pp 470-473, 10 ref. http://www.idosi.org/gv/gv12(4)14/5.pdf
Donkey traction, use and welfare needs at Daman region of Dera Ismail Khan, Pakistan. Khan, M. S.; Shah, M. G. U.; Shah, S. A. H.; Gandahiz, J. A.; Khan, S. A.; Alam, F.; Lochi, G. M.; Syed Mubashir Hasan; Scientific Research and Essays, 2013, 8, 21, pp 823-827, 19 ref. http://www.academicjournals.org/article/article1381238049_Khan%20et%20al.pdf
Socio-economic characteristics of owners and body linear measurements of donkeys in two states of north-west Nigeria. Hassan, M. R.; Muhammad, I. R.; Jokthan, G. E.; Amodu, J. T.; Abdu, S. B.; Abdullahi, B.; Sirajo, A. H.; African Journal of Livestock Extension, 2011, 9, pp 6-12 http://www.ajol.info/index.php/ajlex/article/view/78684
Improving working donkey (Equus asinus) welfare and management in Mali, West Africa. McLean, A. K.; Heleski, C. R.; Yokoyama, M. T.; Wang, W.; Doumbia, A.; Dembele, B.; Journal of Veterinary Behavior: Clinical Applications and Research, 2012, 7, 3, pp 123-134, 30 ref. http://www.journalvetbehavior.com/article/S1558-7878(11)00158-4/abstract
Environmental and demographic risk factors for poor welfare in working horses, donkeys and mules in developing countries. Burn, C. C.; Dennison, T. L.; Whay, H. R.; Veterinary Journal, 2010, 186, 3, pp 385-392, 27 ref. http://www.sciencedirect.com/science/article/pii/S1090023309003815
Donkey keeping in northern Tanzania: socio-economic roles and reported husbandry and health constraints. Swai, E. S.; Bwanga, S. J. R.; Livestock Research for Rural Development, 2008, 20, 5, pp 67, 22 ref. http://www.lrrd.org/lrrd20/5/swai20067.htm
The impact of donkey ownership on the livelihoods of female peri-urban dwellers in Ethiopia. Curran, M. M.; Smith, D. G.; Tropical Animal Health and Production, 2005, 37, Supplement 1, pp 67-86, 4 ref. http://rd.springer.com/article/10.1007%2Fs11250-005-9009-y
Related News & Blogs
In support of SDG5: Gender Equality, CABI ensures that a gender lens is applied in all of our work. CABI's goal is to create opportunities for women in agriculture by investing in inclusive economic growth. Our work encourages more food production and…
11 November 2022