Leading by example is important in public health. How can you convince
someone to change if you haven't tried yourself? UKPHA was leading by example by reducing its carbon footprint this week in
Bournemouth.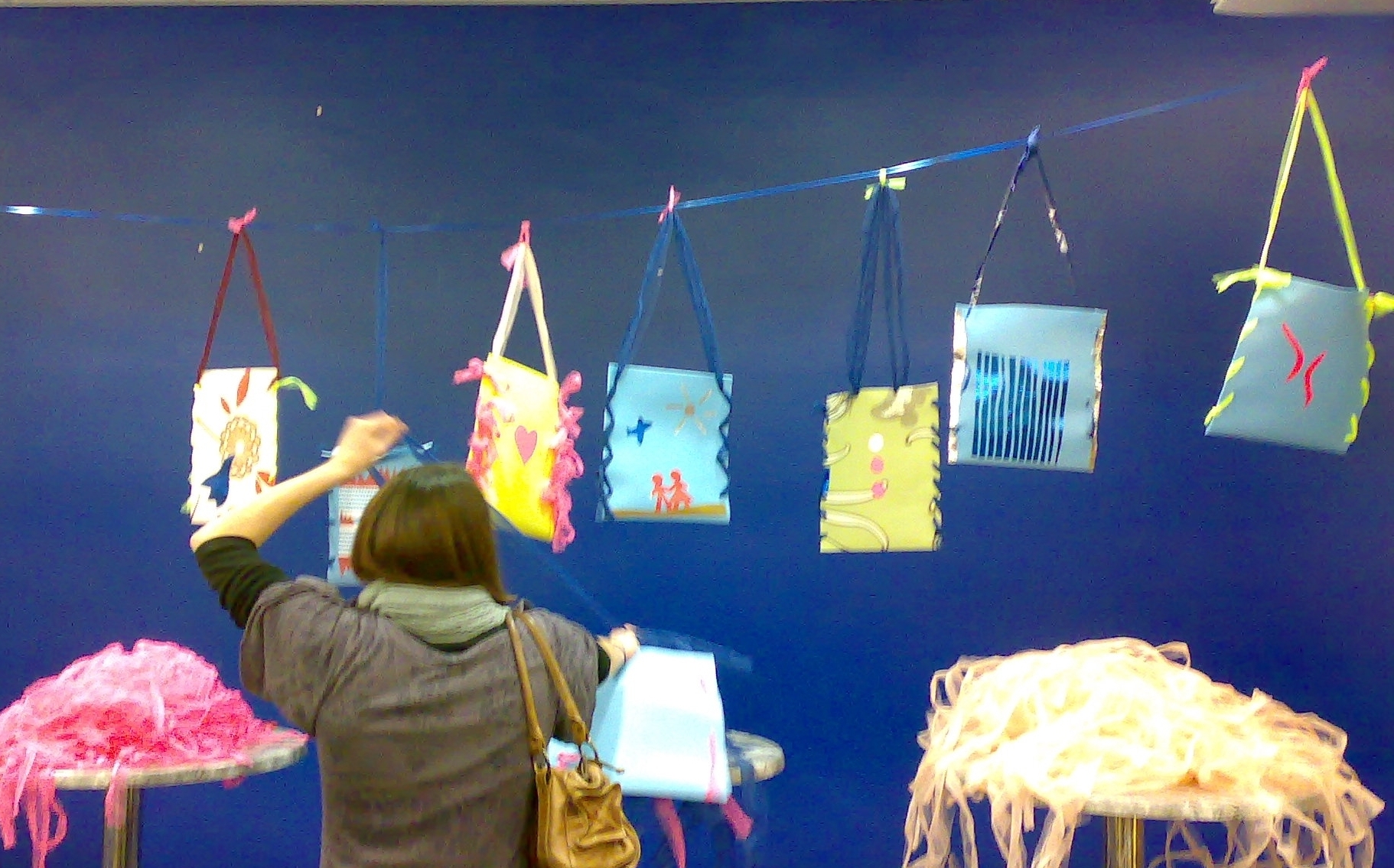 Bag making workshop at UKPHA. (photo courtesy Wendie Norris)
First thing we noticed- no conference bag- and no heavy abstract book or
unwanted inserts, just a slim brochure and a flash drive of all the
presentations. That was a relief, old bags have been piling up in my house!
Don't get me wrong, Global Health Database editors are not at a conference every week but these bags are quite
durable and I don't feel I can bin them when I get home although they are the
wrong shape for shopping (mostly).
Could be a bit inconvenient you might think if you were expecting a bag?
Well UKPHA had thought of that -there were facilities for making one out
of recycled materials! Suitably garish but pretty popular. A kind bag-making
enthusiast gave me a flower as I was passing to put on my rather grey reused bag
(dating from a conference 4 years ago).
A bit later I had a session upstairs. Headed for the escalator- oops-a notice
told me the escalators were closed for the conference. Health and greeness all
at once- we get fitter and energy is saved. Lifts were still available for those
with mobility problems.
Lunch was also somewhat different, being vegetarian and locally sourced where
possible. Again good for the health and the planet. Such a contrast to other
conferences about public health I've been to where the only food you could get
was pretty unhealthy.
What has this saved? Well UKPHA say they aimed to reduce their carbon
footprint by 10% this year and they estimated that 4% would be from the paper
and bag and food initiatives. 6% would come from reducing travel
footprints. The association had teamed up with the local bus company to
get bus information to delegates and there were cycles available too at the
conference entrance. Me – I walked from the hotel, and had shared a car to
Bournemouth. Maybe I'll take the train next time?
Related News & Blogs
By Scinceside – Own work, CC BY-SA 3.0 An innocuous visit to Dubai A young friend of my extended family was recently taken seriously ill and ended up in a London hospital following a short trip to Dubai to visit a partner working abroad for a few month…
30 November 2018