On this UN World Youth Skills Day 2023 (Saturday, 15 July), we celebrate the transformative power of skill development in shaping the lives of young individuals and creating a brighter future, writes Violet Ochieng' – winner of the Carol Ellison Science Award 2021 and Research Officer-Drone Technology at CABI being supervised by CABI's Dr Ivan Rwomushana.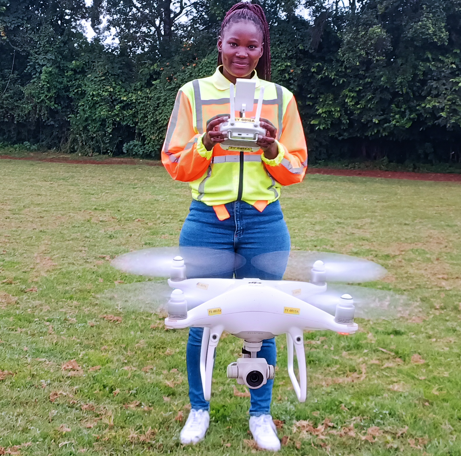 With the theme "Skilling Teachers, Trainers, and Youth for a Transformative Future," we acknowledge the crucial role of empowering educators and young people to harness the potential of emerging technologies for sustainable agriculture. As a young employee of CABI who recently completed the pioneer drone training and obtained the Remote Pilot License (RPL), I take immense pride in being part of an organization that embraces innovation and equips youth with the skills to revolutionize the agricultural landscape. In this blog, I am excited to share my personal experience of obtaining the Remote Pilot License (RPL) and highlight the transformative impact of youth skill development in drone technology for agricultural advancement towards ensuring food security.
The Potential of Drones in Agricultural Development
Agriculture plays a pivotal role in ensuring food security, driving economic growth and promoting environmental sustainability. Adapting to the challenges posed by climate change and reducing operational costs are crucial for achieving resilient and productive crop yields in the ever-evolving field of agriculture.
In this endeavour, the use of ICT-driven tools and technologies has become indispensable. Reflecting on my drone journey fills me with excitement about the boundless possibilities that drones bring to the field of agriculture.
Drones have emerged as game-changers, providing accurate and timely information to enhance decision-making on plant health. Drone technology holds immense potential to revolutionize the agricultural landscape by enabling evidence-based planning, facilitating spatial data collection, and influencing pest management decisions.
Drone technology represents a promising avenue for youth skills development in agriculture, offering vast possibilities in precision agriculture, environmental monitoring, and disaster response.
By investing in the training and empowerment of youth in agriculture, CABI is laying the foundation for a resilient workforce capable of driving positive change and leveraging technology to build a sustainable future in food security for all.
CABI's Role in Empowering Youth
CABI has consistently championed the importance of empowering youth in agriculture and environmental management by prioritizing skills development. The organization fosters innovation and provides opportunities for youth to acquire skills in various technologies and their applications in agriculture.
I am fortunate to be among the pioneer youth empowered by CABI through the PlantwisePlus Programme, ensuring continuous growth for young people's role in contributing to food security. For instance, CABI recently provided me with training to become a pioneer drone pilot, equipping me with the ability to perform drone-related agricultural activities and contribute to organizational research objectives in this growing field.
By empowering youth, CABI cultivates a generation of change-makers who understand the importance of integrating technology in agriculture and possess the capacity to tackle the challenges of sustainably feeding a growing population. Embracing emerging technologies, such as drones, allows us to enhance crop management, improve food security, and preserve our environment for future generations.
The Drone Training Experience
In Kenya, operating a drone requires a license, and I had the opportunity to attend a comprehensive drone training program at Astral Aerial Solutions from 19 June to 7 July 2023. This training provided me with theoretical knowledge encompassing air law, flight construction, navigation, and more. Practical sessions allowed me to apply this knowledge, honing my flight manoeuvres, emergency procedures, and payload operations.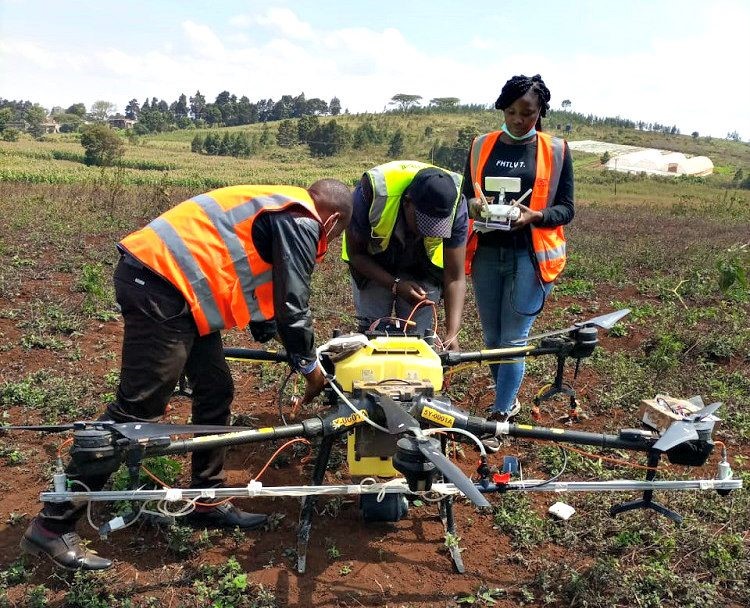 The training not only equipped me with technical expertise but also fostered critical thinking, decision-making, and problem-solving skills essential for success in my career. With the RPL in my possession, I am now prepared to embark on this new chapter, exploring innovative ways to leverage drone technology for the betterment of agriculture and the environment.
My Role in Empowering Youth
Despite agriculture being the backbone of Africa's economy, it is unfortunate that many young people continue to shy away from the sector. Moreover, government efforts have not been sufficiently responsive or enabling young individuals to contribute to addressing the challenges affecting agriculture. However, emerging and intriguing technologies such as drones have the potential to capture the attention of youths and cultivate their appreciation for participation in agriculture.
Having successfully completed the drone training and obtained the Remote Pilot License (RPL), I am excited to share my knowledge and experiences with the younger generation, inspiring them to pursue careers in drone operations, data analysis, research, and entrepreneurship across various fields, including agriculture, environmental conservation, geospatial management, and sustainable development.
Technologies in agriculture, across the value chains, offer the potential to transform lives and create opportunities for innovation, entrepreneurship, and meaningful contributions to society. Moreover, youth equipped with technological skills can contribute to addressing societal challenges and driving sustainable development.
As a young employee of CABI, I am committed to empowering youth by helping them understand the importance of integrating different technologies into agriculture and demonstrating how they can benefit from them. Through workshops, training programs, and educational initiatives, I will showcase how drone technology can revolutionize agriculture, improve crop management, and enhance ecosystem management.
By highlighting the benefits of early pest detection, accurate estimation of crop yields, precise application of control agents, and effective management of invasive species, we can positively change young people's perspective of agriculture as being a 'dirty job.
Celebrating young people's potential
On this World Youth Skills Day, let us come together to celebrate the potential of youth, equip them with the necessary skills, and empower them to drive transformative change. By harnessing the potential of technologies and providing our youth with the skills they need to thrive in the ever-changing world of tomorrow, we can build a sustainable future in precision agriculture.
Through the synergy of technology and innovation, we can ensure food security, environmental conservation, improved livelihoods for all, and prosperity for generations to come. Together, let us shape a brighter future for food security.
Deogratius Magero, Youth Engagement Manager at CABI, said, "By skilling young people, such as Violet, CABI is unlocking the youth potential in agriculture.
"Leveraging modern technology in addressing problems in agricultural production further demonstrates how young women and men can contribute to reduced losses and increased farmer yields.
"Essentially, they can also contribute their skills learned along the agricultural value chain and dispel the perception held by some that agriculture is a 'dirty job.'"
Additional information
Main image: Young scientist Violet Ochieng is seeing her career take off thanks to her new skills in drone flight (Credit: CABI).
Further stories
'Study determines optimum height for drones to fly and target desert locusts with biopesticide.'
'Exhibition of the DroneSight for Desert Locusts Management during Nairobi Innovation Week at the University of Nairobi.'
'Carol Ellison Science Award winner highlights locust research at her first international scientific conference.''Technology in the skies fights desert locusts.'
Related News & Blogs
The majority of Zambia's 19.5 million citizens rely upon agriculture for all or part of their livelihoods with the country's 1.5 million smallholder farmers – of which 20% are headed by women – dominating the sector with maize being the main staple cro…
25 October 2023