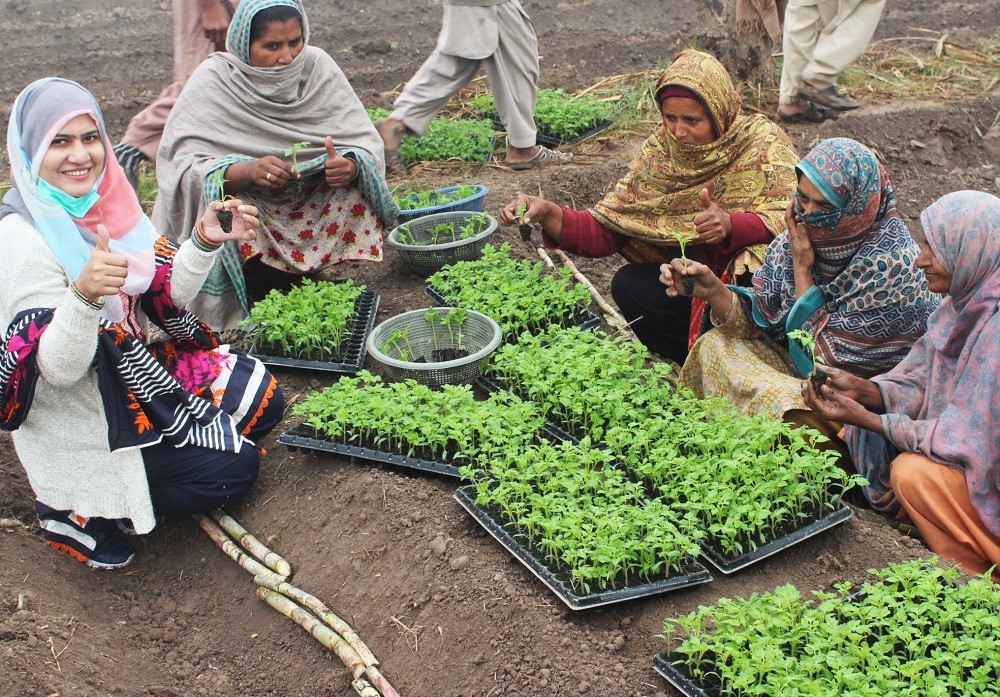 Story of change: A small group of women from Baili Janobi and Hajiwah villages in Muzaffargarh, Pakistan, transform from being labourers to successful tomato seedling growers.
Kubra Bibi, Irshad Bibi, Amna, Fatima, Shaheena and Zareena are from smallholder families living in villages Baili Janobi and Hajiwah in Muzaffargarh. They also work as labourers, struggling to meet their family needs.
In 2020, the Tomato Flagship Initiative (TFI) began work in collaboration with the Engro Foundation as part of the Australian Centre for International Agricultural Research (ACIAR) funded project 'Strengthening Vegetable Value Chains in Pakistan' (SVVCP) in Bailijanobi, Muzaffargarh.
Through a joint effort involving Dr Khurram Ziaf, from the University of Agriculture, Faisalabad (UAF), Dr Rehan Riaz, from CABI, and Ms Shafaq Javaid from Engro Foundation, the TFI supported smallholder families to engage in more profitable tomato value chains – specifically encouraging females to participate in growing best practice tomato seedlings in a poly tunnel nursery to increase their returns.
Kubra Bibi, who had participated in TFI training since 2020, purchased tomato hybrid seed 'NIAB Gohar' and media for nursery sowing at a cost of 2,000 PKR and 1,000 PKR respectively. She sowed 34 trays with 128 cells in each tray resulting in 4,352 tomato seedlings produced in the tunnel following best practices. More than 85% of seeds germinated and the seedlings raised were healthy. She grew 2,750 of these seedlings in her leased land of 0.5 acre and the remaining 990 seedlings were sold at 2.5 PKR in a nearby market. She earned 2,475 PKR from selling her seedlings.
Kubri Bibi said, "Before participating in TFI we did not know about tomato seedling enterprise. We were shy and felt hesitation to speak in front of men as a result of our involvement in family decision making was also less. Male members of our family were also conservative with our roles as females in farming. This changed as we gained knowledge and skills in best practice nursery production and growing tomato in the main field."

"Ms Shafaq Javaid, female trainer from Engro Foundation and Ms Nargis Fatima from CABI, helped me to realise that success is not a one-time achievement – it is a constant journey. I am a self-confident lady and I believe that agriculture is incomplete without female and Insha'Allah. I will adopt the best practices of entrepreneurship and will be the best entrepreneur for tomato seedling in future," Kubra Bibi added.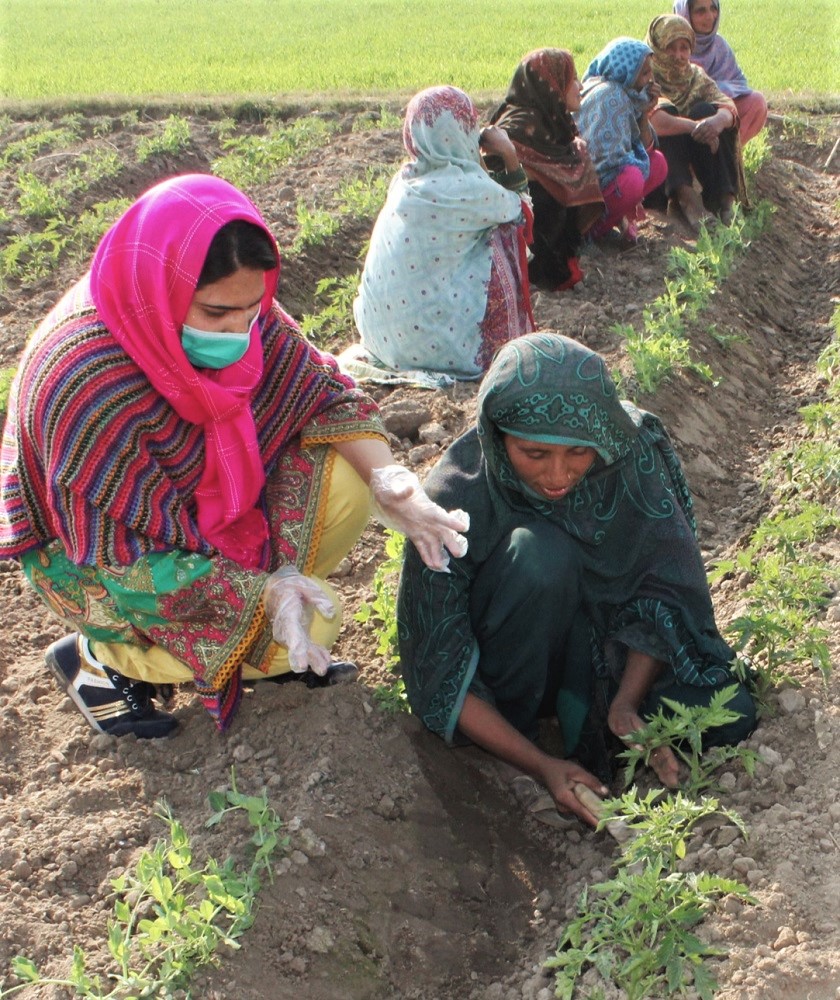 Irshad Bibi was also very keen to participate in the TFI project and was supported by her brother Sajjad Hussain. Irshad Bibi is happy to see her seedling business succeed. She advertised her tomato nursery on her son's social media account and received an order from nearby area Khan Garh for 3,750 seedlings at 2 PKR.
Irshad Bibi said, "This time when I got such a good order of nursery and my family is also very happy with me and now my dream is to expand my nursery business. My relatives and fellow farmers are also motivated from my modern tomato nursery sowing best practices from TFI and advice from TFI team. I'm getting profit from tomato seedling production enterprise and saving money for a better lifestyle."
Amna and Fatima joined the group in 2021 and received training through the TFI. They sowed tomato nursery in 61 trays with 128 cells in each tray. They sold 6,314 plants at 2 PKR and earned 12,628 PKR. They displayed their tomato seedlings at the Food Festival Muzaffargarh and customers have placed orders to have the seedlings delivered. Amna and Fatima are happy that their remaining nursery will be sold out soon.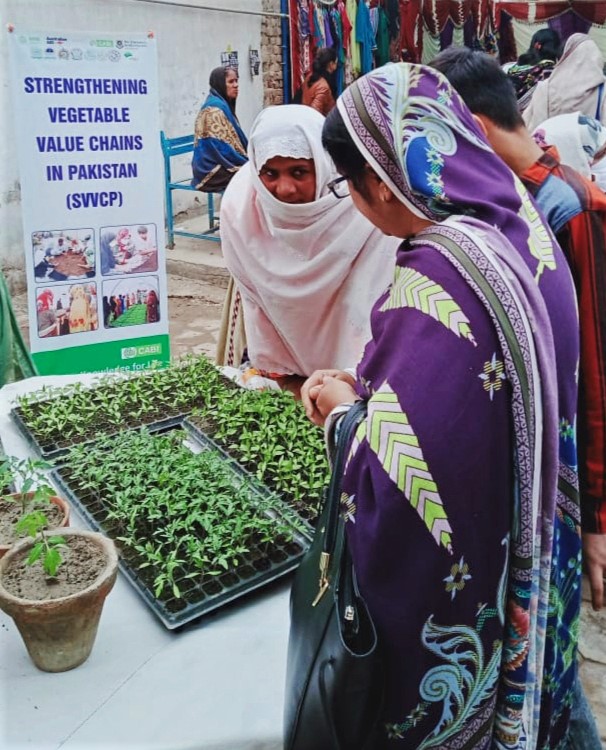 Zareena and Shaheena, young female labourers from the poor family of village Hajiwah, are now also interested to venture into a nursery enterprise. They are keen to grow a chilli nursery following best practices from the TFI and plan to sell their seedlings at the nearby market, or to fellow farmers just like other female entrepreneurs, to make profit and improve their lifestyle.
Additional information
Donors
Australian Centre for International Agriculture Research (ACIAR)
Partners
The University of Queensland (UQ)
National Agriculture Research Centre Pakistan
University of Agriculture Faisalabad
Authors
Mr Muhammad Asif – Project Manager, SVVCP
Dr Rehan – Research Officer Vegetable Value Chain, SVVCP
Contributors
Dr Tony Dunne, The University of Queensland
Prof Ray Collins, The University of Queensland
Dr Gomathy Palaniappan, The University of Queensland
Dr. Aman Ullah Malik, Team Leader Horticulture and Postharvest, University of Agriculture Faisalabad
Dr. Khurram Ziaf, Vegetable Production Leader, University of Agriculture Faisalabad
Dr Muhammad Zubair Anwar, National Agriculture Research Centre Pakistan
Dr Sajida Taj, National Agriculture Research Centre Pakistan
Dr Umair Safdar, Communication Executive CABI
Ms Shafaq Javaid, Social Mobilizer, SVVCP
Ms Nargis, Social Mobilizer, SVVCP
Mr Abdul Razaq, Agriculture Extension Muzafargarh
Ms Shafaq Javaid, Engro Foundation
Related News & Blogs
CABI's digital data expertise has been showcased through a project in Punjab, Pakistan, and will help smallholders in the fight against crop pests. The project is called: 'Strengthening food security post COVID-19 and locust attacks,' and will he…
30 August 2023