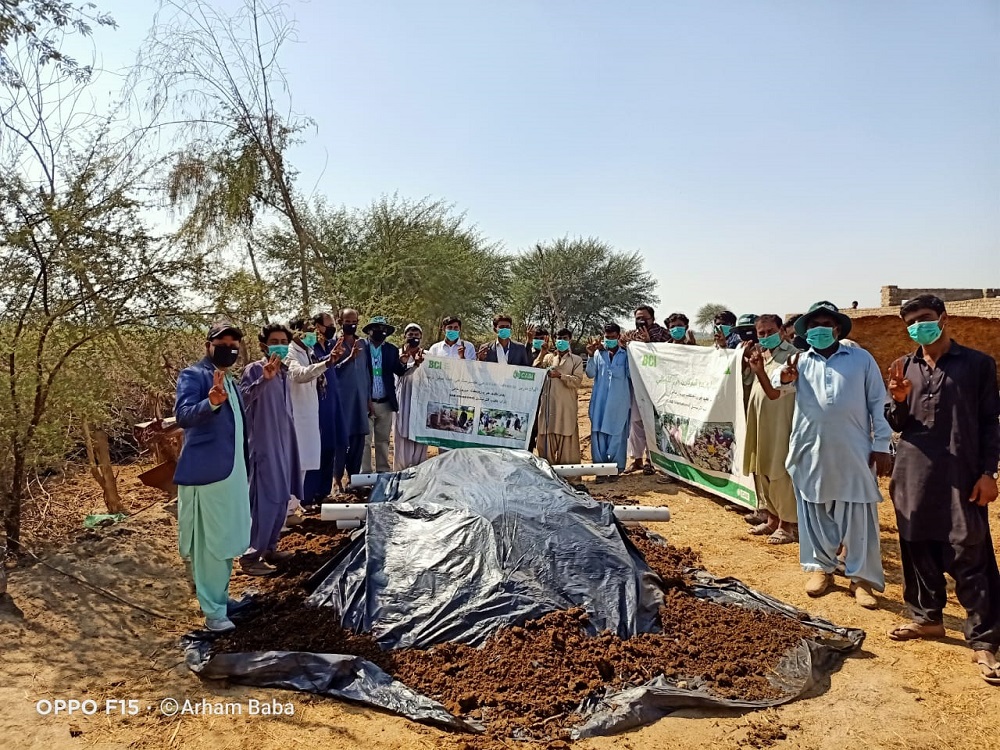 CABI is delivering training to its better cotton farmers on various Good Agricultural Practices (GAPs) to implement the Better Cotton standard system. Among these GAPs is the issue of compost technology and its benefits – introduced to Better Cotton Initiative (BCI) registered farmers who were fully guided for its development.
Cotton is Pakistan's largest industrial sector. In total though, the industry is losing around 10-15% through poor traditional practices such as poor production, transport and storage practices.
Compost enriches the soil and helps retain moisture and suppress plant diseases and pests. It also reduces the need for chemical fertilizers. Good compost encourages the production of beneficial bacteria and fungi that break down organic matter to create humus – a rich nutrient-filled material.
Changes in soil management – such as the use of compost can also reduce emissions of carbon-containing gases from the soil through slower decomposition of plant materials (carriers of Carbon taken up through photosynthesis).
Benefits of compost
This is the story of medium farmer Mr Nabi Bux who has been supported by CABI and its work under BCI in 2020. Before joining the BCI programme he was unaware of compost and its benefits. After attending CABI's field training he heard about compost and its benefits for farmland.
Mr Nabi Bux said, "I was tired of chemical farming and, during last season, I was short on the funds needed to purchase chemical fertilizer. I was worried to cultivate crops on my farmland. Then I consulted CABI's field facilitator about compost making. The service of CABI's staff was much appreciable because their field facilitator spared time at my farm for developing compost.
"Initially we developed compost only for 1 acre of the cotton crop for trial purposes. I was also a little worried because I never used compost as fertilizer on my cotton crops. But the results were outstanding because it boosted my crop growth and yield the same as synthetic fertilizers and there was no harm to groundwater as well."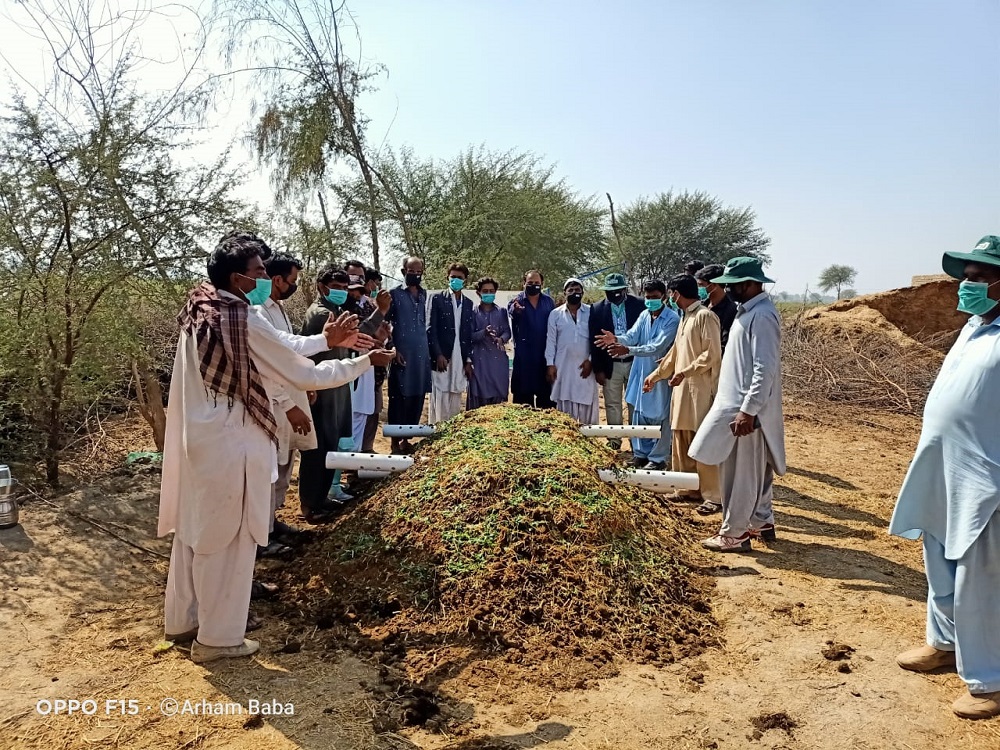 Protecting environment
Mr Nabi Bux also added that the compost is a very low-cost method with waste material such as leftover food of animals and farmyard manures able to be used.
"I fertilized my farmland and the result was amazing," he added. "I am getting good yield and saving on the cost of synthetic fertilizer as well. At this moment, I have saved almost 40% of the costs that were being used on synthetic fertilizer."
Mr Nabi Bux expressed his feelings by saying that he would not hesitate to share his experiences with other farmers. He added, "I also encourage them to use compost on their farmland. Now, I have planned to developed compost for my whole farmland and for this CABI staff are facilitating us to get press mud (sugarcane waste) from local sugar mills that will be added to our compost.
"I am very thankful to CABI who have built my capacities and have encouraged us to use such biological methods to save the environment and biodiversity."
Additional information
Authors:
Muhammad Irfan Arain
Shafi Muhammad Jariko
Noor Nabi Bhutto
Better Cotton Initiative
The Better Cotton Initiative has become the world's largest cotton sustainability programme with a mission to help cotton communities survive and thrive, while protecting and restoring the environment. Find out more here.
CABI's role in the BCI programme
Better Cotton' is a scalable model for cotton that transforms markets and creates tangible impacts at scale; it reduces pesticide and water use, improves yields and ultimately the livelihoods of farmers.
This project is part of ongoing engagement with the Better Cotton Initiative. This highly successful programme is a global investment vehicle which aims to catalyze the transformation of cotton production worldwide through investments in capacity building programmes.
CABI is working with a number of implementing partners to achieve this. Together, we will need to produce Better Cotton that takes social, environmental and economic criteria into account. The CABI team is looking at ways to integrate soil management, adopt modern water conservation technologies and practices, and manage natural habitats. While instilling proper cotton picking to avoid contamination, better storage and transportation to markets and ginning mills where they process it, and enabling farmers to adopt a decent work strategy. For more details see the project page 'Producing better cotton in Pakistan.'
See also the PowerPoint presentation 'CABI – Improving climate change by soil health management through use of compost.'
Related News & Blogs
The devastation brought about by the monsoon floods in Pakistan left millions displaced and without food, clean drinking water, and shelter. After major destruction in several areas of Balochistan and Khyber Pakhtunkhwa, the floods inundated major dist…
14 April 2023