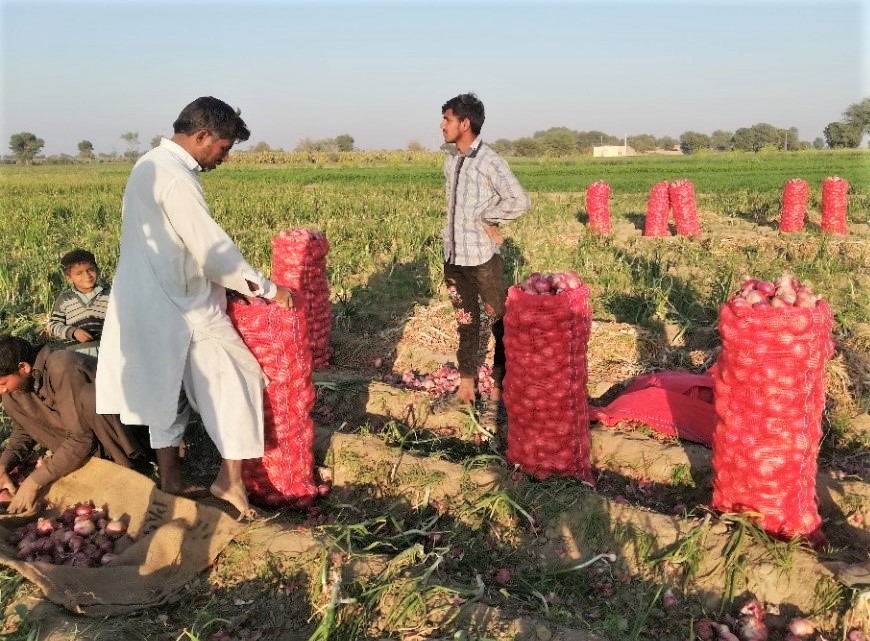 Onion is one of the major vegetable crops in Pakistan and most of its producers are smallholder farmers. Due to smaller land holding, traditional farming practices and prevailing marketing system, they are unable to received better price for their produce and cannot uplift their living standards. The current marketing system prefers volume over the quality and does not support smallholders due to smaller volume – therefore, they cannot get better benefits.
The Australian Centre for International Agriculture Research (ACIAR)-funded Strengthening Vegetable Value Chain project (SVVCP) aims to equip smallholder onion farmers in Sindh to build their capability to adopt improved production, harvest, postharvest and market practices to develop quality produce to meet the market needs. These smallholder farmers, with the newly developed skills, will be able to access the existing onion value chains and earn higher income by enhancing their profit through delivering the quality onion customers are looking for.
In order to improve small onion farmers' profit, SVVCP project takes value chain approach to study the issues and barriers in Pakistan onion supply chain from the lens of customers' preference. It was revealed that the onion quality and shelf life are the main issues. To mitigate them, five interventions were designed and introduced to small onion farmers:
Producing healthy seedling
Stop irrigation 20 days before harvesting
Curing for 2 weeks
Proper cutting, sorting and grading
Best Practices of Marketing (Direct Marketing)
In 2019-2020 season, the project conducted participatory action trainings in village Ibrahim Shah, Tando Allahyar, Sindh, to introduce these five interventions. Initially, five farmers of the village participated in the adoption process, and only one out of five adopted all the recommended interventions. The other four farmers were not willing to stop irrigation 20 days before harvest – fearing the risk of market price drop and yield reduction.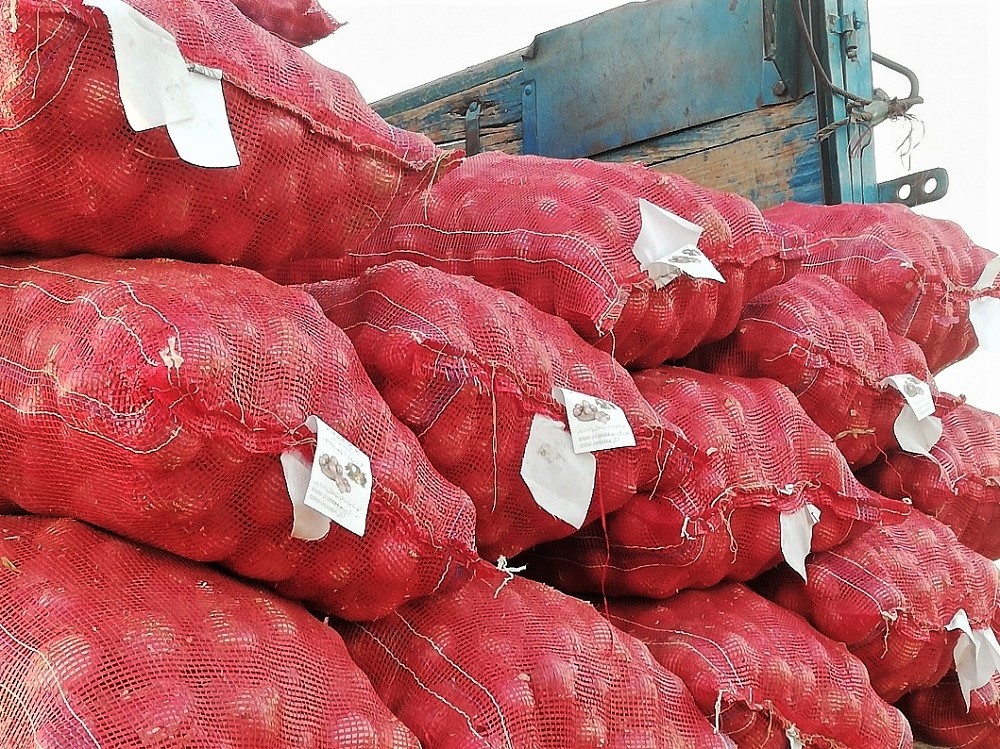 With this farmer, who fully adopted the SVVCP interventions, the project conducted a trial consignment of about 9 tons of onions to Karachi market to demonstrate the financial benefit of these interventions to small onion farmers. The result in the below table shows that SVVCP interventions increased the farmer's profit significantly.

The outcomes of demonstration consignment convinced the other 4 farmers who were reluctant to stop irrigation in 2019-2020 onion season. In 2020-2021 season they were resolute to adopt SVVCP interventions and one of them even persuaded and mentored his two relatives to adopt SVVCP interventions. The project in 2020-2021 season monitored 6 SVVCP consignments from different farmers and compared them with traditional practices. All the consignments demonstrated farmers were better off and the average gross profit has increased more than 318% as shown in the table below.

The results indicated that full adoption has much high % increase in gross profit as shown in the table that the first three farmers' profit increase arranging from 360% to as high as 956%. Quality improvement due to healthy seeding, stop irrigation, proper curing, sorting and grading contribute 68% of the gross profit, the highest contribution factor. Direct marketing to wholesalers rather than through auction contributes 14% of the gross profit. Postharvest cost of SVVCP farmers was high due to SVVCP farmers willing to pay 20% more for labours to do cutting, sorting and grading properly benefiting many female labourers. Two of the six consignment were sent to Karachi auction market and purchased by an exporter, indicating the premium quality desired for exporting.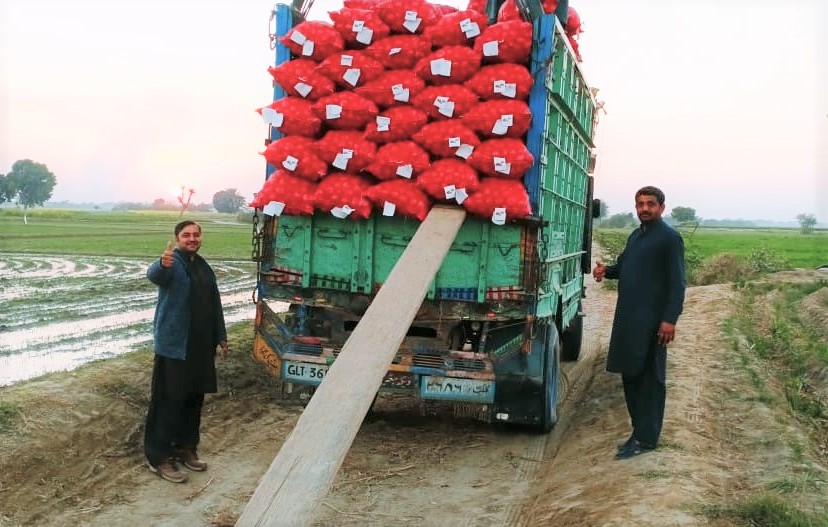 An exporter of onion from Karachi market was attracted by the exceptional quality and he visited the village to source quality onion for export. He said that in the Karachi market less than 15% of onion can meet this standard which is demanded by the international market. More onion farmers are now approaching the project team to learn and adopt these interventions and the value chain approach to enable them earn higher profit.
Additional information
Main photo: Credit CABI.
Authors
Mr Muhammad Asif – Project Manager, SVVCP
Dr Habat Ullah Asad – Research Officer Vegetable Value Chain, SVVCP
Mr Azeem Haider Naqvi- Research Officer Marketing, SVVCP
Contributors
Dr Umair Safdar – Communication Executive CABI
Dr Tim Sun – Team Coordinator SVVCP
Dr Usman Shar – Focal Person SVVCP
Ms Iqra – Social Mobilizer, SVVCP
Mr Umair Asghar – PU Manager BCI
Donors
Australian Centre for International Agriculture Research (ACIAR)
Partners
Agricultural Research Institute, Tandojam, Sindh
Project Home Page
Find out more from the project page 'Strengthening vegetable value chains in Pakistan.'
Related News & Blogs
CABI's digital data expertise has been showcased through a project in Punjab, Pakistan, and will help smallholders in the fight against crop pests. The project is called: 'Strengthening food security post COVID-19 and locust attacks,' and will he…
30 August 2023