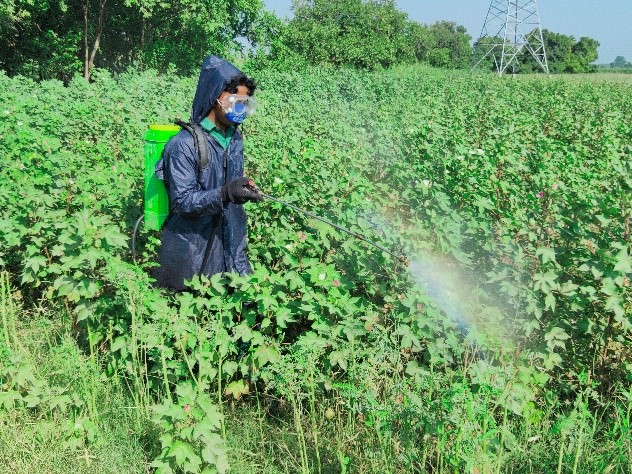 What does sustainability mean? In the context of agriculture, sustainability refers to the successful management of agricultural resources to satisfy human needs while at the same time maintaining or enhancing the quality of the environment and conserving natural resources for future generations.
Sustainability in organic cotton farming must, therefore, be seen in a holistic sense which includes ecological, economic and social aspects. Organic agriculture contributes to the sustainability of the environment by reducing the losses of arable soil, water contamination, biodiversity erosion, greenhouse gas emissions, food losses, and pesticide poisoning.
Cotton is Pakistan's largest industrial sector and has played an important role in the economic development of the country and remains a key livelihood source for more than one million farmers. However, the misuse of pesticides and water, the inappropriate use of chemical fertilizers, transportation and storage problems as well as gaps in knowledge and skills have resulted in the industry annually losing around 10-15 percent of its value.
CABI is helping Pakistan's cotton industry to reduce losses of around $350m a year through poor production, transport and storage practices by training thousands of farmers and workers as part of the Better Cotton Initiative (BCI). CABI has enhanced the capacity of 840 medium-sized farmers to implement the Better Cotton Standard System with a focus on protecting crops from harmful pests and diseases and to conserve the natural habitats on the farms. Furthermore, more than 18,000 women workers have been trained on proper cotton picking, health and safety, female empowerment and the prevention of child labour.
This is the story of Haji Ashraf Nizamani who has been a farmer under the BCI since 2017. He shared that we have to protect cotton from harmful insects, like Jassid, thrips, white fly, other sucking insects such as cotton mite and red cotton bug. In order to rescue cotton from these insects we have to use spray containing safer to use and more environmentally-friendly biological products.
Mr Ashraf said, "In early days, I was using a chemical spray and I had to purchase these chemical sprays from the market. Many times, I observed that we were suffering from skin problems such as rashes, as well as dizziness and headaches, after using chemical sprays. It was also very difficult to safely dispose of empty pesticide bottles away from our living and agriculture area. Sometimes, women used these empty bottles in the kitchen – unaware of the dangers and possible side effects of these contaminated empty pesticide bottles."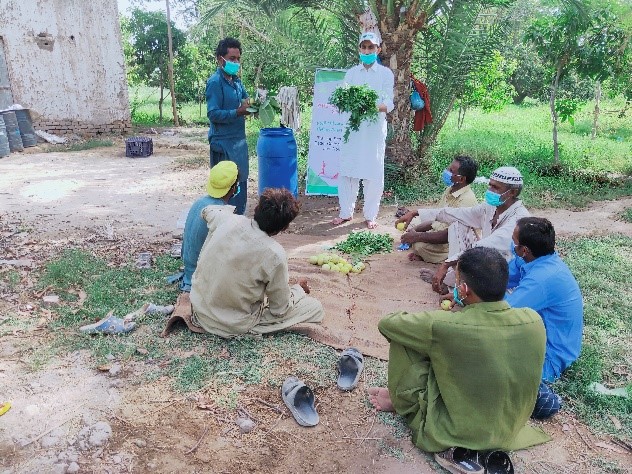 He added that CABI's Filed Facilitator, Luqman Dahiri, always used to share good agriculture practices with him and other BCI farmers and that they always attained benefits after following his suggestions. He suggested the application of botanical sprays in the cotton field instead of synthetic chemical sprays. He told about the preparation of botanical insecticides that are not harmful for biodiversity and pesticide applicators as well.
Mr Ashraf added, "I have 45 acres of cotton crop and, as per directions and guidance of CABI's field facilitator, prepared botanica pesticides from scratch – such as Neem leaves and other herbs that are easily available in our village.
"After application, myself and my workers didn't experience any toxicity during or after spraying. This method is also economical and easy to manage the sucking pests of cotton crop. Through this we saved around two pesticides applications worth of PKR: 100,000/-. As compared to synthetic chemical spray, it is very low cost and easily available at any time and I don't have to engage myself to buy these pesticides from market."
Mr Ashraf further added that the other benefits of botanical sprays are that he and other farmers do not have to dump empty bottles.
"We don't have that fear that any women or children can use these bottles and it also don't harm anybody during spraying. It also saved my money and saved us from skin diseases," he said. "From my experience, I am very sure that eliminating the applications of fertilizer and pesticides saves money and protects our cotton. I have already shared my experience to other farmers and mobilized them to follow the same practice. I am thankful to CABI for their support in our continuous improvement in our cotton farming practices."
Read more about 'Producing better cotton in Pakistan' on the project page.
Additional information
Main photo: Mr Ashraf applies safer to use and more environmentally friendly botanical spray to manage pests in his cotton crop (Credit: CABI).
Blog Authors: Noor Nabi, Umair Asghar, Luqman Dahri
Contributor: Umair Safdar
Related News & Blogs
The devastation brought about by the monsoon floods in Pakistan left millions displaced and without food, clean drinking water, and shelter. After major destruction in several areas of Balochistan and Khyber Pakhtunkhwa, the floods inundated major dist…
14 April 2023