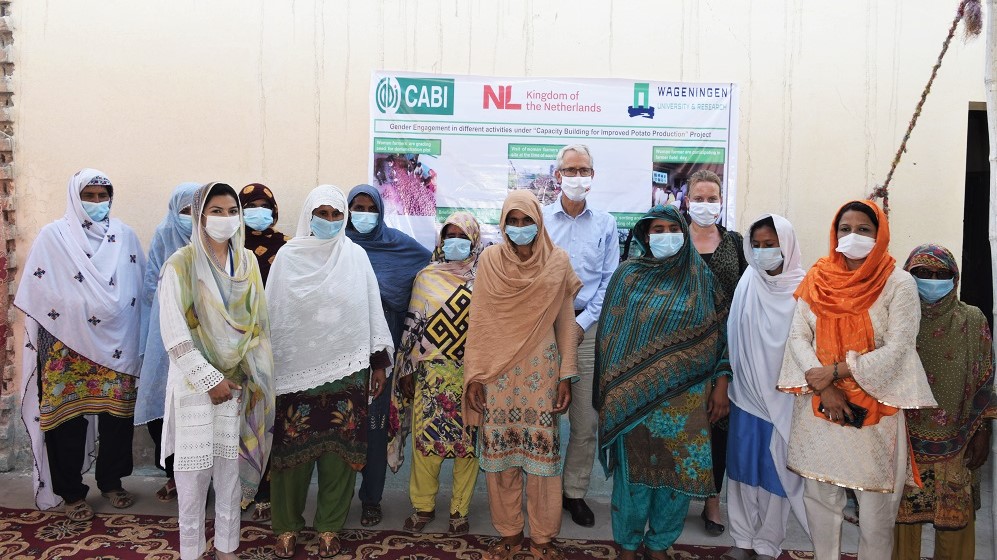 Potato is an important vegetable crop of Pakistan with 88% of production linked to Punjab state – of which 70% comes from within four districts; Okara, Sahiwal, Pakpattan and Kasur in Pakistan.
However, the productivity of potato in Pakistan is not promising as compared to other developing countries. Primary issues of potato growers include, but not limited to, the availability of healthy and certified seed and planting material. Furthermore, a lack of technical training related to disease and pest management are also major production constraints being faced by potato farmers.
To help mitigate this, the 'Capacity Building for Improved Potato Production' project has been initiated with financial support from the Netherlands Enterprise Agency (RVO) and technical assistance from Wageningen University and Research (WUR).
Collaboration is also taking place with the Pakistan Agricultural Research Council (PARC), Department of Agri Extension – Punjab, University of Agriculture – Faisalabad, Punjab Rural Support Programme, Ministry of National Food Security & Research, Potato Research & Development Board – Punjab Potato Growers Society and the Pakistan Farmers Associates.
The project features the intensive training of 24 'master trainers' and capacity building of potato farmers through trainings, and the establishment of demonstration plots and farmer field days. These 'master trainers' will ultimately promote gender inclusion in potato crop cultivation and the value chain while educating the smallholder potato farmers on improved potato production technologies.
This includes the use of better-quality potato seed as demonstrated in potato demo and seed plots in Okara district under the guidance of experts from Wageningen University & Research. CABI is coordinating the work including the production of a 'potato manual' and extension material to be disseminated to farmers to help them learn better potato production techniques.
His Excellency Mr Wouter Plomp, Ambassador of the Embassy of the Kingdom of the Netherlands, Islamabad, Pakistan, visited village 37/D of Okara district and had a meeting with potato growers involved in the project to check on their progress. The Ambassador was accompanied by the First Secretary of Economic Affairs of the Kingdom of Netherlands in Pakistan, Ms Winnie Van Der Wal, and CABI representatives, Mr Abdul Rehman (Deputy Director Programme) and project team members welcomed the Ambassador and his party.
Key highlights and achievements were shared with the Ambassador. He was told that, so far, the project has established demonstration plots in the area to showcase the latest potato production techniques.
The demo plot was visited by several farmers of the area and the Ambassador was amazed to see the practical translation of Dutch potato knowledge in the area. It was also highlighted that, in addition to demonstration plots, the project has also trained 25 farmers – including women – on the latest potato production technologies. The 'training of trainers' was also conducted for 24 districts 'master trainers' representing four project districts.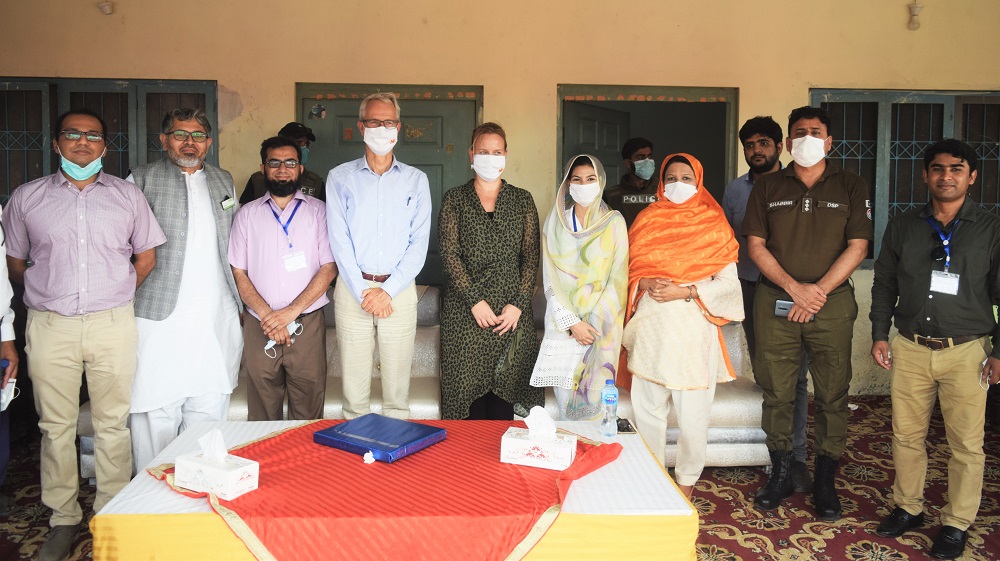 While talking to the farmers, the Ambassador highlighted the importance of agriculture – particularly potato crop for farmers as their main source of livelihoods. He emphasized that his government is always on the 'front foot' in enhancing potato production by transferring Dutch potato knowledge and expertise to Pakistan's farmers.
The Ambassador also stated that, under the umbrella of this project, experts from Wageningen University and Research (WUR) have trained 'master trainers' on latest potato production technology and also the technical assistance for the establishment of demonstration plots for table and seed potato.
Farmers representative also expressed their thoughts during the meeting and discussed the major constraints and challenges they faced during the cultivation of potatoes. Farmers also expressed their appreciation of this initiative and stated that such projects of this kind are in current need.
The Ambassador, along with First Secretary of Economic Affairs, also had an interactive session with the women farmers who are involved in this project. They gained valuable insights from them about what they have learned from the project – including what their expectations are regarding the contribution to their livelihoods.
Mr Rehman paid his gratitude to the Ambassador for visiting the project site and interacting with local farmers. The Ambassador, in turn, appreciated the efforts of all the stakeholders in making this event successful and showed interest in follow up visits in the upcoming season of the potato cultivation.
Additional information
Main photo: His Excellency Mr Wouter Plomp, Ambassador of Netherlands to Pakistan and the First Secretary of Economic Affairs Ms Winnie Van Der Wal meets with women small-scale potato farmers as part of the CABI-led 'Capacity Building for Improved Potato Production' project (Credit: CABI).
Authors:
Dr Umair Safdar – Development Communication Executive & Project Manager
Ms Maila al Saba Shah – Master Trainer
Mr Yasar Saleem Khan – Master Trainer
Dr Hafiz Mehmood ur Rehman
Contributors:
Dr Kausar Khan
Relevant news story
See also the news story 'CABI 'chips-in' to help build capacity of potato growers in Punjab, Pakistan.'
Associated project page
Find out more about how CABI is working with small-scale vegetable farmers in Pakistan to improve their yields and livelihoods from the 'Strengthening vegetable value chains in Pakistan' project page here.
Related News & Blogs
CABI's digital data expertise has been showcased through a project in Punjab, Pakistan, and will help smallholders in the fight against crop pests. The project is called: 'Strengthening food security post COVID-19 and locust attacks,' and will he…
30 August 2023