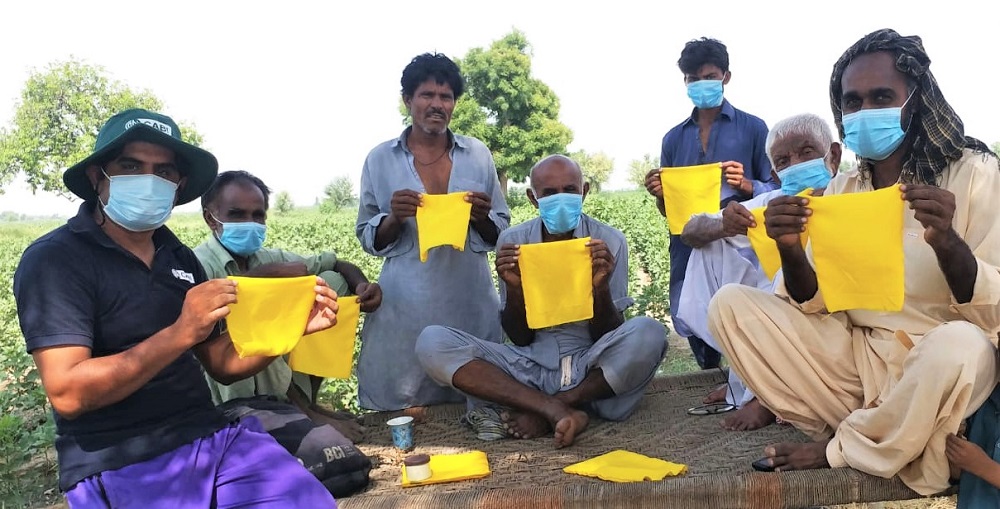 Mr Javed is a resident of the village Jameel Dall, union council Mir Imam Bux Talpur, in the district of Mirpur Khas in Pakistan. He has, since 2012, been one of the active farmers of CABI's project to help improve cotton production which is run under the Better Cotton Initiative (BCI).
Cotton is Pakistan's largest industrial sector and has played an important role in the economic development of the country and remains a key livelihood source for more than one million farmers.
However, the misuse of pesticides and water, the inappropriate use of chemical fertilizers, transportation and storage problems as well as gaps in knowledge and skills have resulted in the industry annually losing around 10-15 percent of its value.
CABI is helping Pakistan's cotton industry to reduce losses of around $350m a year through poor production, transport and storage practices by training thousands of farmers and workers as part of the BCI.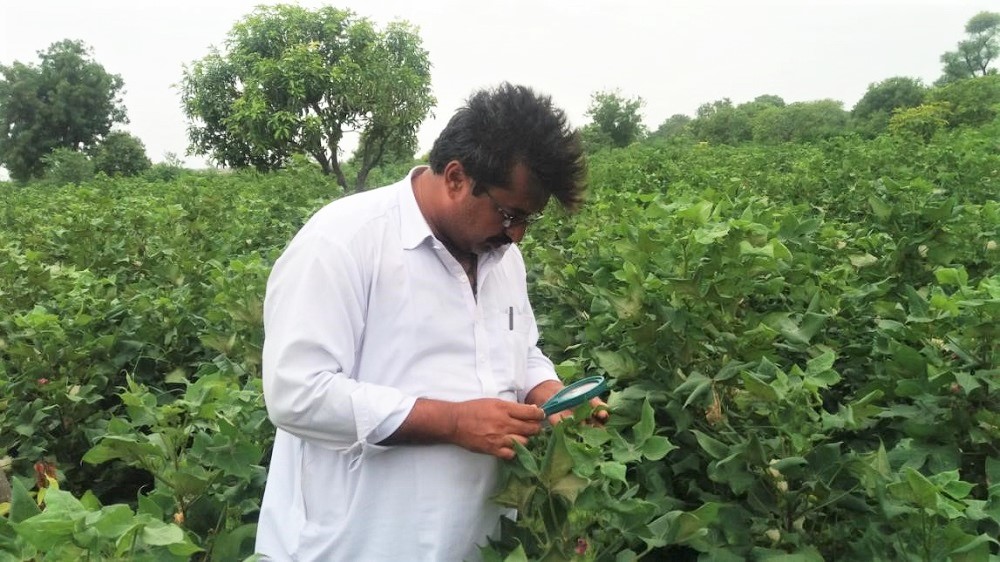 Mr Javed owns 200 acres of land where he cultivates crops including cotton, wheat, mango, mustard, jojoba and different vegetables. As a cotton farmer he grows 50-60 acres of cotton per season.
While sharing his experience he expressed that, "In early years I secured good cotton yield while applying one bag of nitrogen and a half bag of phosphorus per acre.
"However, in the current situation, I used to apply bags of nitrogen, a bag of Di Ammonium Phosphate, half a bag of Nitrophos, 05 KG bag of Humic acid and 05 KG bag of Zinc.
"But the cotton production was 800-1000 Kgs from an acre that is almost equal to yield that I produced in previous years with limited use of fertilizers. I noticed that the use of fertilizers is increasing every year and effecting our savings."
He shared this issue with the CABI's field facilitator and asked for suggestions to overcome this issue. The field facilitator suggested to him to conduct a soil analysis to determine the requirements of fertilizer according to soil need.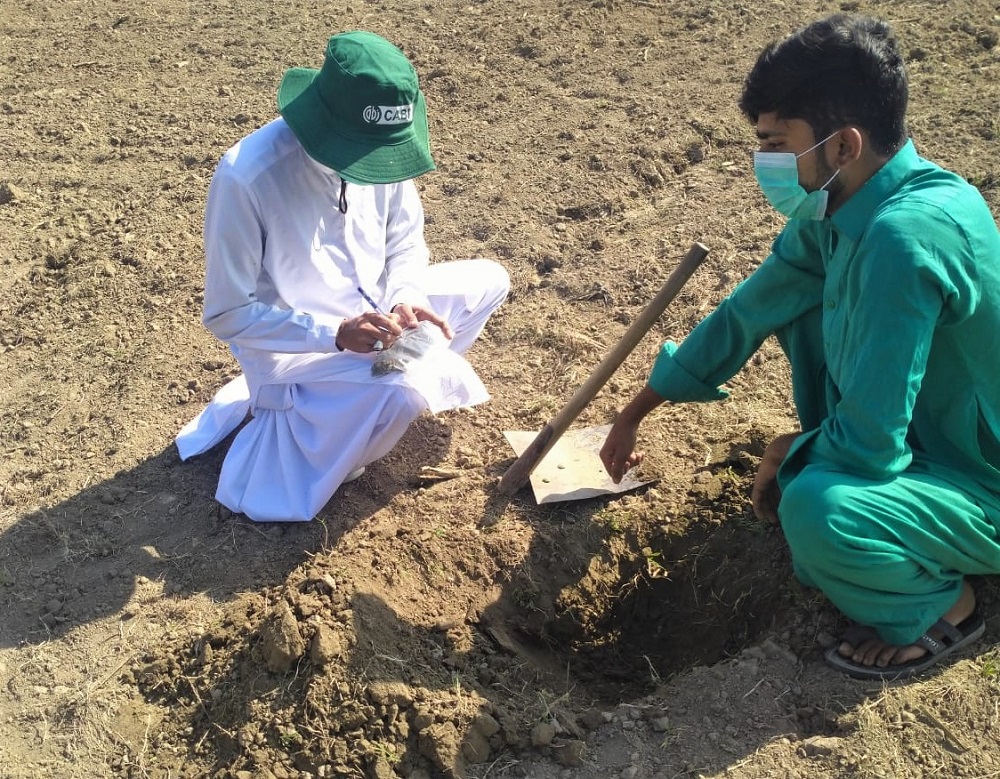 Mr Javed was briefed that soil testing gives valuable information, essential for soil quality improvement. By tracking the exact amount of soil nutrients, a farmer can easily adjust fertilization following soil and crop requirements. Additionally, soil analysis facilitates crop nutrient management by revealing the current soil pH level.
He added that, "After participation in CABI's training session on soil management practices, I collected some soil samples of land – where my cotton production was lessened – and visited our nearest soil testing lab for analysis.
"After conducting the soil test, the results were shocking for me as I was applying incorrect fertilizers on my land. Later on, I followed the instructions mentioned on the report and lessons learned in training and applied farmyard manure to improve the physical condition of the soil.
"After another soil test and using farmyard manure, the production of cotton was enhanced by 5% and the unusual expense on fertilizer was saved by PKR 7000 to 5000 per acre."
Mr Javed further shared that, last year, CABI established a demonstration plot on his farm regarding the use of yellow sticky traps to manage the sucking pest of the cotton crop. Here four applications of pesticides, that were being used for managing pests in cotton crop, were also saved and applied.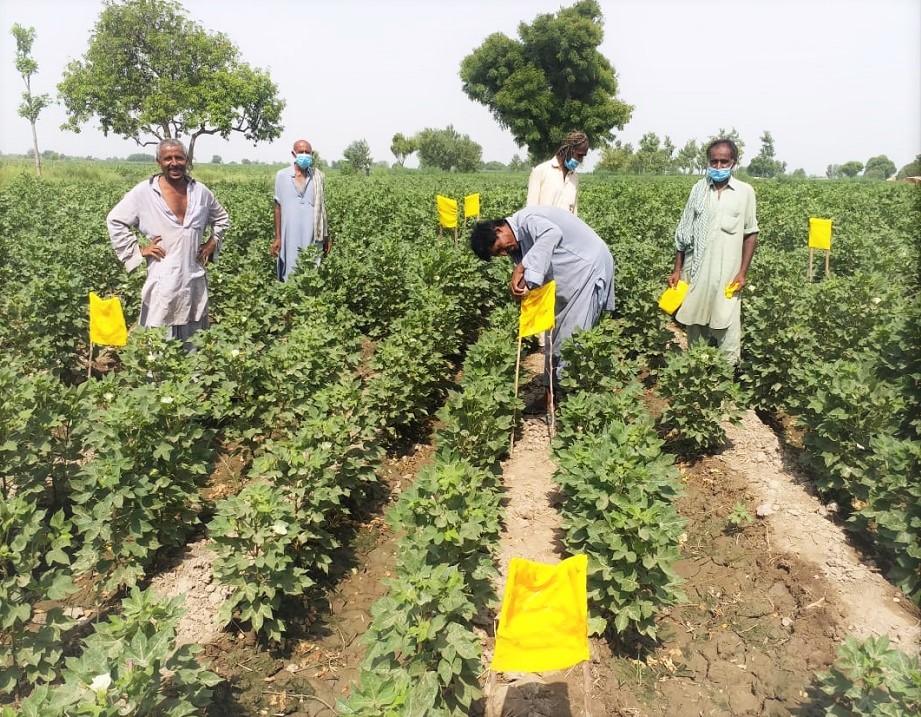 "Similarly, this year, with help of a field facilitator we had planned to invent our own homemade yellow sticky traps and applied them to 25 acres of the cotton crop.
"We used yellow-coloured cloth and grease oil to trap the sucking pest and whitefly as well. With the help of the CABI field facilitator, we made yellow sticky traps and this practice led to a reduction in the cost of synthetic pesticides – which was almost PKR 50,000 of total amount which was being used for pesticides applications in cotton crops.
"By using these traps, most of the attacks of sucking pest were caught up in these traps. These homemade yellow sticky traps are easy and cost-friendly and, being a non-chemical method, are better for the environment too," he said.
Mr Javed added that he is very satisfied and thankful to CABI for giving him awareness of new technologies of cotton production and helping him to solve problems collectively in the field of cotton crops.
Now the cotton farming community of lower Sindh is much more confident of changing their routine farm practices into smart and sustainable practices.
Additional information
Main photo: Sticky yellow traps prove to be a more cost-effective and environmentally-friend biocontrol for sucking pest of cotton crop (Credit: CABI).
Blog authors:
Mr. Noor Nabi
Ms Noreen Mangrio
Project page
Read more how CABI has been helping Pakistan produce better cotton from the project page here.
Related News & Blogs
The Punjab province of Pakistan is one of the most important growing districts with over 95% of potato production originating from here. The crop is significantly valuable as a commodity for both farmers and consumers. However, potato growers in Pakist…
28 April 2023