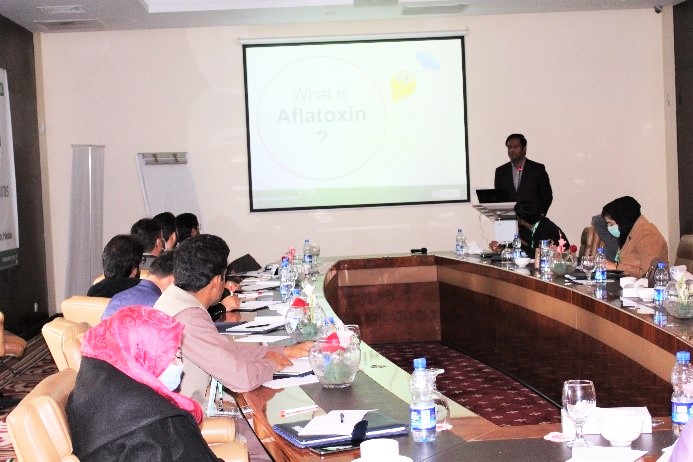 Aflatoxins are powerful fungal toxins that contaminate many agricultural products, including cereal grains, chilies, dry fruits and nuts. They also well affect milk because some livestock feed contains aflatoxin. In Pakistan, aflatoxin concentrations in harvested grain frequently exceed the level permitted in countries where aflatoxin in food and feed is regulated.
The Aflatoxin Control in Pakistan team, with the financial assistance of USAID and USDA, is taking the regional lead to initiate the concept of biological control of aflatoxins on maize crop – which will be further extended to crops such as groundnuts and chilies to safeguard plant nutrition and human health and produce safer food and feed.
In line with this initiative, a series of trainings session were conducted for technical staff from the Department of Agriculture Extension of Punjab province, its allied departments including officials from the Directorate On Farm Water Management, the Directorate of Crop Reporting Service and the Directorate of Pest Warning & Quality Control of Pesticides as well as for the allied agencies such as World Wide Fund for Nature-Pakistan working in collaboration with Better Cotton Initiative on cotton project in Punjab. The participants of these trainings have been trained as master trainers to disseminate knowledge regarding the biological control of aflatoxins in their respective departments.
A training session was conducted for the Agricultural Officers working at different Biological Control Laboratories of Punjab as well as for the Research Officers working at different Agricultural Research Institute stations of Khyber Pakhtunkhwa. The participants were trained on aflatoxin prevalence records, its deleterious effects on human and animal health, and possible management solutions with special reference to green technology called AflaPakTM. This training session was attended by 15 (8 male & 7 female) officers.
The trainees appreciated the efforts of the aflatoxin team and collaborating Pakistani scientists to introduce the biological control technology to tackle the toxigenic fungus on maize crop. The participants further emphasized the importance of producing toxic-free food for our communities, especially during the current COVID-19 pandemic.
The Aflatoxin Control in Pakistan Team will continue to replicate these training sessions to disseminate this approach at wider level in Pakistan.
Additional Information
Aflatoxin Control Programme
Find out more about CABI's work on aflatoxin control in Pakistan.
Authors:
Dr Babar E. Bajwa – Project Executive
Dr Sabyan Faris Honey – Project Manager
Contributors:
Dr. Hamzah Shahbaz Bhatti
Dr. Muzammil Farooq
Mr Saqib Ali
For more information, please contact:
Deborah Hamilton
USDA
202-720-0335
Deborah.Hamilton2@usda.gov
Related News & Blogs
CABI's digital data expertise has been showcased through a project in Punjab, Pakistan, and will help smallholders in the fight against crop pests. The project is called: 'Strengthening food security post COVID-19 and locust attacks,' and will he…
30 August 2023